AUDIO TECHNICA AT-LP60BT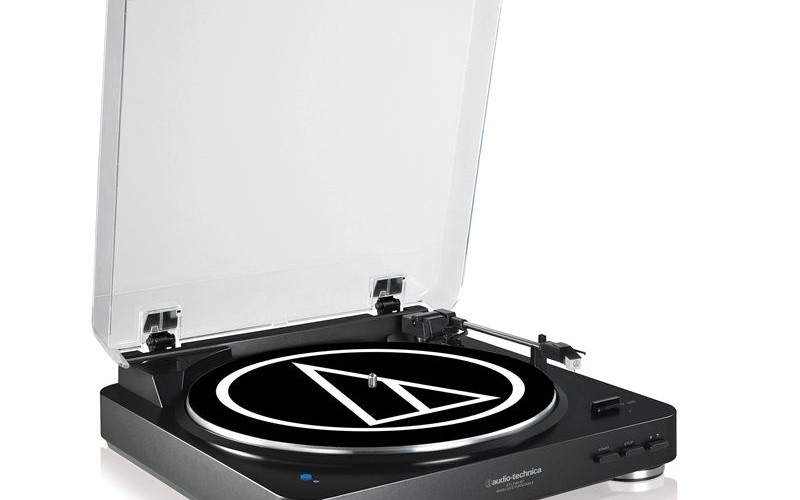 Enjoy the sounds of vinyl wirelessly with Audio-Technica's AT-LP60BT Bluetooth®-enabled turntable
The latest generation of turntable users can now savour the golden sound of vinyl, wirelessly, with Audio-Technica's AT-LP60BT Bluetooth ® turntable. With music fans moving towards wireless sound systems, this fully automatic belt-driven turntable can be part of a wireless home audio set-up, easily connecting to increasingly popular Bluetooth ® -enabled speakers, headphones and stereo receivers – without the clutter of excess wires.
An affordable option for discovering the delights of vinyl, users can start listening to their records straightaway, simply connecting to an existing Bluetooth® speaker and without the need to buy any additional wired speakers. However, if preferred, the AT-LP60BT can be connected to audio systems via the supplied RCA output cable and with a built-in switchable phono amplifier users can hook up active powered speakers directly or connect to a dedicated phono-enabled amp.
Arriving in a classic black or eye-catching white finish, the AT-LP60BT's compact design makes it ideal for a studio, bedroom, office environment and homes and apartments with limited space. Mirroring, the convenience and portability of Bluetooth® speakers, the pint-sized turntable offers more positional freedom when setting up.
Able to spin records and 33 1/3 and 45 RPM, the solid anti-resonance, die-cast aluminium platter ensure unwanted vibrations, which can taint the sound, are minimised for a polished playback. Combined with a rich heritage in phono cartridges – the company's very first product was the AT1 cartridge in 1962 – the AT-LP60BT's Integral Audio-Technica Dual Moving Magnet™ phono cartridge with replaceable diamond stylus provides authentic and seamless playback of vinyl records.
An supplied dust cover offers further protecting for your vinyl records during playback while a 3.5 auxiliary input allows connection of other equipments that can also be streamed wirelessly. A headphone output means users can relax and enjoy private listening sessions.
Robert Morgan-Males, Marketing Director, Audio-Technica says, "The AT-LP60BT is a milestone product for us – our first Bluetooth®-enabled turntable that appeals to the latest generation of music fans both reinvigorated by the vinyl revival and engaged in the new wireless audio system culture. It can seamlessly fit with any Bluetooth® speaker set up and its compact design means music fans don't need a large space to appreciate the sound of vinyl. The company has been built on a rich history of developing class-leading phono cartridges and this model is just the next step of delivering stunning sounding turntables."
The Audio-Technica AT-LP60BT will be available in January 2016, in a white or black finish, priced £169 (inc. VAT)