AUDIOLAB M-CDT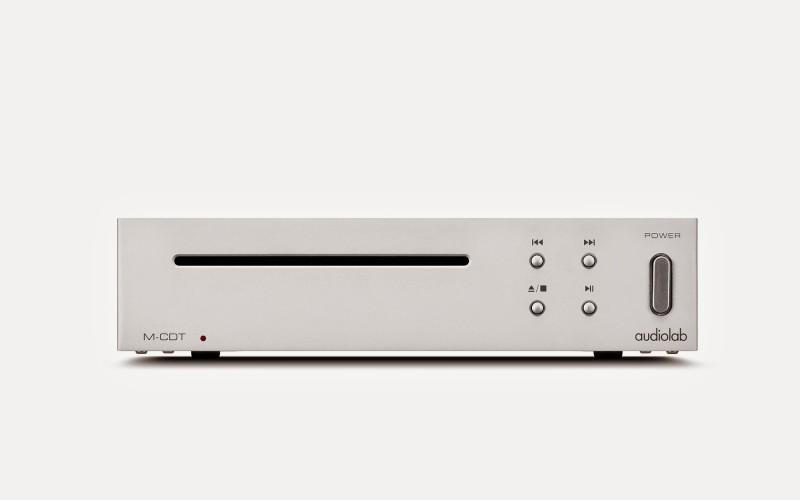 Napęd CD za 399 funtów. Nie przypuszczaliśmy, że ciągle jest zapotrzebowanie na tego rodzaju dziwactwa
Audiolab reveals LAB Series CD transport – now it all stacks up!
Audiolab releases the M-CDT, a CD transport designed to perfectly compliment its fellow LAB Series products, including the M-DAC, Q-DAC, and M-PWR.
Cambridgeshire, England — Audiolab announces the M-CDT, a very welcome addition to its award-winning LAB Series. The LAB Series now comprises five components, all of incredibly compact, space-saving dimensions – the M-CDT measures just 247mm across – and all designed to work in perfect harmony with one and other. The age of stream is most definitely upon us, but millions of music fans steadfastly retain cherished Compact Disc collections, and the M-CDT aims to entice these beloved discs down from the attic, in from the car, and up from the back of the sofa. And literally back into play.
Equipped with a slot-loading mechanism, the M-CDT also comes armed with a sophisticated digital decoder, which feeds digital coax and optical outputs to deliver maximum versatility. The Trigger In and Out links enable remote switching of auto power on/off in installation environments, as well as set-ups where the users stacks the new CD transport with other Audiolab LAB Series models.
Audio performance, as you would expect from a machine from the makers of the celebrated 8200CD, is exceptional. Compact in size it may be, but the M-CDT design is built upon on many years of CD technology know-how, enabling it to sonically punch way beyond its 2.9kg weight.
For a super-neat and super-sounding LAB Series system just team the M-DAC and M-PWR with the M-CDT. The M-DAC is Audiolab's famed (it has won its What Hi-Fi? Awards product category for an incredible four years in a row) standalone DAC, and the M-PWR power amplifier provides the trio's requisite sonic muscle, while still maintaining the svelte looks of its digital minded partners.
The Audiolab M-CDT is available now in a choice of silver (natural aluminium) or classic Audiolab black, with an SRP of £399.00.
Audiolab M-CDT specifications
Model type CD transport
Design Philosophy and Core Technology Slot-in CD
Output level 0±0.05 dBFS (@1kHz, 0dB)
Output Impedance 0.5V p-p / 75Ω Ω
Frequency Response ±0.5 dB (20Hz – 20kHz, ref. 1kHz)
Sampling Frequency 44.1kHz
Digital Output 1 x Coaxial,1 x TOSlink Optical
Dimensions (W X H X D) 246.5 X 60 X 234 (mm)
Carton size (WX H X D) 396 X 153 X 344 (mm)
Net Weight 2.9kg
Aluminium Enclosure
Power Requirements (depending on region) 220-230V ~ 50/ 60Hz 110-120V ~ 50/60Hz 100V ~50/60Hz
Safety Regulation Conformity CE,C-TICK
Standby Power Consumption 5 W
Formed in the early 1980s by Philip Swift and Derek Scotland, Audiolab earned worldwide acclaim with the 8000A – an integrated stereo amplifier that became a classic 'step-up' from the budget models of the time. During the ensuing years, the 8000A established itself as one of the most successful British amps ever produced, and was joined by a range of electronics including CD players, pre/power amps and an FM tuner. The brand switched hands in 1997, changing its name to TAG McLaren Audio; and so it was known until 2004, when Audiolab became part of the International Audio Group and returned to its original name.
In 2010, Audiolab began the introduction of its latest full-width 8200 Series components, combining the company's original ethos of simple, well-constructed ergonomics and crisp, transparent sound with innovative, performance-led design concepts. In 2011, the arrival of the M-DAC heralded a new, compact range called LAB Series, further expanded in 2013 by the Q-DAC and M-PWR. Since the launch of the 8200 Series and LAB Series, Audiolab has won more major awards in UK hi-fi magazines than any other brand of high-performance audio electronics.
IAG (International Audio Group) is a manufacturer of audio equipment for domestic and professional use, plus professional lighting systems and luxury yachts. With its headquarters and manufacturing facilities in Asia and offices (including R&D) in the UK and North America, IAG is a manufacturer with a truly global reach.
IAG's audio business employs more than 2,000 people worldwide. Its factory complex in Shenzhen, China, is one of the largest custom-designed consumer electronics manufacturing facilities in the world and benefits from an exceptional level of vertical integration, with all component parts – even the tooling – made in-house. The Group's domestic audio brands – Audiolab, Castle Acoustics, Luxman, Mission, Quad and Wharfedale – all enjoy a worldwide reputation for excellence, with illustrious histories that stretch back decades. Top-class British audio engineering remains critical to these brands, with world-renowned designer Peter Comeau leading an acoustic design team brimming with international talent.
The combination of rich brand heritage, purpose-built production facilities in China and experienced audio engineers from around the globe makes IAG a unique proposition in the world of consumer electronics.