CHORD HUGO TT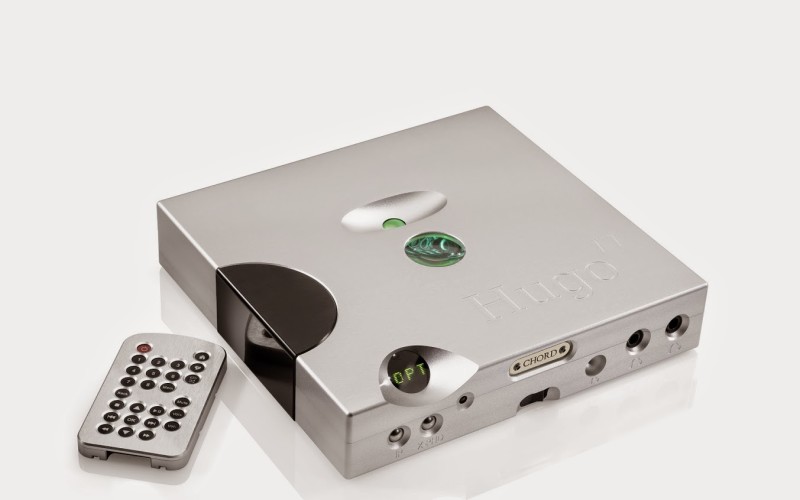 Desktopowa wersja przenośnego konwertera Hugo. Cena - 2995 funtów. Kolejna nowość na pokazie CES 2015 w Las Vegas
CHORD ELECTRONICS' HUGO FAMILY EXPANDS: HUGO TT (TABLE TOP) WORLD DEBUT AT CES!
Chord Electronics has launched the Hugo TT, a new 'desktop' Hugo with improved connectivity and performance, plus remote control, an alphanumeric LED display and a USB-B digital input (£2,995)
Chord Electronics has built on the extraordinary success of its genre-defining Hugo DAC/headphone amplifier, with the CES world debut of Hugo TT (Table Top). The new larger desktop-orientated device offers wider connectivity including a USB-B input, XLR outputs, two 1⁄4-inch headphone outputs, plus improved performance and features. The original Hugo, which has become one of Chord Electronics most successful products, was launched at CES exactly one year ago, aimed at both home and mobile users. Hugo TT, however, is firmly pointed at home users and adds some exciting new functionality. Hugo TT gains a new larger chassis, remote control, an alphanumeric LED display with input/sample rate data, and improved sonic performance thanks to supercapacitors.
Advanced sample rate capability
The Hugo TT is ready to take advantage of today's advanced studio-master-quality (DXD) – music files allowing music lovers to experience music in true high definition, along with the best possible reproduction of CD-quality music. Hugo TT supports up to 32-bit/384kHz audio via coax and USB, and 24-bit/192kHz over optical, plus DSD64 on all inputs and DSD128 via coax or USB (all via DoP).
In a key upgrade over the original Hugo, the Hugo TT benefits from a high-quality asynchronous B-type USB connection for both the SD and HD USB input. With two further digital inputs: a (new) BNC coaxial and optical (TOSLink), any connected component with a digital output can benefit from the Hugo TT's advanced sound quality.
Bluetooth
To fully integrate with today's digitally stored media, the new Hugo TT also has A2DP Bluetooth capability and uses a custom-made module with the aptX codec to feed a digital signal directly into the DAC circuitry, so even without cables, music can still be enjoyed.
Spartan 6 FPGA
The Hugo TT retains the same high-performance Spartan 6 FPGA that enabled Hugo to redefine the DAC genre in 2014. It has the same specification and measured performance as its mobile sibling, a device that "broke all records" for dynamic range in leading UK hi-fi magazine, Hi-Fi World, in the summer of 2014.
Supercapacitors
Being a home-orientated device, the Hugo TT has been designed to run continuously from the supplied charger, however Chord's engineers have also improved the battery and added Supercap energy storage, a technology seen in F1 where supercacitors back-up the car's batteries by sharing the load and charge demands, thereby protecting them. They serve a similar purpose in the Hugo TT, extending the battery life as well as improving dynamics and demanding transients in recorded music.
Chord Electronics' founder and owner John Franks on the new Hugo TT
"The idea for the Hugo TT came when we realised that Hugo's performance was such that many customers were using the device as a reference desktop unit, when really it was primarily designed for mobile use. So, Hugo was not optimised for use in home systems: a minority of audiophile cables with the very largest RCA and USB terminations sometimes proved difficult to accommodate and the shorter range of the original mobile Hugo's Bluetooth pairing distance could sometimes cause problems in larger homes.
"We noted all the suggestions from desktop users and we definitely took notice when people indicated they loved the sound of Hugo and would buy one in an instant if it had additional XLR outputs, greater input visibility and a remote control! So, we set about making a people's Hugo to address as many of these wishes as possible. We also doubled the battery storage and added 10,000,000 microfarads of supercapacitor back-up across the batteries. None of these features would have been possible within Hugo's existing dimensions, but in the larger Hugo TT, they are all comfortably inside."
Hugo TT key features
 Remote control allowing input (source) selection and volume control
 Alphanumeric LED display to show settings
 Double the battery capacity of Hugo
 10,000,000uF (microfarads) of supercapacitor energy storage
 Fully balanced outputs using XLR connectors
 Single-ended RCA outputs
 BNC coaxial digital input
 Optical TOSLink input
 Full-sized B-type USB inputs for both SD USB and HD USB feeds
 Full galvanic isolation on the HD USB input right up to 384kHz
 Improved analogue stage output current for low distortion into low impedance loads
 2x 1⁄4-inch jack headphone outputs
 1x 3.5mm jack headphone output
Specifications
 Advanced digital volume control
 Crossfeed filter network
 Battery-powered for power supply isolation
 Input selection identification and remote volume up or down indication is via alphanumeric display and colour-changing LED display
 26K tap-length filter
 THD: 140dB
 Headphone output: 110dB SPL into a 300ohm headphone load
Inputs
 1x Optical TOSLink 24-bit/192KHz-capable
 1x BNC coaxial input 32-bit/384kHz -capable
 1x HD/SD USB B-type input up to 32-bit/384kHz
Outputs
 1×3.5mm headphone jack
 2×6.35mm (1/4-inch) headphone jack
 1x (pair) stereo RCA phono output
 Fully balanced via XLR connectors
Price and availability
The Hugo TT DAC will be available in February priced at £2,995