MARSHALL WOBURN x JOHN VARVATOS
Szykuje się okazja dla łowców kolekcjonerskich unikatów - aktywny system głośnikowy Marshalla w limitowanej edycji sygnowanej przez Johna Varvatosa. Więcej w info pod spodem
MARSHALL HEADPHONES AND SPEAKERS TOGETHER WITH MARSHALL AMPLIFICATION PROUDLY PRESENT AN EXCLUSIVE AND LIMITED EDITION DESIGN COLLABORATION WITH ICONIC MEN'S LIFESTYLE BRAND JOHN VARVATOS. LET US INTRODUCE: MARSHALL WOBURN BY JOHN VARVATOS. LAUNCHED ON MARCH 10TH 2015 IN SELECTED JOHN VARVATOS STAND-ALONE STORES IN THE US AND UK, AND AVAILABLE WORLDWIDE AT MARSHALLHEADPHONES.COM.
The exclusive designer collaboration Marshall Woburn by John Varvatos is based on the powerful and recently released active stereo speaker Woburn, now with a customized design by John Varvatos – the contemporary menswear designer that unites old world craftsmanship and refined tailoring with a rock 'n' roll sensibility.
The unique Marshall Woburn by John Varvatos speaker is delicately wrapped in black full grain Italian calfskin leather that has been washed and then heat stamped to provide a crinkled look. The limited edition speaker will feature an antique brass insignia that will be numbered from 1 to 300. The iconic front Marshall logo will be done in an antique brass to match the insignia.
Just like the glory days of rock'n'roll, the Woburn is all about freedom, allowing you to play your favourite music multiple ways. Make your music come alive with a speaker crafted to deliver accurate response throughout the frequency range. With superb sound design and quality components the Woburn is built to thrill. With two standby modes, power saver and standard, it also minimizes the speaker's environmental impact when not actively in use.
Marshall Woburn by John Varvatos big and powerful sound holds true to the Marshall legacy – a meeting point between today's technology and contemporary rock'n'roll design.
Marshall Woburn Specs: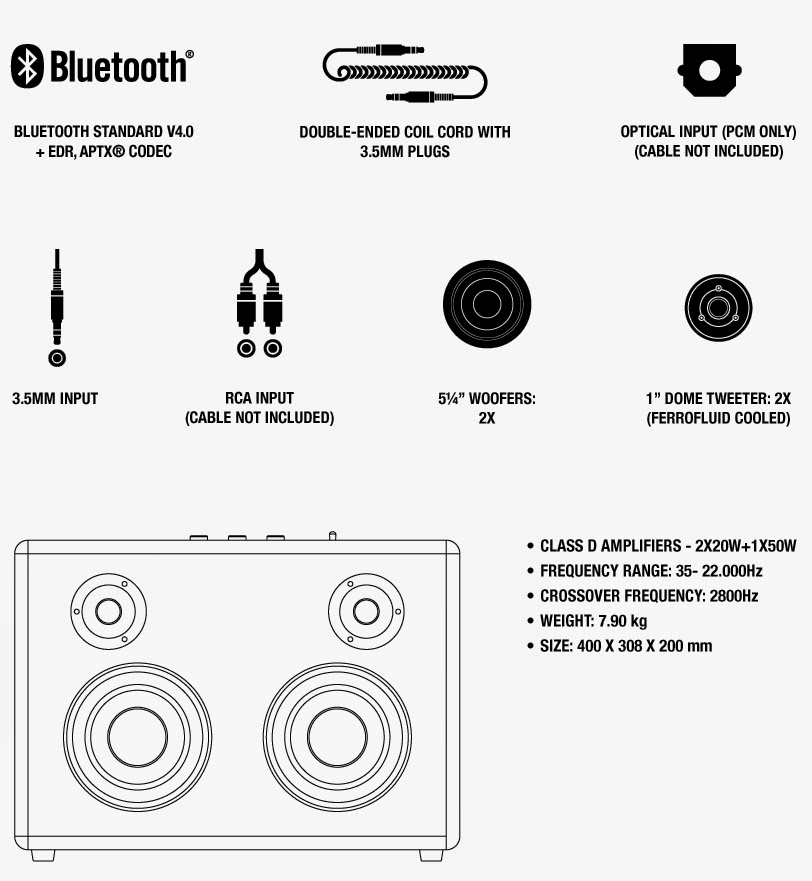 About John Varvatos:
John Varvatos grew up in Detroit – the music melting pot of America – where Motown, rock & roll, blues, jazz, and punk melded together in an unforgettable period of music history. At an early age John was exposed to defining musicians including The Who, Led Zeppelin, Alice Cooper, Bob Seger and The Stooges. The creative spirit, electricity and edginess intrinsic in the personal style of these rock 'n' roll icons inspired John and influenced
About Marshall Headphones:
Marshall is a true rock legend. That uniquely clear and expressive sound combined with a mythical stage presence has enraptured music fans around the world for five decades. We're celebrating the brand's rich heritage with commemorative products that live and breathe Marshall.
The legacy begins in a small drum shop in Hanwell in the 1960s, where Jim Marshall sought to give a bunch of then-local guitarists the sound they wanted – a sound that was harder, crunchier and richer. The result was the JTM45, an amp that reverberated with a sound that was much heavier than anything ever heard before. And in a twist of rock and roll fate – those guitarists, much like the Marshall name, would go on to revolutionize music forever.