THETA DIGITAL DREADNAUGHT IV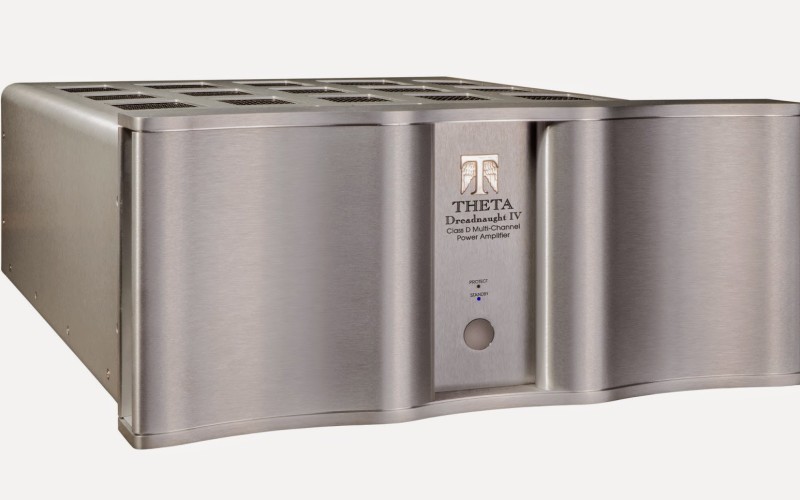 Cyfrowy wzmacniacz, który ma wystarczająco dużo mocy, żeby orać nim największe ugory
THETA DIGITAL ANNOUNCES NEW DREADNAUGHT IV MODULAR MAIN AMPLIFIER USES N-CORE CLASS D MODULES FOR AMPLIFICATION SUPPORTS UP TO 8 CHANNELS AT 225 WATTS PER CHANNEL OR 4 CHANNELS AT 400 WATTS PER CHANNEL
Montebello, CA, January 6, 2015 – The most widely acclaimed manufacturer of high-end audio components, Theta Digital, today introduced the Dreadnaught IV modular power amplifier.
Designed to accommodate up to 8 channels of amplification, the Dreadnaught 4 has a built-in power supply using dual power cords, power switches and toroidal transformers plus 4 slots designed to receive proprietary Theta Digital amplifier modules.
There are three modules available for the Dreadnaught IV. All are based on the Bruno Putzeys' N-Core class D amplifier circuitry. The stereo amplifier module is rated at 225W RMS per channel at 8 ohms and 400W at 4 ohms with no more than 0.10% THD from 20 Hz to 20 kHz. One of the two single-channel modules has identical performance. The other bridges the two modules to deliver over 400W RMS at 8 ohms with over 600 W RMS at 4 ohms.
Pricing for popular configurations: MSRP for 225W x 7 is $9,995.00; 400W x 3 plus 225W x 2 is $10,695.00, 400W x 2 is $7,445.00
According to Jeff Hipps, Theta Digital's Sr. VP for Sales and Marketing, "Prometheus, our first Class D amplifier, was just named one of the Best Products of 2014′ by CE Pro magazine. The Dreadnaught IV is the same game-changing technology in a very flexible package. Prepare to be stunned by the sound."
The Dreadnaught IV is available in platinum or black, in standard or rack-mount chassis with either 117V or 230V power supplies and will be available in Q2, 2015.
About Theta Digital
Theta Digital designs and manufactures state-of-the-art audio components in its facility in Montebello, CA. With impeccable style, world-class cosmetic design and leading-edge audio circuitry, Theta Digital components are a fitting accompaniment for the finest possible audio and video systems.