Moonriver Audio 505 Hybrid Phono Stage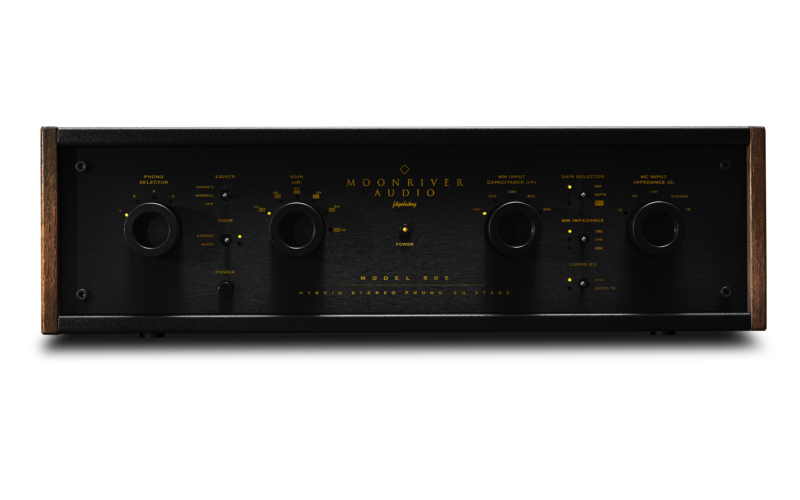 The Moonriver Audio 505 phono stage meets all the needs of any demanding audiophile who loves vinyl records and high performance sound. Designed with audiophiles, record collectors and music lovers in mind
The Moonriver 505 uses the simple, ergonomic and user oriented interface giving direct access to all necessary adjustments featuring 4 knobs and 5 switches for all the adjustments: 12 settings for the gain, 5 settings for the capacitance, 5 settings for MC load, including a custom option, 3 settings for MM load and EQ choice for Decca or Columbia 78 rpm records, the 505 phono stage will drive your precious MC cartridge with unmatched performance and it will make your everyday MM cartridge to sound like never before. Every change of setting is stored automatically for every individual input.
Layout highlights
Ultra low noise, active, hybrid solid state circuit delivers incredible performance with open, transparent and dynamic sound. The circuit design is established without any compromise in mind: massive 70000uf capacitor bank, dual mono, 6 in total, individual power supplies for each stage, separate input stages for MM and MC, extremely short signal path, triple shielding, extremely low impedance relays and high current, discrete output circuit.
The Moonriver 505 phono stage retail price is €4990 and it is immediately available for shipping.
Specifications
Inputs: 4
Minimum gain: 34dB
Maximum gain: 72 dB
Capacitance values: 100, 220, 330, 470, 680pF
MC load impedance: 10, 47, 100, 470, 1KΩ and custom MM load impedance: 22K, 47K, 75KΩ
De-emphasis curve: RIAA and Decca or Columbia Stereo / Mono function
XLR and RCA inputs and outputs
Separate shielding for the transformer and gain stages Auto mute function
Dimensions (mm): 430 (W) x 390 (D) x 135 (H) Weight: 11 kg