ATLAS Eos 4dd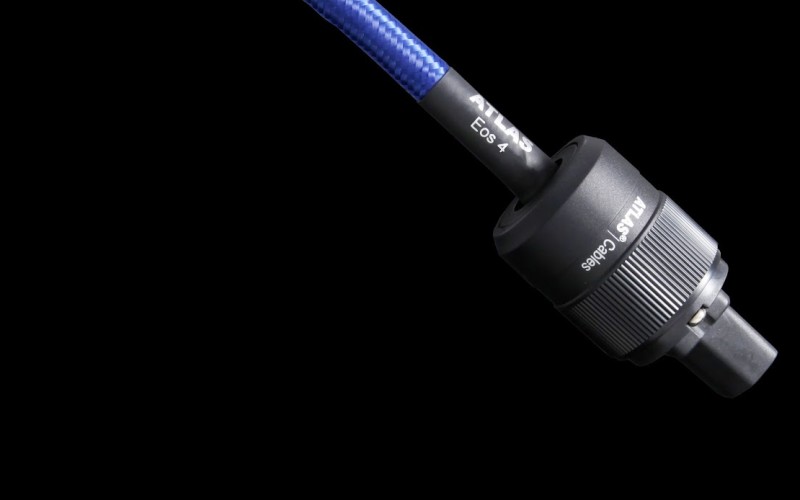 Niedroga sieciówka ze Szkocji do poprawiania tego, czego nie potrafi twoja elektrownia
Atlas Cables, the engineering-driven cable specialist, has launched its latest range of high-performance screened mains power cables – the Eos 4dd. 'dd', which stands for 'dual drain', utilises similar technology that was researched and implemented into the company's range-topping Asimi Ultra and Mavros Ultra audio interconnects. Principally acting as a super filter against harmful incoming RF AC power contamination, the dual drain technology dumps any airborne and electromagnetic disturbance effects rapidly to earth, removing them from the AC power feed. Available now, the Atlas Cables Eos 4dd power cable range has a UK SRP starting from £200.00 for a 1 meter IEC/13A plug length.
Eos-4ddFor each conductor, the Atlas Cables Eos 4dd utilises the company's proprietary high purity low resistance oxygen free copper (OFC). A thick 4mm2 cross section of twisted strands is covered in a high efficiency wide bandwidth Teflon (PTFE) dielectric, and then twisted together with the other two conductors. Anti-vibration filler packs out the conductors, which are then covered in a foil screening. The dual drain conductors are then embedded under the foil to maximise performance before the whole construction is covered in a new royal blue fabric sleeving.
Both ends of the cable are terminated with Atlas Cables own exclusive IEC and 13 Amp (Nema and Shuko terminations are also available) Eos power plugs. Designed, specified and produced exclusively for Atlas Cables in high impact resistant Polycarbonate, the Eos power plug range has had significant care taken at the design stage to eradicate many of the performance sapping compromises exhibited in many alternatives available today. All internal mechanical connections that can lead to deleterious macro vibrations have been damped via the application of a two part high density Epoxy resin, which also seals the primary connection points airtight thereby mitigating any long term oxidisation issues. All plugs have copper-bronze pins that are highly polished then plated with 1.25- microns of pure rhodium, a metal alloy that provides a cleaner sound through listening tests. All plugs are CE-certified.
"By introducing the technology developed for our flagship signal products, we were amazed at the striking effects the dual drain system had on our power products," said Kevin Kelly, Managing Director at Atlas Cables. Kelly continued, "At Atlas Cables, we have always been focused on removing the unwanted imperfections that get in the way of the perfect signal. With these latest Eos 4dd dual drain cables, the improvements have been significant and we feel we have developed a power cable range that will re-set the mark and price point by which all others are considered."
All versions of the Atlas Eos 4dd are available now:
Eos 4, 1.0m, 13A/IEC C14 female – rsp £200.00 inc vat
Eos 4, 1.5m, 13A/IEC C14 female – rsp £220.00 inc vat
Eos 4, 2.0m, 13A/IEC C14 female – rsp £240.00 inc vat
Eos 4, 3.0m, 13A/IEC C14 female – rsp £280.00 inc vat
Eos 4, 1.0m, Shuko/IEC C14 female – rsp £200.00 inc vat
Eos 4, 1.5m, Shuko/IEC C14 female – rsp £220.00 inc vat
Eos 4, 2.0m, Shuko/IEC C14 female – rsp £240.00 inc vat
Eos 4, 3.0m, Shuko/IEC C14 female – rsp £260.00 inc vat
Eos 4, 1.0m, Nema/IEC C14 female – rsp £200.00 inc vat
Eos 4, 1.5m, Nema/IEC C14 female – rsp £220.00 inc vat
Eos 4, 2.0m, Nema/IEC C14 female – rsp £240.00 inc vat
Eos 4, 3.0m, Nema/IEC C14 female – rsp £280.00 inc vat