AUDIO RESEARCH SP20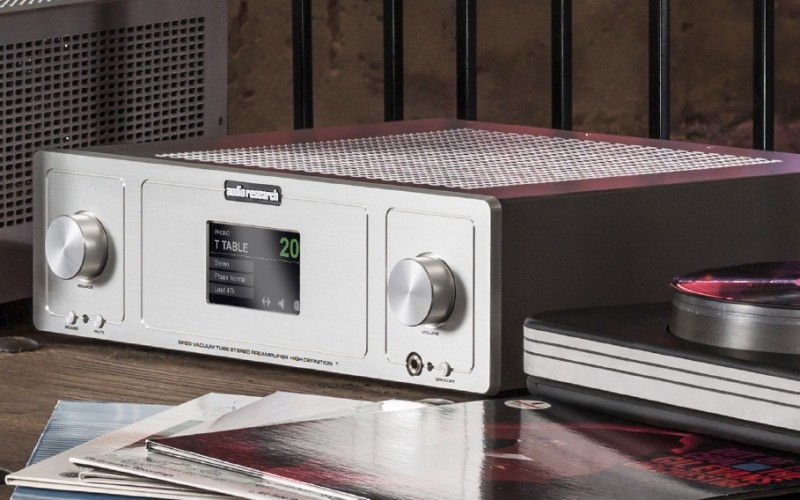 Nowy przedwzmacniacz lampowy - pełen balans, A-klasa, 9975 euro. Szczegóły - w informacji prasowej poniżej
As a result of the ever-increasing demand for a full-function preamplifier with a level of performance substantially above that of the SP17, we are pleased to introduce the striking new SP20 vacuum-tube preamplifier. Influenced by some of our classic groundbreaking SP preamplifiers but with performance that is only achievable by our best LS- and PH-series designs, the SP20 offers inspirational performance combined with real value.
The look is reminiscent of classic Audio Research components, but is totally modern with a clean, purposeful esthetic. The front panel sports a new 4.3″ LCD touchscreen, with two large rotary knobs on either side. For the first time ever on an Audio Research preamp, there is a ¼" headphone jack, accompanied by three buttons for Power, Mute, and Speaker off.
Those large knobs rotate fully, are optically-coupled and speed sensitive; turn it slowly and the volume will change incrementally; a quick turn one way or the other will raise or lower the volume by a large amount. Also for the first time, the Input selector is on the left, the Volume control is on the right.
Through the touchscreen one can change Inputs, select Stereo or Mono, Mute, adjust Phase, adjust left-right Balance, and adjust the phono input Load (50, 100, 500, 1000 or 47k Ohms). Through a Settings menu, you can customize other items: change input names, adjust gain offset for each input, change volume presets, adjust display brightness (or turn off), and check Tube Hours (or reset). When the tube hour meter reaches 4,000 hours, the Settings icon will turn red to warn the owner it is time to change the tubes.
In addition to the Phono input, there are four other single-ended inputs, two balanced inputs, separate Monitor-in and Record-out, and two pairs of balanced outputs. There is also an RS-232 port, IR-input, 12V trigger, and a 15A IEC connector. The SE4 input can be configured as a home theater pass-through.
The SP20 is fully balanced, pure Class-A with zero feedback. There are seven levels of voltage regulation, a large power supply, and a very low-noise R-core power transformer. Both the line and phono stages feature low-noise JFET inputs and 6H30 (2 per section) outputs. The latest high performance coupling and bypass capacitors are used in both stages. Bandwidth is extraordinary: Line -3dB 0.8Hz – 220kHz, Phono +/- 0.4dB 5Hz—80Hz. Gain of the line section is 13.8dB (BAL), and gain of the phono section is 58dB, so the SP20 can be used with a wide variety of phono cartridges, including moderately low output moving coils.
The headphone output is no mere afterthought, inserted simply as an inexpensive feature to add to the list; it is a low-distortion, high-performance vacuum-tube headphone amplifier designed to comfortably drive a wide impedance range of headphones. The button next to the headphone jack switches off the main (amplifier) outputs for headphone listening, or it switches off the headphone jack for speaker listening.
All of these developments would be for naught if the SP20 did not delight sonically, which it does with ease. The presentation is so relaxed and natural, transparent and solid with great dynamics and impact. Never threadbare, sonic images have texture and a luminous 3-D quality. The SP20 delivers musically, with an ability to effortlessly drive your tube or solid-state amplifier.
Units with Natural front panels, knobs and buttons will start to ship in early September; units with black front panels, knobs and buttons will be available around the middle of October. The retail price will be € 9.975,-.