AUDIOQUEST NIGHTHAWK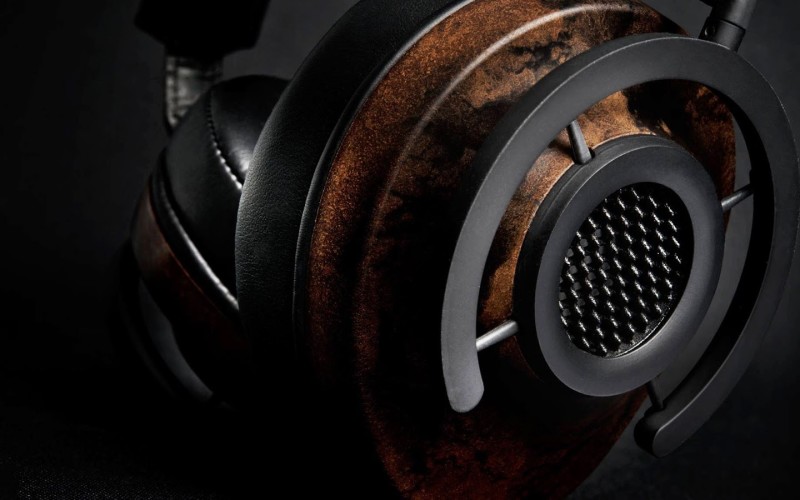 Premierowe słuchawki producenta specjalizującego się w audiofilskich przewodów oraz kieszonkowych konwerterach. Słuchawki trafią do sprzedaży dopiero w przyszłym roku, ale już zdobyły nagrodę CES. Szczegóły - poniżej
AUDIOQUEST NAMED AS 2015 CES INNOVATION AWARDS HONOREE & 2015 BEST OF INNOVATION WINNER
AudioQuest has been named a 2015 CES Innovation Awards Honoree (Headphones) and 2015 Best of Innovation Winner (Eco-Design and Sustainable Technology) for its NightHawk around-the-ear semi-open headphones. Spanning 28 distinct product categories, the CES Innovation Awards honor outstanding design and engineering in cutting-edge consumer electronics; products entered in this program are judged by a panel of independent industrial designers, independent engineers, and members of the trade media.
Although NightHawk, designed by Skylar Gray, is AudioQuest's first headphone, it takes full advantage of the California-based company's experience and expertise as a longtime provider of high-performance DACs (digital-to-analog converters), phono cartridges, audio/video cables, and numerous accessories. Maximizing potential while minimizing excess, NightHawk combines advanced manufacturing techniques, innovative driver technologies, sensitive ergonomics, and sustainable materials in an elegant, attractive package, with an overall look and feel that exudes quality and belies its modest price.
Every aspect of NightHawk was carefully optimized for high levels of sonic, ergonomic, and aesthetic performance, with much of its engineering inspiration taken from today's most sophisticated loudspeaker designs. NightHawk is the first completely original production headphone to use a 3D-printed part—a biomimetic grille (inspired by the underlying structure of butterfly wings) that uses a complex diamond-cubic latticework to diffuse sound and defeat resonances. NightHawk's 50mm pistonic drivers have a biocellulose diaphragm designed to take advantage of the material's outstanding rigidity and high-frequency control, while its patented split-gap motor has been devised to significantly reduce intermodulation distortion.
Among NightHawk's many intelligent innovations is a flexible headband that efficiently distributes the headphones' weight, providing a sure and simple fit designed to minimize clamping force and enable long listening sessions. NightHawk's earcups are made from a revolutionary material known as "Liquid Wood"—actual wood that has been combined with reclaimed plant fiber, heated, liquefied, and processed in such a way that it can be injection molded. Unlike typical plastic, Liquid Wood has outstanding acoustic properties and is environmentally friendly. Further, NightHawk's patent-pending suspension system allows its earcups to move freely, accommodating heads of any shape or size, while decoupling the earcups from one another, further counteracting harmful resonances.
As seen in the use of its Liquid Wood earcups and biocellulose driver diaphragm, NightHawk carefully balances innovations in headphone design with innovations in sustainability and responsible engineering. To that end, even NightHawk's packaging reflects designer Skylar Gray's belief that an intelligent design should minimize waste, culling all unnecessary parts and leaving behind only those that are vital to the product's success. Forgoing the luxurious cardboard-and-plastic packaging of today's popular headphones, NightHawk is packaged in a leatherette carrying case with a simple sleeve and original artwork by the acclaimed freelance graphic designer Justin Maller—a packaging solution that is as simple as it is intelligent, responsible, and beautiful.
Said Gray: "When we decided to build NightHawk, we knew it had to be something special—it had to have a real reason to exist because no one needs another set of ordinary headphones. We worked from the ground up, reexamining everything that headphones should be, while never losing sight of our ultimate goal—to celebrate the truly unique, singularly moving experience of listening to music through high-quality headphones. With NightHawk, and with all of our future headphone designs, I want to share that experience with as many people as possible, constantly challenging and reestablishing the limits to which quality, innovation, and sustainability can be achieved at affordable prices."
Added AudioQuest's CEO and founder, William E. Low: "We are delighted to have been named 2015 CES Innovation Awards Honoree (Headphones) and 2015 Best of Innovation Winner (Eco-Design and Sustainable Technology) and we're looking forward to bringing to market more exciting headphone products in the years to come."
The CES Innovation Awards are sponsored by the Consumer Electronics Association (CEA)®, the producer of the International CES. AudioQuest's NightHawk around-the-ear semi-open headphones will be displayed at the 2015 International CES, which runs Jan. 6-9, 2015, in Las Vegas, Nevada. Honorees will also be displayed at CES Unveiled New York, which features dozens of exhibitors and networking opportunities, and runs 4:30-7:30 PM November 11 at the Metropolitan Pavilion, New York.
Entries are evaluated on their engineering, aesthetic and design qualities, intended use/function and user value, how the design and innovation of the product directly compares to other products in the marketplace, and unique/novel features present. Products chosen as CES Innovation Honorees reflect innovative design and engineering in some of the most cutting-edge tech products and services coming to market. 2015 CES Innovation Honoree products are featured on CESweb.org/Innovation, which lists product categories, as well as each product name, manufacturer information, description, photo and URL.
Strona produktu – tutaj