AURENDER N100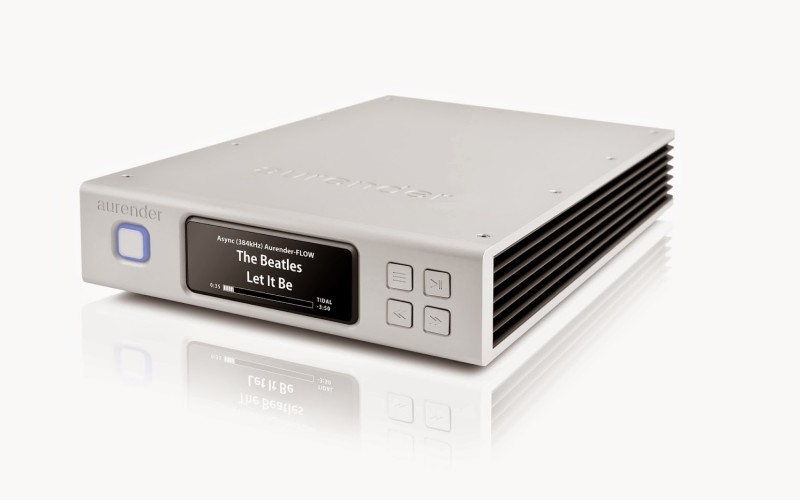 Serwer dostępny w wersji ze 120-gigabajtową kartą SD lub z dyskiem 2 TB. Ceny - od 2500 dolarów
Aurender, a leader in award-winning, high-resolution audio products, introduces the new N100 Network Music Server/Player, that makes managing, browsing, optimizing, collecting and enjoying large music collections stored on Network Attached Storage (NAS) devices easy and entertaining for everyone — without the typical "Audiophile Clutter" and setup hassles.
"The N100 Server/Player allows users to infinitely add to their music collections via NAS devices. And while its performance is audiophile-quality, you don't have to be an audiophile to set up and enjoy the N100," says Harry Lee, Aurender's Director. "It has all the qualities that an audio enthusiast looks for, but with streamlined simplicity, design, and tremendous functionality for the average user."
The N100 Caching Network Music Server/Player accesses and plays music stored on external NAS devices, allowing you to add as much music as you want to your library or set up a multi-room system. With no internal hard drive and the ability to play only NAS-stored music, the user can expand his or her music collection ad infinitum without worrying about the constraints normally associated with hard-drive size.
Because the N100 features Solid-State-Drive (SSD) cached playback of NAS contents (via its 120GB SSD), it also eliminates noise, jitter and vibration. With no internal hard drive (NAS is required), the N100 also has a more compact machined aluminum chassis than Aurender's other Music Servers and includes 3-inch AMOLED display that displays information such as artist name and song title.
The unit is also designed for use with the elegant new matching machined aluminum Aurender X725 DAC/Amplifier — simply add a pair of quality stereo speakers to bring high-performance, high-resolution sound to your home, office, RV or boat, and with fewer components and cables than the typical analog system requires.
Remote Internet Support
Like all of Aurender's Music Streamers/Servers, the new N100 includes one of the industry's most convenient features: Remote Internet Technical Support, which makes troubleshooting simple. Users can simply send a Remote Support Request via the Aurender Conductor app, and engineers will quickly diagnose and fix problems over the Internet.
The Award-Winning Aurender App + Integrated TIDAL
Control the N100 Music Server/Player with the unparalleled Aurender App for iPad (or the new Android "Lite" App). The app was designed and engineered in-house by Aurender's software developers to perform optimally and swiftly with very large music collections in mind.
All settings and functions of the N100 can be easily accessed through the Settings menu. The playlist-based app then intuitively allows you to view your collection by Song, Artist, Album, Genre, Composer, Conductor, or Folder. You can also filter these results by Genre, Favorites, and even Quality (DSD, 16/24-bit, etc.).
The Aurender App continuously receives praise among press and in the field as one of the best companion Music Server apps available, with lightning-fast browsing and searching. The app also provides integrated access to TIDAL, the high-fidelity streaming music service that allows you to play more than 25 million full-resolution lossless music tracks directly on the N100 (TIDAL subscription required).
The N100 with 120GB SSD for caching playback ($2,499), and the N100H [$2,699] with 2TB HDD storage, are available immediately.