BAT VK3000SE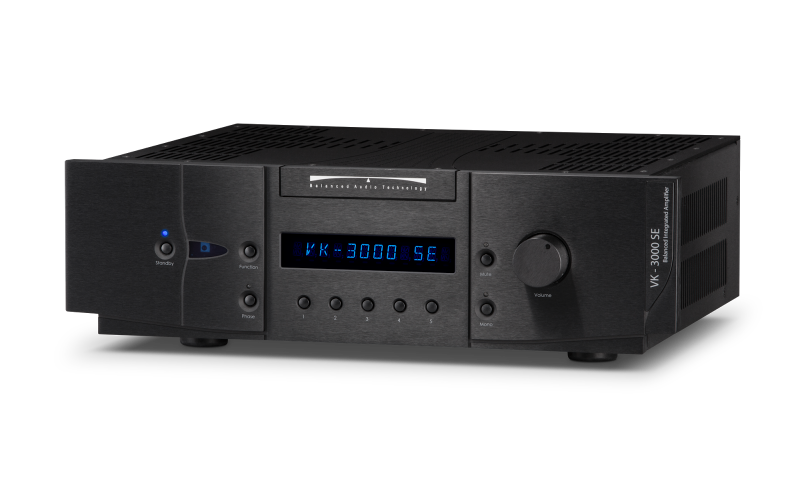 150-watowa integra z lampami w stopniu przedwzmacniacza. Cena - 8000 dolarów
Blowing by one of the most acclaimed integrated amplifier designs in high-end audio history (the BAT VK-300x), Balanced Audio Technology's VK-3000SE puts an end to the age-old debate as to whether one-box solutions can best separates. Boasting reference-class performance, extraordinary user options, and signature BAT power, VK-3000SE will fill any space with supreme dynamics and breathtaking realism. This is the integrated amplifier you need if you want to experience your favorite albums with the level of unstinting liveliness and revealing emotion that will leave you breathless every time you play a song. It's that good.
Sublime Power, Rich Musicality
Balanced Audio Technology's VK-3000SE integrated amplifier embodies simplicity without compromise. At last, audiophiles can get no-limits musical finesse and exceptional performance in one convenient package. Competitive with reference-level separates, the VK-3000SE provides a robust 150 watts per channel into 8-ohm loads and doubles this output into 4-ohm loads. Combine such ability with BAT's vacuum-tube preamplifier section—based on the same reference 6H30 SuperTube used in the flagship REX II preamplifier—and you get sublime power matched with richly textured musicality. Sonically open, delicate, and smooth, the VK-3000SE allows any space to breathe with exquisite music.
Ultimate Versatility, Optional Phono Card
Incredibly versatile, the VK-3000SE can be configured to meet almost any system need. A programmable user interface allows you to easily mate the VK-3000SE with a home-theater system. Change sources, switch polarity, or fade music with just one touch—all from the included machined-aluminum remote control. Add in the optional phono module, and you'll obtain superb reproduction of your analog record collection from either moving-magnet or low-output moving-coil cartridges. Use the vacuum-tube preamplifier outputs to control an amplifier in a second room.
Thoroughbred Design, Signature Look
Many integrated amplifiers offer the benefit of convenience, but little else. The VK-3000SE is different. Its circuitry and build maintain the uncompromisingly high caliber found in BAT's flagship components. The output stage employs the symmetrical bipolar design used in BAT's reference VK-6200 multichannel power amplifier. The preamplifier section uses the same 6H30 SuperTube Unistage design topology employed throughout BAT's Special Edition tube preamplifiers—right down to the paper-in-oil signal capacitors. To literally cap it off, the VK-3000SE features a gorgeous aluminum top cover and side panels that add to its signature look.