BEYERDYNAMIC AMIRON HOME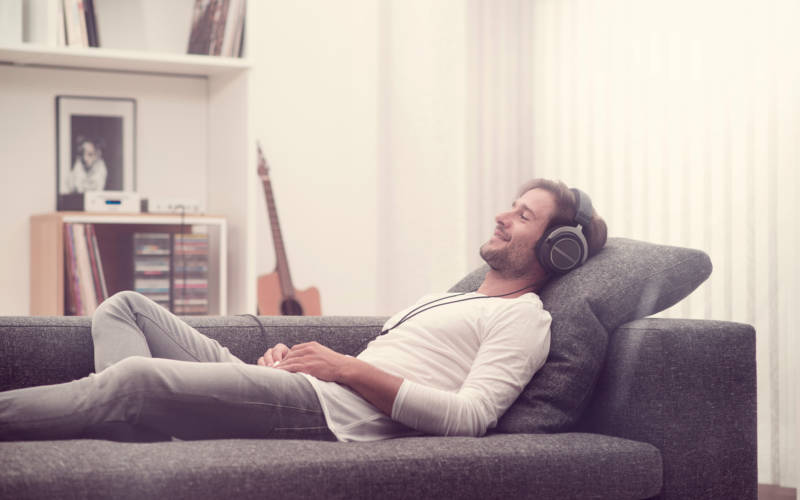 The open high-end headphones with a live feeling – for the perfect concert experience at home
When music truly touches the listener. When it sends shivers down the spine and conveys the sense of being right there in the concert hall or jazz club. When this happens, then you know it's the new Amiron home from beyerdynamic. Its open design allows the sound to breathe as only possible with high-end headphones from the audio specialist from Heilbronn, Germany.
The successor to the legendary T 90 uses proven Tesla technology. The unique acoustic transducers from beyerdynamic lend all top models their playful ease and tonal precision. And it's not just the sound characteristics that have been further optimised on the Amiron home, the development engineers have also been busy in other areas.
Warm, intoxicating sound with live atmosphere
An additional fabric in front of the multilayer compound calotte reduces high-frequency resonances. The acoustic transducers are dampened on the rear to ensure an even more balanced frequency response in the mids. And a new acoustically effective ear pad filling material increases bass precision. All in all, this adds up to a warm, stress-free sound with fascinating spaciousness – as intoxicating as in a live concert.
The open headphones fully come into their own in quiet surroundings. This makes them the ideal partner for a high-quality hi-fi system or headphone amplifier. However, because their 250-ohm transducers still deliver a sufficiently high output level even on a tablet, music fans can enjoy the high-fidelity sound anywhere around the home. Simply slip them on and become immediately immersed in the music.
Optimum wearing comfort and workmanship "Handmade in Germany"
It goes without saying that the same high standards apply to the features. Every last detail of the handcrafted Amiron home has been comprehensively designed and tested for durability. Starting with the three-metre long connection cable: detachable on both sides with no soldering joints at the Y-adapter. Its new, highly flexible twin wire is fed through as a single unit – from the gold-plated jack plug with screw adapter for large 6.35 mm jacks through to the Tesla transducers.
Ear pads made from velvety soft microfibre velour with temperature-balancing and moisture-regulating effects make listening a pure pleasure. Music fans therefore have no sense of wearing a headset even after protracted listening sessions. Yokes made from solid aluminium and decorative rings made from die-cast aluminium complete the elegant appearance.
The Amiron home marks a new chapter in the history of Tesla headphones. High-end sound in the home has never been so accessible and alive. Yet it's the sum of its parts that lends the Amiron home its unique character: finest materials, excellent wearing comfort and elegant design create perfect symbiosis with the sound.
The youngest offspring of the Tesla family will be presented for the first time at beyerdynamic's booth. The headset will then be available at a price of 599 euros from November.
Technical data
Transducer type
Dynamic
Operating principle
Open
Frequency response
5 – 40,000 Hz
Nominal SPL
102 dB (1 mW / 500 Hz)
T.H.D.
< 0.05 %
Sound coupling to the ear
Circumaural
Weight (without cable)
340 g
Cable
3 m / double-sided / detachable
Connection
Gold-plated mini stereo jack (3.5 mm) & 1/4″ adapter (6.35 mm)