BOSE QUIET COMFORT 20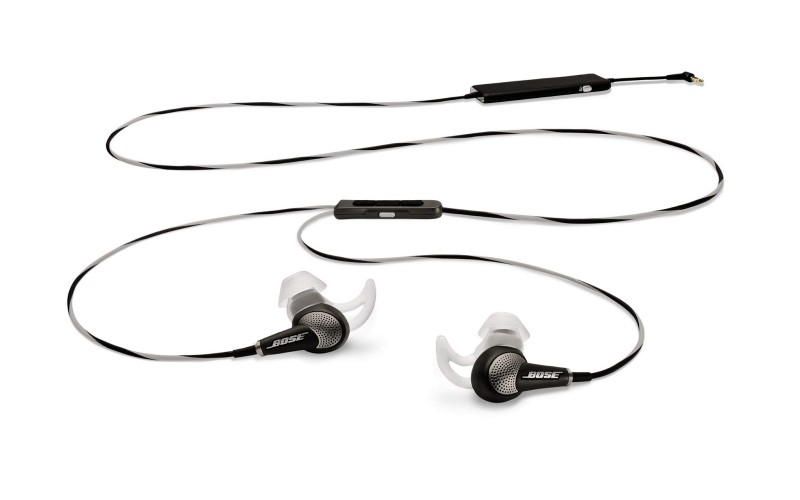 Słuchawki douszne z aktywnym systemem tłumienia hałasu za 300 dolarów. Pierwsze tego rodzaju w ofercie Bose

The new QuietComfort 20 headphones are the first in-ear noise cancelling headphones from Bose. They deliver a stunning breakthrough in noise reduction, audio performance and comfort, and offer two ways to listen –- one to shut out the world, and one to keep you connected. They fit in your pocket, weigh just 1.5 ounces, and rival the performance of much larger headphones.
"The Bose QC20s are a revolutionary headphone," said Sean Garrett, vice president of the Bose Noise Reduction Technology Group. "Just like your phone, you'll want to take them everywhere, every day."
The QC®20 headphones benefit from over 30 years of continuous research in noise reduction technology, and integrate more U.S. patents than any Bose® headphone ever made.
Bose engineers first placed two tiny microphones in each earbud; one senses the sound approaching, the other measures the sound inside. The measurements are then sent to a digital electronic chip located in the control module found on the headphone cord. The digital electronic chip –- exclusive to Bose, and the first of its kind — calculates an equal and opposite noise cancellation signal within a fraction of a millisecond. The resulting noise reduction is so dramatic, it has to be heard to be believed.
Within the quiet environment created by Bose noise reduction, musical detail previously "lost" through conventional in-ear headphone listening can be heard with remarkable clarity. Bose TriPort® technology uses ports to increase the effective acoustic space of the earbud to reproduce deep lows, and lifelike vocals and instruments. Bose active equalization tunes the frequency response for improved, natural sound. All music genres sound better — full, rich, and deep, without artificial boosts or distortion.
The QuietComfort® 20 headphones were made for comfort and performance. New proprietary StayHear®+ ear tips sit at the entrance of the ear canal, and feature an improved conical design that ensures an effective seal to passively block noise, and the proper acoustic enclosure to improve active noise reduction. They are stable, secure, and barely felt.
The QC20 headphones can be used in two ways, giving you control over what you hear and when. Owners can choose to block out the noisy world and enjoy their music. Or, with the push of a button on the cord's Y-joint, the QC20 headphones switch to new Aware mode, which keeps the music playing, but allows surroundings to be heard clearly: a horn beeping, friend talking, a passerby, or gate announcement at the train or airport.
"Aware mode changes behavior," said Garrett. "With it, you no longer have to remove your headphones to connect with the world. It's just another reason why the QC20 headphones can be used in more places, in more ways, and more often than any other headphone available."
A rechargeable battery provides about 16 hours of power; when the battery is depleted or the power is turned off, the music plays on.
The new QuietComfort® 20 headphones include an integrated inline microphone and controls that enable you to take calls. They are available in two different models: the QC20 headphones work with most Android™, Windows® and BlackBerry® phones; the QC20i headphones are designed specifically for select iPhone, iPad and iPod models.
The QC20 and QC20i join the iconic QuietComfort 15 headphones and QuietComfort 3 headphones in the renowned Bose® QuietComfort noise cancelling headphone line.