BÖSENDORFER 280VC VIENNA CONCERT GRAND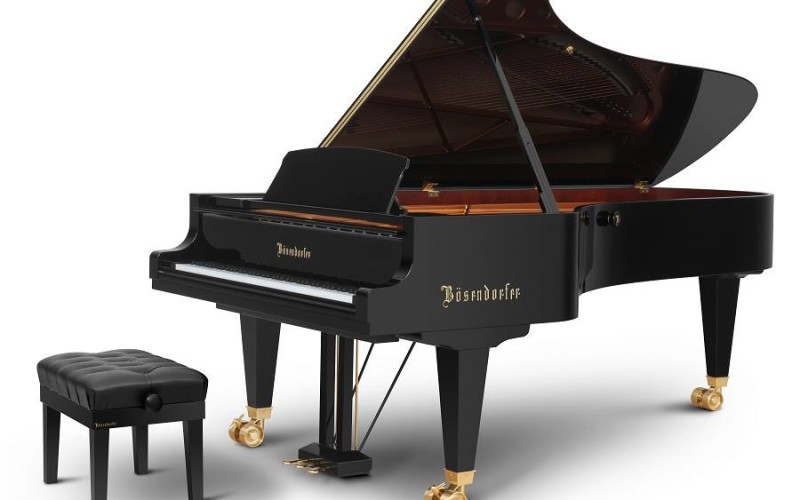 "What we have aimed to do is to create an instrument that remains true to our Bösendorfer sound character "Der Klang, der berührt" but which is a concert grand for the 21st century" explains Ferdinand Bräu, Senior Product Designer & Artist Relation Manager and a member of the development team. Actually this instrument is a comprehensive redesign - nothing has been left unchallenged.
A striving for perfection in each and every detail of the piano the construction uses Bösendorfer's rich experience and tradition of piano making combined with the most up to date scientific technologies, computer aided design and processing methods. Compromises have been refused in any respect whether it be material quality, hand-craftsmanship or highly technological manufacturing processes. The objective has been to create the ultimate dynamically responsive, versatile and powerful concert stage instrument that represents both the distinctive and unique Viennese Bösendorfer sound, strongly based on our rich tradition, but also focuses on meeting all the expectations and needs of today's performances and venues.
The 280VC has been the result of a multi-year development programme, and though the expertise of Bösendorfer craftsmen is critical for its success it is also an instrument whose creation has actually also leveraged new technology. "We have developed new and specific concepts and methods of piano technology exclusively to create the unique and unsurpassed dynamic responsiveness of the acoustic assembly, which comes as a clear advance and development of Bösendorfer's resonance case principle. This principle, a feature of all Bösendorfer grand pianos since 1828, where the rim is constructed with a solid core of soundboard spruce rather than multiple laminations of hardwood, is a key element in creating our unique Bösendorfer tonal structure. The 280VC also is applying the traditional Bösendorfer piano building philosophy through our hallmark crossbeam construction that helps support the frame and the tension" stated Ferdinand Bräu.
Preserving the specific warmth and singing sound character on one hand as well as offering a broad dynamic range and powerful dynamic tonal development on the other hand make the 280VC a universal tool for a wide range of performances. The spectrum goes all the way from subtle accompaniment or chamber music to contemporary piano concerto with orchestra to Jazz or any other type of modern music.
The new Bösendorfer 280 VC has been developed with the close involvement of numerous pianists and pedagogues, who have contributed many valuable inputs for fine adjustments during the evaluation phase. These include Sir András Schiff, Paul Badura-Skoda, Piotr Anderszewski, Aleksandra Mikulska, Emanuel Ax, Kit Armstrong, Ingolf Wunder, Elisabeth Leonskaja amongst many others.
With performances that have taken place at different concert venues and recording studios the new concert grand has already proved its worth in a wide variety of possible applications and is becoming increasingly requested for major concerts and recordings. Frantisek Janoska, Bösendorfer Artist and pianist of the Philharmonics and the Janoska Ensemble, said after the Philharmonics' recent performance in Vienna Konzerthaus: "What an absolutely incredible instrument to play on. It meets my every need".
Paul Badura-Skoda, current holder of the Bösendorfer ring stated: "I am surprised that improvements are still possible in modern piano building. Without abandoning the legendary qualities … this model captivates with its extraordinarily rich resonance and its dynamic possibilities … absolutely brilliant."
Brian Kemble, retiring Managing Director believes passionately that with the new 280VC Bösendorfer has created an instrument that offers a wonderful expressive tool for pianists and is a real tonal alternative. "Diversity of sound is vital for artistic integrity" Brian Kemble explained. "Sir András Schiff warned that there is a danger that all artists will end up sounding like each other. We have a mission to help prevent that happening. Artists have been telling me how inspiring they find the instrument and that they are very excited by all the creative possibilities it opens up for them. I am particularly delighted with Sir András Schiff, saying to me: "Congratulations – I have always been a friend of Bösendorfer but with this instrument you will win many new friends." He has decided to play on it for his upcoming USA tour and will be playing on one both at the Strathmore Music Centre in Washington DC and at Carnegie Hall, New York."
Louis Lortie will be performing on one at Konzerthaus Vienna on 24th and 25th October. He recently said: "The new 280 from Bösendorfer is simply a miracle. It combines an impeccably balanced mechanism with an incredibly rich array of colours. The Bösendorfer brand was always associated mostly with the great Austrian tradition but the spectrum is now so wide that it can suit at least three centuries of composers from all regions of the world."
The newly appointed Managing Director Sabine Grubmüller, is very excited about the new 280VC concert grand: "It is winning the hearts and minds of concert pianists around the world. Bösendorfer is working every day to build in Austria pianos on the highest level. We are committed to creating passion and being a cultural inspiration for all people."
About Bösendorfer:
Bösendorfer was established in 1828. It is one of the oldest premium piano maker in the world, based in Vienna, the historic centre of European music culture. Still today Bösendorfer pianos are exclusively produced in Austria by highly specialised craftsmen.