BOWERS & WILKINS T7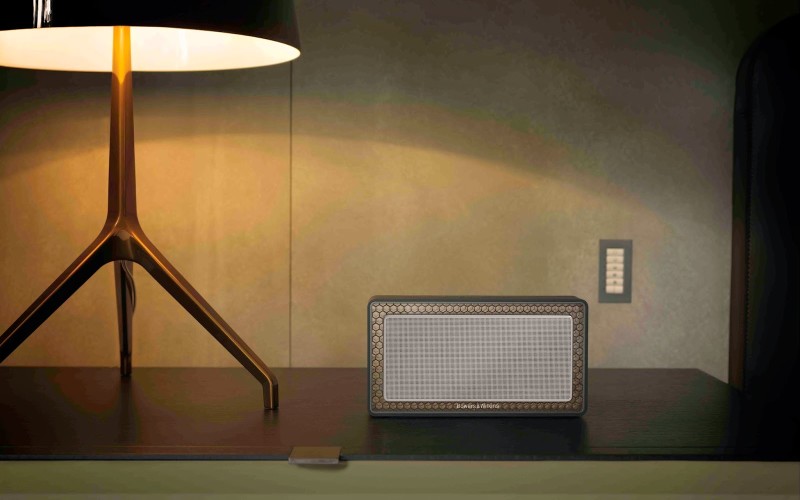 Przenośne bezprzewodowe głośniki z Bluetoothem za 350 dolarów. B&W mocno wchodzi w lajfstajlowy segment gadżetów audio
Bowers & Wilkins launches T7, its most portable wireless speaker yet
Bowers & Wilkins T7 combines Bluetooth wireless streaming with compact size, rechargeable convenience, Bowers & Wilkins' legendary approach to high-quality sound and the first commercial application of Bowers & Wilkins Micro Matrix technology. The result is Hi-Fi untethered.
T7 is Bowers & Wilkins first Bluetooth speaker, and as with everything Bowers & Wilkins does, T7 is all about sound. The compact speaker features the first commercially available application of Bowers & Wilkins Micro Matrix technology. Derived from the Matrix internal bracing used in the reference 800 Series Diamond loudspeakers found in Abbey Road Studios, and developed as part of Bowers & Wilkins next-generation automotive audio concepts, the Micro Matrix honeycomb structure provides substantial cabinet stiffening and a solid platform for the T7's drive units.
T7 uses two (patent-pending) force-canceling high-output bass radiators to extend low frequencies, which help deliver staggering range, depth and richness. The T7's two highly optimized 2 inch (50mm) drive units are the result of a very long evaluation process. A process undertaken by some of the very best listeners in the business: Bowers & Wilkins acoustic engineers. Plus, the use of aptX Bluetooth ensures high-definition detail isn't lost in wireless transmission when you stream audio directly from any Bluetooth-enabled PC, tablet or mobile phone.
Bowers & Wilkins products are always designed with simple interfaces. Always aiming to keep buttons and feedback to a minimum, while still supporting the essential use of the product. With T7, the user interaction goes a step further, and the easy-to-use, yet unobtrusive controls are supported by a unique collection of audio cues developed in collaboration with Mira Calix, an international composer, artist, and performer who works with sound across a range of formats.
T7 is the most portable standalone speaker Bowers & Wilkins has ever produced. The size of a hardcover book, it's designed to be picked up and carried with you. T7's rechargeable battery grants you the freedom to take it with you wherever you go, for up to 10 hours at normal listening levels.
While T7 is compact, it's reassuringly solid, with the heavy-duty stability you would expect of a high-quality speaker. The rubber surround adds protection and tactile quality, adding to the speaker's distinctive, elegant design.
T7 offers genuine hi-fi sound, with no strings attached.
T7 features
Micro Matrix The distinctive honeycomb structure surrounding T7 isn't just for show. Micro Matrix braces the speaker, reducing cabinet resonance for a cleaner, more precise sound.
Drivers T7 uses two highly optimized 2 inch (50mm) drivers to ensure the highest quality of sound from the small enclosure. The driver diaphragm is made from glass fiber, the same material used in Bowers & Wilkins award-winning Wireless Music Systems.
High-output bass radiator T7 also uses two (patent-pending) force-canceling high-output bass radiators designed to provide impressive bass, even at top volume, without adding resonance or rattle. The result is cleaner, more powerful bass, from a smaller box.
Electronics High-performance digital-to-analogue converters (DACs) ensure audio is as faithful as possible to the source material. Digital signal processing ensures sound is controlled, whatever you're listening to and no matter how loud. Two filterless class D amplifiers deliver smooth and open high frequencies, intelligible midrange frequencies and tight bass.
Bluetooth with aptX Bluetooth wireless streaming is built into nearly every modern portable device – laptops, smartphones and tablets. And, with aptX, the Bluetooth listening experience is improved significantly by improving the transfer of data without affecting audio quality or introducing latency issues.
User interface A simple-to-use, intuitive user interface is supported by a pallet of unique audio cues developed in conjunction with composer, artist and performer Mira Calix.
Play anywhere A heavy-duty Lithium Ion rechargeable battery means you can forget about plugs and power sockets. T7 will go anywhere and everywhere.
To support the global launch of the T7, Bowers & Wilkins will initiate a year long Instagram campaign designed to celebrate the T7 experience through new owners who submit videos and images of how and where they use their new T7. Using #T7takesme individuals who best capture their experience will be awarded each month.
The new T7 is available this October and priced at $349.99