BRABHAM x KYRON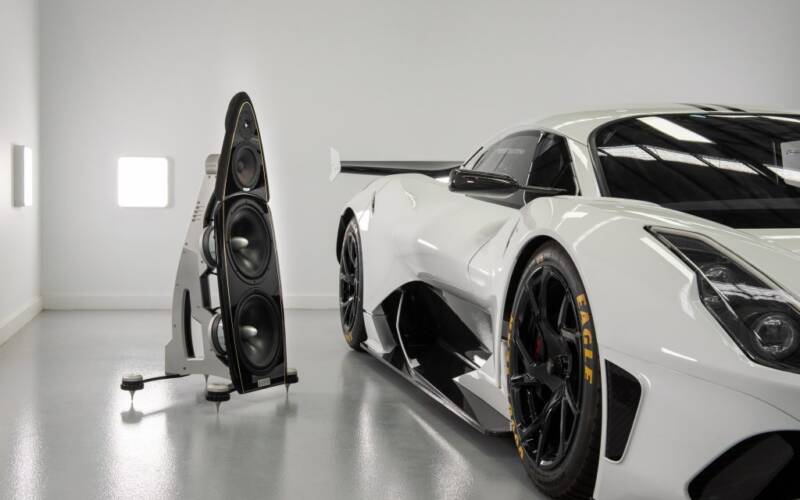 Brabham Automotive Partners with Kyron Audio
Brabham Automotive is delighted to announce a new partnership with Adelaide-based Kyron Audio, designers and manufacturers of the world's ultimate amplifiers and loudspeakers.
Kyron audio systems are now available for Brabham Automotive customers to order in liveries matching their BT62 as part of a Kyron bespoke production program. Kyron will also develop exclusive audio products for future Brabham road-based vehicles.
The Brabham BT62 range now features the BT62R, the road variant of the BT62 that combines outstanding vehicle dynamics with superior creature comforts, resulting in a truly compelling car suited for use on both road and track. This is the first road vehicle produced by the iconic Brabham marque since it started manufacturing cars in 1962.
The BT62R features the Brabham 5.4 litre, naturally aspirated V8 engine and a six-speed sequential gearbox. With revised suspension, exhaust and vehicle lift kit ideally suited for road use, the Brabham BT62R is available around the world in both Signature and Celebration series liveries.
Brabham Automotive customers interested in the world's premier music experience can combine their passions with a Kyron Audio system with a livery designed to match that of their BT62.
Kyron makes three audio loudspeaker and amplifier systems at values ranging up to AU$349,000.
All Kyron systems includes an advanced processor/amplifier that perfectly dispatches frequencies via the loudspeakers to reach the listener exactly when they should, resulting in a three-dimensional sound stage and amazing clarity. The range-topping Phoenix system features 8 x 700 Watt amplifiers and 2 x 1500 Watt subwoofers producing a sound that is only matched by having the artist perform live in your home.
The speakers have no traditional 'box' enclosure and are works of art in themselves. Each component is designed in-house, precision machined and then assembled by hand with tailored options available so clients can have their system reflect their own personal style.
Dan Marks, CEO of Brabham Automotive:
"Brabham Automotive partners with brands which have the same focus on quality, customer engagement and which strive for excellence in their field. Kyron Audio, a fellow Adelaide-based company, fits that mould, making a premier product for the world stage. Kyron's dedication to design, engineering and performance matches our own, offering customers an outstanding lifestyle choice."
Lee Gray, co-founder and lead designer at Kyron Audio:
"Just as the BT62 changes your perception of what a supercar can do, enjoying music via the Kyron Audio system is a mind-changing, immersive experience. We are proud to share Brabham Automotive's passion for performance and dynamics, and look forward to creating outstanding experiences for our shared clientele."