BRINKMANN NYQUIST MQA
Brinkmann's "MQA-ready" DAC debuts at The Munich HiFi Show
Munich, Germany, 5 May, 2016: Thirty years after the introduction of their first Digital-to-Analog Converter, Brinkmann Audio is proud to introduce "Nyquist," the world's most advanced DAC, at the 2016 Munich HiFi Show. Authored by the newly expanded Brinkmann design team, Nyquist sets new standards in adaptability, user-friendliness, performance and long-term value.
Although Brinkmann is often "Typecast" as a designer and manufacturer of State-of-the-Art analog components, the company's first DAC, "Zenith," debuted in 1986 and still maintains a devoted cult following. It was during the development of Zenith that Brinkmann first recognized the importance of analog circuitry and passive filter implementation in the design of high end digital components. Everything Brinkmann learned with Zenith—combined with three decades of subsequent engineering experience—has resulted in Nyquist: the culmination of Brinkmann's vast audio design expertise.
An entirely new design, Nyquist's hardware has been optimized to accommodate the latest digital formats. Most importantly, it supports MQA™ (Master Quality Authenticated) streaming and playback up to 384kHz. MQA delivers master quality audio in a file that's small enough to stream or download, making "Hi-Res" audio available to a vastly expanded universe of users and devices. When MQA is not available, the Nyquist also supports current digital standards including PCM up to 384 kHz/32 bits as well as DSD 64 and 128. Given that future formats will inevitably appear, both the Hardware and Software of Nyquist's Digital Module are easily user-replaceable. This field-upgradable architecture assures unprecedented longevity and enables Nyquist to remain on the cutting edge of digital technology. Nyquist virtually eliminates obsolescence, making it audio's first-and-only "Investment Quality" digital component.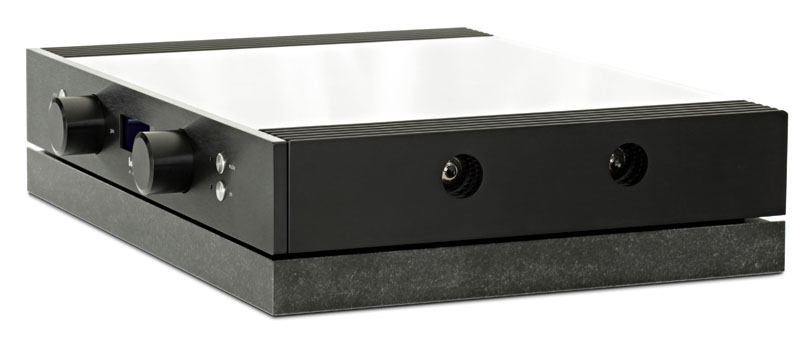 Proprietary high voltage power supply technology—unique among digital source components—delivers marked improvements in digital circuit performance as do custom filters in the digital domain. In a nod to Brinkmann's renowned "Marconi" Line Preamplifier and "Edison" Phono Stage, the Nyquist employs hybrid circuit topology, with tubes used in the output stage due to their instantaneous response to voltage changes.
Nyquist is no less remarkable in terms of its connectivity, featuring USB, SPDIF, optical and Ethernet inputs. Balanced, single-ended and Headphone outputs are also included. Designed for unprecedented ease of use, Nyquist offers RoonReady™ network playback and music management and supports several streaming services while optimized, pre-selected filters have been carefully tailored for every digital format. A comprehensive remote handset offers control of volume, input selection, mute and phase.
Brinkmann will debut a prototype of the Nyquist at the 2016 Munich HiFi Show, Atrium 4, E108. The system will also feature Brinkmann's Spyder Turntable, 10.5 tonearm, Edison phono stage, Marconi preamp, Vandersteen M7-HPA and 5A Carbon Loudspeakers, HRS stands and Audioquest cabling.
Nyqist will be available Q4, 2016 at an MSRP of approx. 12.000€
About MQA
Using pioneering scientific research into how people hear, the MQA team has created a technology that captures the full magic of an original studio performance. MQA is a revolutionary end-to-end technology that delivers master quality audio in a file that's small enough to stream or download. It is backwards compatible, so will play on any device and because it's fully authenticated, the listener can be sure they are hearing exactly what the artist recorded in the studio. MQA is the first technology to capture this crucial timing information – to transport the listener to the original performance.
About Brinkmann Audio Systems
Founded in 1985 by Helmut Brinkmann, Brinkmann Audio Systems is one of the few companies to design and manufacture every source and electronic component in the audio playback chain. Engineering simplicity and product longevity are the cornerstones of the Brinkmann design philosophy. All Brinkmann Audio components are handcrafted in Germany from German-made parts and subassemblies. Renowned for creating a full line of tonearms, cartridges, phono preamplifers and turntables crowned by the State-of-the-Art Balance, Brinkmann's analog expertise has led them to the new, "MQA-ready" Nyquist, the Digital-to-Analogue Converter so musical, only an analogue leader could have designed it.