CABASSE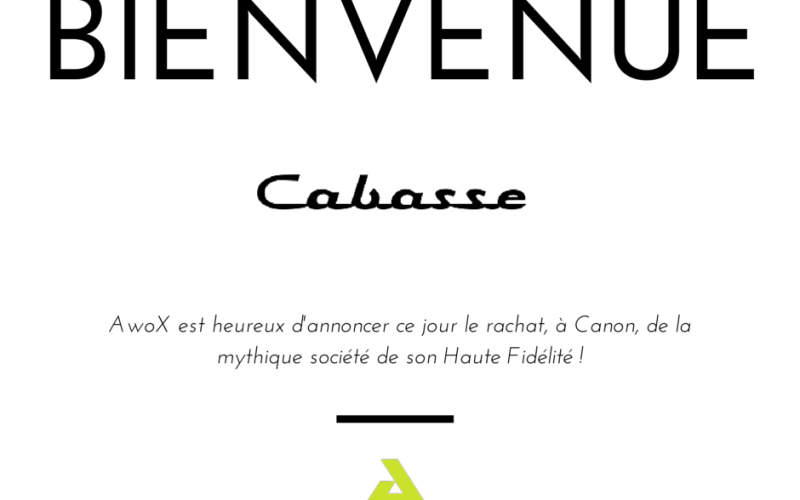 Francuska firma głośnikowa Cabasse została przejęta przez spółkę specjalizującą się w lajfstajlowych rozwiązaniach streamingowych
Acquisition of Cabasse by AwoX to form a world leader in Smart Home high – fidelity audio streaming systems
AwoX (Euronext – FR0011800218 – AWOX) , a pure player in connected objects and Smart Home technologies, has announced the acquisition of 100% of the shares of French company Cabasse from the Canon Group.
Created in 1950, Cabasse is a global technological l e ader in electroacoustic that is primarily known for its range of high – end acoustic loud speakers , home integrated sound systems and connected high – fidelity speakers.
The acquisition marks close to five years of collaboration between the two companies, duri ng which time AwoX has supplied Cabasse with connectivity solutions (electronic modules and iOS and Android software) and worked with it in the development of numerous audio products, including the AwoX StriimSOUND – a high – fidelity Wi – Fi speaker with sound engineering by Cabasse that was released during the first quarter of 2014.
A strong complementary fit between a world name in high – fidelity acoustics and a leader in connectivity technologies and connected objects for Smart Homes
This acquisition will enable AwoX to enhance its offer of Smart Home connected audio solutions with the extensive range of high – end audio products and systems produced by Caba sse that combine expert sound engineering with a unique design. Revered by audiophiles around the world, Cabasse has a large specialist and retail distribution network.
In turn, Cabasse will benefit from AwoX's expertise in Wi – Fi connectivity technologies to cement its foothold as a leading brand in best – of – breed audio streaming. It will also benefit from AwoX's proven industrialization, manufacturing and sourcing infrastructure. Lastly, AwoX will assist with the sales and marketing of Cabasse products on a global scale, and particularly in North America and the Asia – Pacific region .
Strong growth ambitions and a thriving audio streaming market
In merging their activities, AwoX and Cabasse will form one of the world's leading specialists in high – end Smart Home audio streaming solutions.
In an age of dematerialization and the increasing distribution of music through mobile devices (smartphones, tablets), the audio streaming market has developed exponentially, notching up annual growth of around 50% in 2014 alo ne (Source: Nielsen – US Market – 07.2014).
During its previous financial year , which closed on 31 December 2013, Cabasse posted turnover of approximately €7 million. The company employs around 30 members of staff based in Brest in north western France . Pro – forma, the new entity generated turnover of close to €14 million in 2013 and employs some 80 members of staff.
Cabasse will be consolidated in AwoX 's financial statements from 1 October 2014. The acquisition was settled entirely in cash for a fixed amoun t of €2 million and earnouts of up to €2.5 million . For information, Awo X raised €21.5 million during its IPO on Eurolist in April 2014.
At the time of its IPO, AwoX set itself the target of €30 million in turnover in 2016, via (i) the development of an increasingly broad offer of connected objects for Smart Homes, (ii) the expansion of its global distribution network, and (iii) external growth opportunities with longstanding players in audio, video or automation.
As such, the acqui sition of Cabasse corresponds perfectly with AwoX's strategic roadmap and will more than strengthen its capacity to achieve its growth objectives.
Jean – Louis G régoire : President of Cabasse: " For the Canon Group, the sale of Cabasse to Awo X will further Cabasse development worldwide, leverage synergies between AWOX objects connected world and Cabasse's high audio – fidelity, and maintaining skills and staff in Brest – France ."
Co – Founder and Chairman and CEO of AwoX, Alain Molinie said: "We are de lighted to associate a global name in high – fidelity acoustics with a leader in connected objects and connectivity technologies for Smart Homes. At a time when sound systems are the most frequently – used components of today's Smart Homes, this merger with Ca basse will allow AwoX to draw on a world – famous brand, an extensive distribution network and specialist technological expertise in loud – speakers. This will enable us to continue to innovate in hybrid lighting which is an area in which AwoX is enjoying str ong growth.