CAMBRIDGE AUDIO ALVA TT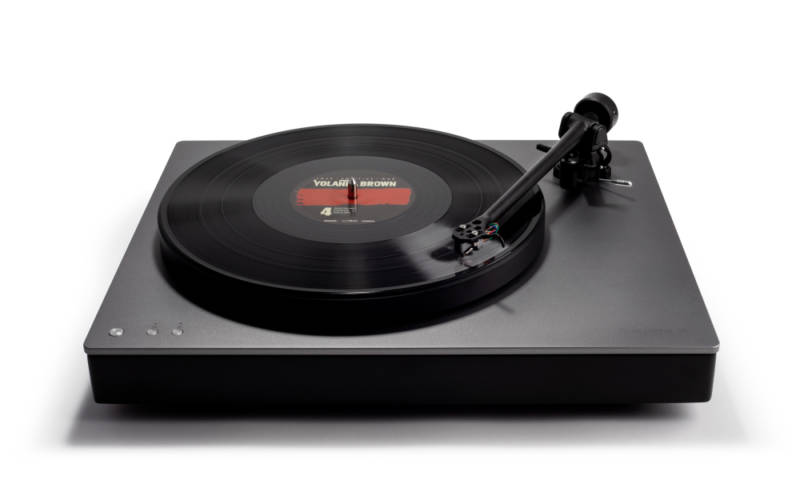 Introducing the Cambridge Audio ALVA TT (£1,500 / $1,700 / €1,700), the world's first turntable with wireless aptX HD audio.
In a world first, British hi-fi specialist Cambridge Audio has developed a direct drive turntable featuring aptX HD wireless audio. By supporting high resolution 24-bit/48kHz streaming over Bluetooth to compatible amplifiers, speakers and headphones, the Alva TT delivers convenient and seamless, wireless streaming that doesn't compromise on audio quality. Combining 50 years of British audio engineering expertise with cutting-edge digital technology, the Alva TT is the perfect turntable for the modern vinyl collector.
The Alva TT will be available in April 2019, supplied with cartridge, priced at £1,500 / $1,700 / €1,700
In addition, customers will be able to purchase the Alva MC cartridge separately in April 2019, priced at £450 / $500 / €500
Key Features:
• Bluetooth AptX HD
• Built-In Phonostage
• Factory-fitted High Output Moving Coil Cartridge
• Direct Drive
• Single-Piece Tone-Arm
Turntables may seem like the most traditional of all the audio devices available today, but with the new Alva TT, Cambridge Audio has proven that there's still room for innovation.
The Alva TT is the world's first turntable with integrated aptX HD audio. Developed by Qualcomm, the aptX HD audio codec enables Bluetooth devices to deliver 24-bit/48kHz LPCM wireless sound, which is indistinguishable from wired high resolution audio.
That means the Alva TT can wirelessly stream audio from any records it plays to aptX HD-equipped amplifiers like Cambridge Audio's own Edge A or Edge NQ, as well as compatible aptX HD-equipped Bluetooth speakers and headphones, with no discernible loss of quality.
This gives the music fan more options regarding the Alva TT's placement in the home, as there's no requirement to run a cable from turntable to amplifier. The Alva TT can be paired with Bluetooth devices in seconds, requiring only a single button press, and is compatible with SBC and aptX devices in addition to aptX HD products.
Great British sound and design
Since Cambridge Audio was founded in 1968, the company has built a reputation for exceptional audio engineering and premium build quality. Designed and engineered in the UK from the ground up, the Alva TT's body is milled from a single piece of high-quality aluminium. Befitting a cutting edge turntable, Cambridge Audio has opted for medium torque Direct Drive motor design and a rigid and dense Polyoxymethylene (POM) platter to ensure a more accurate playback speed, stable pitch performance and minimal vibrations that can color the sound.
To deliver incredible levels of detail from your record collection, the Alva TT boasts a single-piece, low-friction tonearm and a bespoke high output Moving Coil (MC) cartridge. Adopting a cantilever design to reduce unwanted resonance, the MC cartridge offers faster response times and greater detail than its Moving Magnet carriage counterpart.
Building on the success of Cambridge Audio's award-winning Solo and Duo, the Alva TT's built-in phonostage allows you to connect directly to active powered speakers or a non-phono enabled amplifier, without the need for extra boxes. The phonostage also eliminates unwanted noise to preserve the unique warm sound of vinyl.
No-compromise convenience
For 50 years, Cambridge Audio has designed products allowing listeners to hear music exactly as it was recorded – nothing added, nothing taken away. The Alva TT's aptX HD support ensures that this philosophy holds true for vinyl listeners, even those who prefer the convenience of streaming their favorite music wirelessly.
With vinyl a format in resurgence, now is the perfect time to invest in a pioneering high-quality turntable. 4.1 million vinyl LPs were sold in 2017, a 26.8% increase on 2016's sales and the highest overall level of sales since the early 1990s, and LPs now account for one in every 15 albums purchased.
The Alva TT will be available in April 2019, supplied with cartridge, priced at $1,700, £1,500, €1,700.
ALVA TT Specifications
TURNTABLE
Type:                                                                                  Direct Drive
Turntable Speeds:                                                              33 1/3, 45 RPM
Motor Torque:                                                                     1.6 kg/cm
Wow & Flutter:                                                                    <0.1%
Platter:                                                                                POM (Polyoxymethylene)
Platter Diameter:                                                                305 mm
TONEARM
Type:                                                                                   One piece aluminium casting
Effective Length:                                                                 238 mm
Overhang:                                                                           17.2 mm
Effective Mass:                                                                    11 g
INTERNAL PHONO STAGE
Gain @ 1kHz:                                                                      42dB
Nominal output (with CA cartridge):                                    250m Vrms
Equivalent input noise (A-Weighted):                             0.1u Vrms
RIAA Curve Accuracy:                                                        +/-0.3dB 30Hz-20kHz
Signal/Noise Ratio:                                                             (ref 1V out, 20-20K BW) >90dB
THD+N 1kHz:                                                                      0.0025%
Input Impedance:                                                                47kΩ
Input Capacitance:                                                              320pF
OUTPUTS
Audio Output:                                                                      RCA Line Level
Bluetooth:                                                                            SBC / aptX / aptXHD
GENERAL
Power Supply:                                                                     AC 100-240V, 60/50Hz
Power Consumption:                                                          6W Approx., 20Wmax, <0.5W (Standby)
Dimensions (W x H x D):                                                    435 x 139 x 368mm
Weight:                                                                               11kg
ALVA MC CARTRIDGE
Type:                                                                                   High Output Moving Coil
Frequency Response:                                                         +/-  1dB 30Hz-20kHz
Stylus:                                                                                 Elliptical
Cantilever:                                                                          Aluminium
Output Level:                                                                      2mV @1kHz
Tracking Force:                                                                  2g
Recommended Load:                                                        47kΩ