CAMBRIDGE AUDIO SX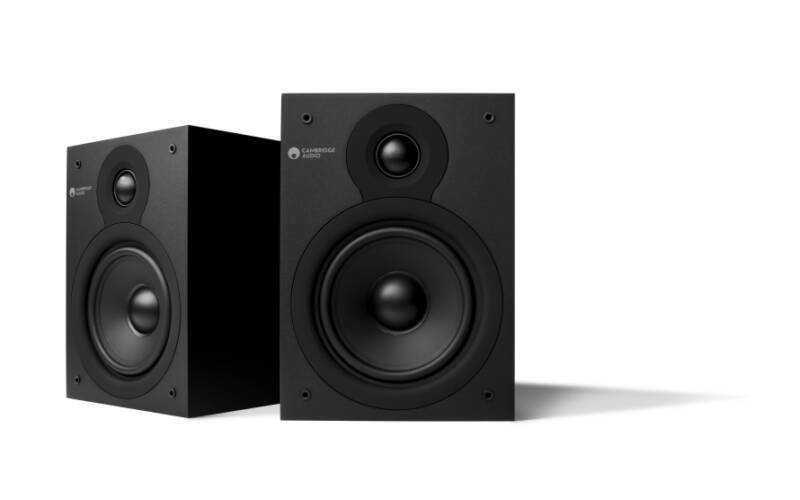 Cambridge Audio's SX series of speakers is a refreshed range of compact and affordable speakers that are ideal for any home audio system.
Designed by Cambridge Audio's engineering team based in central London and first introduced in 2013, the new SX speakers come in an all-new matte black finish and feature a new logo. The clean and understated look allows them to sit in a variety of spaces and work with all kinds of audio equipment. Whether you're looking for a compact pair of bookshelf speakers for your vinyl system or an affordable 7.1 AV system for home cinema use, the SX series will fit in seamlessly into any set up and any interior style.
The new range comprises SX-50 and SX-60 standmount speakers, SX-70 centre speaker, SX-80 floorstanding speakers, and SX-120 subwoofer.
Key features:
A 25mm silk dome tweeter that combines smooth and refined sound with high levels of detail
Dedicated foam damper behind the tweeter diaphragm that reduces reflections and helps to create a wide and effortless soundstage
Treated paper cones provide a light and stiff mid/bass driver, delivering a smooth and even frequency response with outstanding tonal realism
Carefully optimised woofer magnet systems to deliver deep, punchy bass with high efficiency – ensuring the speakers are easy to drive
Precisely optimised crossovers for the most neutral, smooth and phase linear response
Rigid MDF cabinet modelled using CAD (Computer-Aided Design) so that the speaker dimensions minimise standing waves and keep vibration to a minimum
SX-50 standmount speakers – £179 / $199.99
SX-50 is an entry-level pair of compact bookshelf speakers that can sit in the tightest and most demanding of spaces and still produce a confident, room-filling sound. The two-way speakers are rear-ported, and have a 25mm silk dome tweeter and 13.5cm treated paper cone mid/bass driver.
SX-60 standmount speakers – £229 / $299.99
The SX-60 standmount speakers build on the strengths of the SX-50s but have a larger footprint. They can work happily in bigger spaces while still offering considerable flexibility in terms of placement. The SX-60s feature a larger 16.5cm paper cone mid/bass driver, and have a port at the front of the speakers.
SX-70 centre speakers – £149 / $179.99
The SX-70 centre speaker has been designed to match perfectly with the rest of the SX range both acoustically and aesthetically, and to deliver an unparalleled home cinema experience when used as part of an AV set up.
Two 10cm mid/bass drivers flank the 25mm silk dome tweeter, ensuring the speaker delivers all critical information on the screen, as well as tying together the sound image from the left and right speakers into one seamless soundstage.
SX-80 floorstanding speakers – £399 / $599.99
The SX-80 offers the power and presence of floorstanding speakers at an exceptionally competitive price. They deliver an effortless, full-range soundstage that captures the scale and weight of even the most demanding pieces of music, while also maintaining the speed and finesse of their smaller siblings. A stylish and room-friendly option, the SX-80s are a two-way, rear-ported design with two 16.5cm treated paper cone mid/bass drivers and a 25mm silk dome tweeter.
SX-120 subwoofer – £199 / $299.99
The SX-120 subwoofer features a powerful 70W RMS amplifier that provides clean, immediate power for the custom 8-inch (20cm) long throw driver. The SX-120's components have been carefully handpicked and painstakingly voiced to ensure it delivers deep, powerful bass that is fast and well defined, and integrates seamlessly with other speakers in a home audio set up.
It features individual volume, crossover frequency and phase adjustment for precise set up in your specific room, as well as auto on/off detection that helps conserve power when the subwoofer is not in use. The SX-120 is ideally suited to complement other models in the SX speaker range, adding a deep and rich bass extension to your music and movies.