CHORD SHAWLINE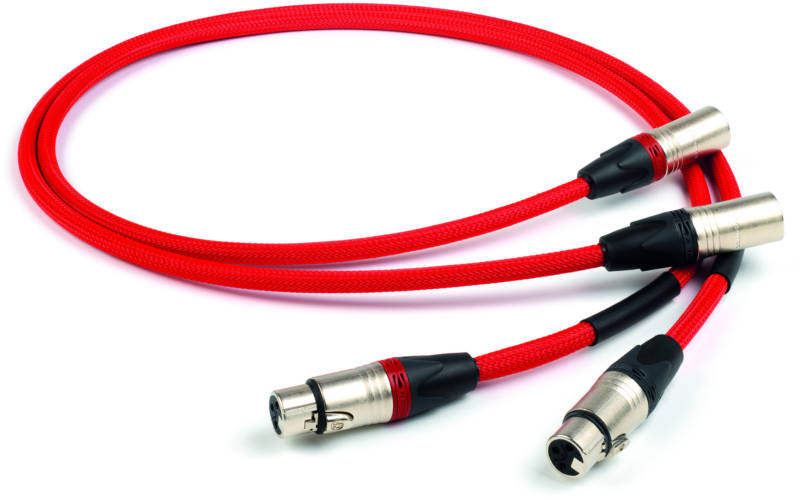 THE CHORD COMPANY LAUNCHES SHAWLINE: A NEW CABLE RANGE THAT DOES NOTHING
The Chord Company, the UK's biggest specialist A/V cable manufacturer, has launched its new Shawline cable range, which has been carefully designed harnessing 30 years of UK design experience to do, well, nothing.
It's not April 1st: The Chord Company really has launched a cable range that does nothing. The Chord Company has 30 years' UK design and manufacturing experience, and over the past three decades has spent countless hours listening, playing, experimenting and exploring. The Wiltshire specialist can now make cables that do nothing. That's nothing as in no colouration: colour comes from the music not the cables; no signal loss: anyone can make a cable, Chord makes Tuned ARAY cables; and no interference: Chord cables have wide bandwidth, high-frequency-effective shielding.
What The Chord Company's new Shawline cables can do is: carry a musical signal with an extraordinary degree of detail and accuracy; transform the performance of almost every system they are used in and let music lovers even further into their favourite music.
Chord's proprietary Tuned ARAY technology just got a lot more affordable
The Shawline range is an exciting, new hand-built-in-the-UK cable line-up that comprises digital, analogue and loudspeaker cables, and features the company's proprietary Tuned ARAY technology at a new low price of £200. The same unique conductor geometry as seen in Chord's Sarum Tuned ARAY cables is now available with Shawline. The line-up sits neatly above the entry-level C-series and the highly affordable Clearway range.
First unveiled at Sound and Vision 2016, the all-new Shawline range features ground-breaking performance and exceptional value for money. The Shawline interconnects bring the wonderful musical transparency that ARAY cable designs introduce across all levels of system, showing how musically involving and coherent all systems can be. Even better, Tuned ARAY shows just how good music can sound.
Shawline: Tuned ARAY interconnects for today's low-cost digital devices
The new Shawline analogue interconnect – available in DIN, RCA and XLR versions – uses the same Tuned ARAY technology and shares the same mixture of transparency and musical coherence that made Chord's award-winning Sarum Tuned ARAY such a special cable.
Fitted with silver-plated Chord VEE 3 RCA plugs with PTFE insulation, Shawline's conductors are built from silver-plated multi-strand oxygen-free copper, insulated with PTFE. Its unique shielding is designed to work across a wide frequency range and reduce mechanical noise.
The conductors are contained within a specifically chosen outer jacket to ensure flexibility and to further reduce mechanical noise.
Shawline Digital
The all-new Shawline Digital uses proprietary ARAY conductor geometry developed for digital cables. Also fitted with silver-plated Chord VEE 3 RCA plugs with PTFE insulation (or high-performance silver-plated BNC connectors), the new design features a tri-conductor configuration, optimised for digital signal transmission.
Further features include silver-plated, PTFE-insulated conductors with an internal PVC jacket that reduces mechanical noise and correctly spaces the high-frequency-effective high-density braid and foil combination shield.
Shawline loudspeaker cable
Completing the range is a high-performance shielded loudspeaker cable — Chord's most discreet and flexible shielded speaker cable to date. The Shawline loudspeaker cable is a new design featuring silver-plated conductors and high-frequency-effective shielding. 16 AWG multi-strand silver-plated conductors with PTFE insulation are employed in a twisted-pair configuration, with a PVC internal jacket to minimise mechanical noise.
Shawline loudspeaker cable is available off-the-reel and in factory-terminated lengths, the latter fitted with Chord Company gold-plated banana plugs.
Shawline: hand-built in Chord's Wiltshire headquarters
For Tuned ARAY cables to work, every aspect needs to be millimetre-perfect. Hand-building is crucial to the complexity of the design. Using a Tuned ARAY design within the Shawline interconnect, enables Chord to offer the award-winning technology at a price that could see it connect to some surprisingly inexpensive components.
Come together
Shawline cables have been designed to perform together. However, all Chord interconnects and speaker cables follow a similar design philosophy meaning all Chord cable ranges are compatible with each other. Anyone with a new-generation DAC, streamer or digital device, needs to listen to the Shawline Analogue Tuned ARAY interconnect. Quite simply, Shawline lets you hear how musical your system really can sound.
Pricing and availability
Shawline is available now
Analogue RCA 1m: £200; additional metres £80
Digital: RCA 1m: £200; additional metres £80
Speaker: £30p/m unterminated; factory Banana/Spade terminations 8 plugs one pair £100