CHORDMUSIC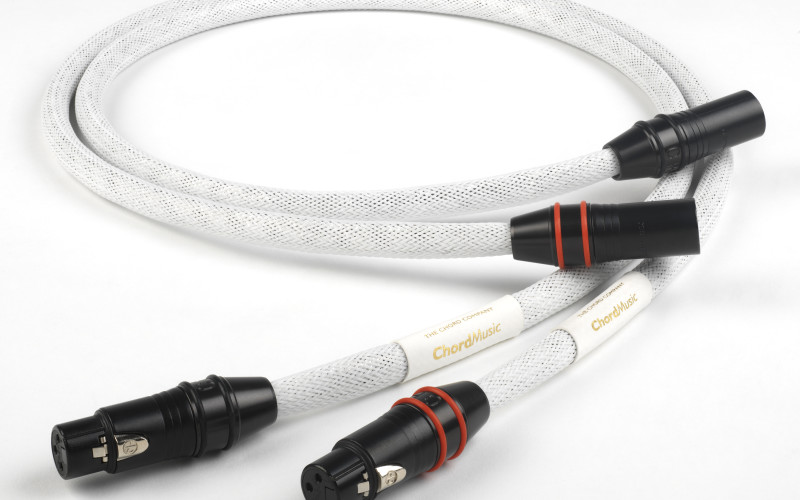 THE CHORD COMPANY LAUNCHES CHORDMUSIC, ITS MOST ADVANCED CABLE RANGE IN 30 YEARS
22nd April 2016, Wiltshire, UK: The Chord Company is celebrating 30 years of high-performance cable design and UK manufacturing with the launch of ChordMusic, the company's new flagship range
The Chord Company has launched ChordMusic, the company's most advanced cable range in its 30-year history. The celebratory, flagship series distils 30 years of cable design and manufacturing knowhow into a ground-breaking line-up. ChordMusic is a revelatory product, developed using an exciting and entirely new insulation material which has never been used with audio cables before: Taylon®.
Introducing Taylon®
The relationship between conductor material and insulation material is critical to the performance of any cable, particularly if the aim is to design cables that are tonally neutral – music is full of colour, cables shouldn't be.
For a long time Chord has used a combination of PTFE – in various forms – and silver-plated conductors; this combination is not uncommon and once burnt in, it is pretty neutral and has less tonal influence on the signal it carries than other types of insulation. Chord's Sarum Tuned ARAY and Super ARAY cables take this combination to its ultimate end point. The conductors are micro-polished prior to silver-plating and gas-foamed PTFE is employed as a dielectric. We have also fitted a PTFE RCA plug surround which improves upon the acrylic version previously used.
ChordMusic benefits from all of these advances; it uses the same Super ARAY technology and the same PTFE plugs. What sets it apart is Taylon® – a unique insulation material that has never been used to produce audio cables before. Taylon® is exclusive to The Chord Company and is the best-performing dielectric the Wiltshire specialist has ever used. Although its dielectric constant is very slightly lower than PTFE, crucially, Taylon® is phasestable at typical room temperatures. Dielectric choice plays a critical part in the performance of any audio cable and Taylon®-insulated conductors, combined with the Super ARAY conductor configuration, produce the most natural, musically coherent cables The Chord Company has ever developed.
Super ARAY conductor technology
All ChordMusic cables use the new Super ARAY conductor configuration. Super ARAY technology is a development of Chord's original Tuned ARAY design. The Super ARAY conductor technology keeps all the musical coherence of the Tuned ARAY design and brings big increases in the levels of musical detail the cable is able to carry.
The Super ARAY tuning process is very different for each cable type; the end result, though, is consistent. Super ARAY technology produces analogue and digital cables that can carry breath-taking levels of detail in an extremely coherent and musical way.
The new Super ARAY configuration used in ChordMusic requires the same exacting build as previous Tuned ARAY cables and again, a combination of precision machinery and meticulous hand assembly is used.
Noise reduction
During the development of ChordMusic, it became very obvious that Chord were dealing with a level of musical transparency not encountered before. This led to further experimentation. Seemingly insignificant changes in construction brought surprising improvements. Because of this, the ChordMusic cables have three external layers of noisereducing materials along their lengths. The first of these is designed to reduce levels of
mechanical noise; the second was chosen to constrain the noise-reducing layer in a very precise way; finally, beneath the white braided finish, there is a metallic external braid. Each one of these layers contributes to the overall performance.
The ChordMusic range
Analogue interconnects
ChordMusic analogue interconnects are available in RCA, XLR and DIN terminations. The minimum length is 1m, but since each cable is built and tested at Chord's own facility, custom lengths and custom terminations are readily available.
A Chord Music tonearm cable is currently in development and will be available later in the year, and a ChordMusic power cable is currently at the design stage.
Digital interconnects
ChordMusic digital interconnects are available in coaxial digital and AES EBU configurations. Coaxial digital cables can be terminated with either RCA or BNC. We are also able to produce custom terminations, such as RCA to XLR (AES EBU) for use with Devialet amplifiers. ChordMusic streaming cables are fitted with high-speed RJ45 connectors and are available in custom lengths.
A ChordMusic USB cable is currently in development.
ChordMusic speaker cable
Each set of ChordMusic speaker cable is hand built by Chord and features the same mechanical noise-reduction layers as fitted to the analogue and digital interconnects, as well as – for the first time – an ARAY technology developed specifically for speaker cable. A new clamp design, unique to ChordMusic speaker cable, is currently at the prototype stage and in another first, ChordMusic speaker cables will be fitted with silver-plated rather than goldplated banana plugs and spade connectors. Chord's silver-plated banana plugs are machined to their specification in the UK prior to being silver-plated.
Performance
The wealth of detail that ChordMusic cables carry is quite extraordinary. Even better though, is the level of coherence with which they carry it. This makes it easy to listen to the music, rather than the recording and even mediocre recordings can be listened to for the musical performances they were always intended to be.
With ChordMusic, The Chord Company has produced something that can only be described as revealing a whole new musical landscape.
Pricing and availability
Analogue: RCA 1m: £3,800; additional metres £1,700
Digital: RCA/BNC 1m: £3,500; additional metres £1,400
Streaming: RJ45 1m: £3,800; additional metres £1,700
Speaker: Banana plugs per terminated metre £1,100; 1.5m pair £3,300