CLEARAUDIO CONCEPT WOOD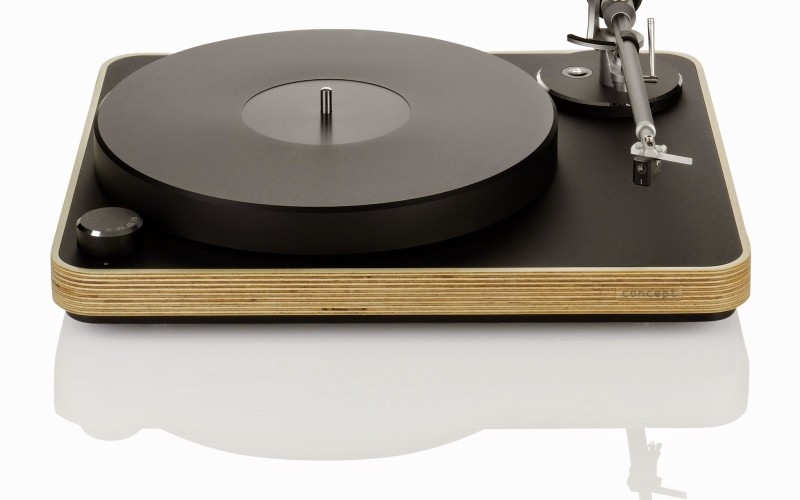 Popularny gramofon z Niemiec po tuningu, liftingu i w nowych wersjach
Award-winning Clearaudio Concept turntable package now available in four editions, including new Concept 'Wood'
The Clearaudio Concept turntable has been an undisputed success, winning an impressive four What Hi-Fi? Sound & Vision 'Product of the Year' / 'Best Turntable' awards as well as being an international bestseller for the German brand.
The Concept's concept is brilliantly simple: to deliver an elegantly styled turntable package featuring a level of groundbreaking technology usually only found in high- end turntables, combining plug-and-play simplicity with outstanding sound quality and affordability.
In 2012, one Concept became two, as Clearaudio added an 'MC' version featuring the Concept MC (moving coil) cartridge in addition to the existing MM (moving magnet) package. The Concept's frictionless magnetic bearing tonearm ensured the optimal performance of either cartridge.
Now, the new Concept 'Wood' option takes the range even further both visually and sonically: its fine wood construction in multilayered Baltic birch is not only visually stunning, it also provides more harmonious resonance control, resulting in a more natural timbre and improved transparency.
At the same time, all versions of the Concept have now also received a number of upgrades including a brand new tonearm and one or two enhancements to the turntable itself.
The tonearm is now Clearaudio's Verify Direct Wire Plus, a new edition of the earlier Verify. The 'Direct Wire' in question is a higher quality pure oxygen-free copper in a pseudo-balanced cable with perfectly symmetrical construction, running in an unbroken length from cartridge tags to phono plugs. The arm cables have been re- routed to pass through a redesigned arm bearing assembly and arm pillar, giving a cleaner and sleeker external finish. The turntable also now sports new adjustable and lockable rubber tipped feet, providing superior stability and grip over the earlier brass With the Clearaudio Concept, finding an affordable entry point into high-performance hi-fi is a breeze. All critical parameters from cartridge tracking weight to anti-skating are ready-adjusted, leaving you to simply sit back and enjoy a true high fidelity plug- and-play experience.
Technical data Concept MM / Concept MC / Concept Wood MM / Concept Wood MC
Construction Resonance-optimised chassis (standard or wood construction)
Speed ranges 33 1/3, 45 and 78 rpm
Drive unit (motor) Decoupled precision DC motor with low noise bearings
Bearing Polished and tempered steel shaft in a sintered bronze bush running on a Teflon thrust pad
Platter POM, 30mm thickness
Speed variation +/- 0.04 %
Power consumption 1.5 Watt (maximum)
0.5 Watt (in operation)
0 Watt (in off mode)
Weight Approx. 7.5kg including motor, tonearm and cartridge
Dimensions (approx.) 420mm (w) x 350mm (d) x 140mm (h)
Power supply designed for worldwide use (Europe, USA, Japan, UK, etc).
16.54" (w) x 13.78" (d) x 5.51" (h)
Pricing & availability
The Clearaudio Concept turntable package is available now priced as follows
(including VAT @ 20%):
Concept MM £995
Concept Wood MM £1,295
Concept MC £1,395
Concept Wood MC £1,595