CLEARAUDIO DOUBLE MATRIX PROFESSIONAL SONIC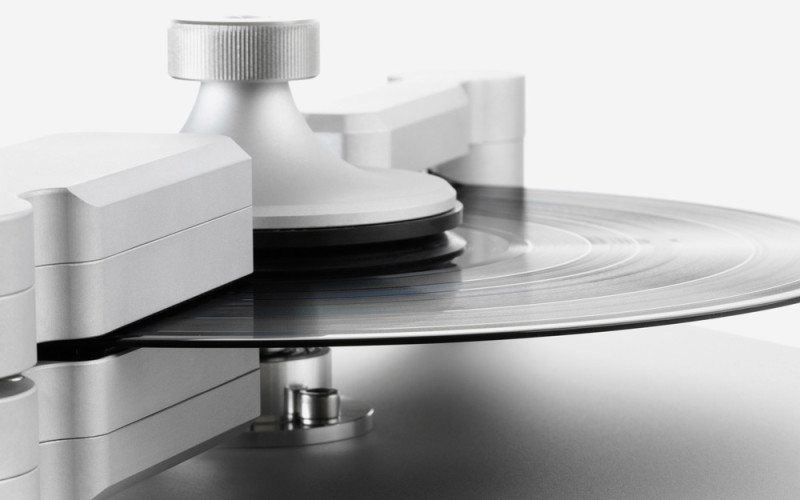 German innovators Clearaudio launch their 'best solution yet' to the challenge of keeping records in impeccable condition.
As the vinyl revival continues to accelerate, record collectors are realising the importance of keeping their beloved collections clean and pristine. Playing records contaminated with dust, dirt, fingerprints and other undesirables will not only negatively affect the sound quality but can also cause damage to both record and stylus. And it's not just second-hand vinyl that needs a good clean: chemical residues on newly-pressed records equally need taking care of.
Clearaudio's 'Matrix' record cleaners have long been renowned for their gentle yet highly effective vacuum cleaning capabilities. Now, the latest edition to the Matrix series combines this same double-sided vacuum cleaning technology with a new sonic component. The effect is twofold: sonic vibrations loosen embedded groove dirt, which the vacuum element then sucks away. "The Double Matrix Professional Sonic is our best solution yet," say Clearaudio. It is also extremely quiet to operate and sports a host of helpful features.
Clearaudio Double Matrix Professional Sonic: key features
• Integrated sonic and vacuum cleaning elements deliver deep yet gentle cleaning of pressing residues and persistent dirt deep within the record groove.
• Cleans LPs, EPs and singles: adaptive cleaning brushes automatically adjust to different record diameters and thicknesses.
• Double-sided, hence cleans both sides of a record simultaneously.
• Bi-directional rotation allows records to be cleaned in either, or both, directions for enhanced cleaning performance.
• Automatic and manual functions allow you to operate the whole cleaning process at the touch of a single button, or to custom select your own cleaning parameters via a userfriendly operating panel.
• Variable speed options.
• A fully automated 'super clean' mode tackles records in need of an extra thorough clean.
• A Clearaudio 'Seal' record clamp holds the record firmly in place during cleaning and protects the record label from fluid damage.
• A convenient LED light indicates the level in the internal cleaning fluid reservoir.
• Extremely quiet to operate: the chassis is lined with acoustic damping pads to keep operational noise to a minimum.
Beautifully and robustly built using the highest quality materials, the Double Matrix Professional Sonic is designed for intensive and continuous use and is incredibly easy to operate and maintain.
Technical specifications
Power consumption
Max. consumption: 400 Watt
Power during suction: 400 Watt
Off-mode: 0 Watt
Weight Approx. 16 kg
Dimensions (inches)
Approx. 16.14 (w) x 15.16 (d) x 10.87 (h) without dustcover
Approx. 16.14 (w) x 15.16 (d) x 11.42 (h) with dustcover
Dimensions (mm)
Approx. 410 (w) x 385 (d) x 276 (h) without dustcover
Approx. 410 (w) x 385 (d) x 290 (h) with dustcover
Warranty 3 years (provided the manufacturer's guarantee card is completed and returned to Clearaudio within 2 weeks)
Pricing & availability
The Clearaudio Double Matrix Professional Sonic is available now priced at £3,250 (including
VAT).