CMA Fifteen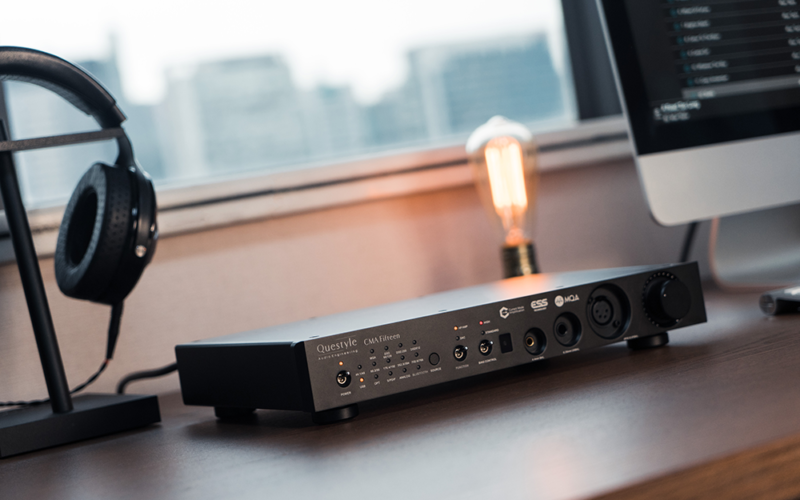 New headphone amp & DAC allows listeners to enjoy any audio type, from any source, in high quality.
Questyle Audio Engineering, the innovative engineers who first transitioned the concept of current amplification from video to audio fifteen years ago via Current Mode Amplification, is proud to commemorate their achievement with the release of their evolution flagship product, the CMA Fifteen. Questyle's patented Current Mode Amplification uses current, instead of voltage, to amplify audio signals, leading to tremendous performance differences when compared to traditional audio amplifiers. The CMA Fifteen takes the already popular CMA Twelve to new heights, becoming the first Questyle headphone amp and DAC to feature the ESS SABER ES9038PRO, the world's highest performance 32-bit DAC available. Featuring unparalleled audio reproduction, brilliantly clear transparency, and massively open sound, the CMA Fifteen chases extreme performance to achieve system-level lossless purity.

When reflecting on the past 15 years and what the CMA Fifteen means for Questyle, Founder/CEO Jason Wong stated, "We've built upon these last 15 years of research to reach even further, and to bring Current Mode Amplification to its highest pinnacle yet with the CMA Fifteen. We have even spent the last three years of pre-research working with ESS on integrating the ES9038PRO."
The CMA Fifteen includes new input options for modern listening methods, including Bluetooth 5.0 with LDAC support, USB Type-C, and analog RCA inputs, as well as the standard USB Type-B, S/PDIF, and optical inputs. The CMA Fifteen also supports up to DSD 512, PCM 705.6/768, and MQA full decoding, as well as Apple Music Hi-Res Lossless (up to 24-bit/192kHz) when connected to Apple devices via USB.

The multi-functional CMA Fifteen also has the ability to serve as either a DAC and integrated headphone amp, or as a DAC and preamp for an external stereo system, with its variety of output options. These updates come in addition to maintaining the quality expected with all Questyle products, including true DSD, ultra-low distortion levels, and an elegant, timeless design. You can even use the CMA Fifteen as an analog RCA amp/preamp when you want to enjoy your favorite vinyl records with the best possible reproduction. A great way to enjoy a bountiful near-field listening system. Simply put, Questyle's latest audio solution allows listeners to enjoy any audio file type, from any source, in the best quality possible.
Specifications
Input / output parameters
Digital Input:
USB x 2 (Including a high-priority USB Type-C interface and
a USB Type-B interface)
Optical Input x 1: PCM: 44.1kHz~192kHz/24Bit
Coaxial Input x 1: PCM: 44.1kHz~192kHz/24Bit
Bluetooth Input x 1: SBC, AAC, LDAC (At the highest level of 96kHz/24Bit,
990kps/909kps)
PCM: 44.1kHz-768kHz/32Bit
DSD: Native DSD512; DoP DSD256
MQA: Full / Core decoder
USB input supports UAC 2.0. It supports Win XP, Vista, Win7, Win8, Win10,
Linux, MAC OS and other operating systems. It also can be connected to
smartphones supporting OTG audio output.
Note: Windows system under Win10 will need to install the ASIO driver
developed by Questyle. Win10 system supports DoP DSD256 without
installing the driver, and supports Native DSD512 with the driver installed.
Analog Input:
RCA x 1, 2Vrms standard level
Headphone Amplifier Output:
6.35mm standard headphone jack x1
4-PIN balanced headphone jack x1
4.4mm balanced headphone jack x1
Note: You can set High/Standard bias through the BIAS switch on the front
panel of the headphone amplifier, and set Standard/Low gain through the four
Gain switches on the bottom of the headphone amplifier.
Pre-Amp Output:
XLR x 1
RCA x 1
Note: The output level can be set by Standard/Studio switch and
volume can be controlled by ADJ/FIX switch on the rear panel.
Headphone Amplifier Output Specs
Max Output Power:
6.35mm: 188mW @ 300Ω 1.5W @ 32Ω
4.4mm balanced / XLR 4-PIN balanced: 765mW @ 300Ω 2W @ 32Ω
THD+N: <0.0003% @300Ω; <0.001%@32Ω
Frequency Response: ±0.2dB (DC-22kHz) @ 48kHz/24Bit
SNR: 6.35mm: >117dB; 4.4mm balanced / XLR 4-PIN balanced: >120dB
Pre-Amp Output Specs
Max Analog Output Amplitude:
RCA: 2V (Standard), Studio mode output up to14dBu
XLR: 4V (Standard), Studio mode output up to 20dBu
THD+N: RCA: 0.0004%; XLR: 0.0003%
Frequency Response: ±0.2dB (DC-22kHz) @ 48kHz/24Bit
SNR: RCA: >116dB ; XLR: >119dB
About Questyle
Questyle Audio is dedicated to the research of high-tech lossless audio system with perfect sound aesthetics and convenient listening experience, and providing the corresponding products, system solutions or key components to their customers. With globally patented technologies such as Current Mode Amplification and wireless transmission of lossless audio, Questyle has won over 20 international awards since 2015, including CES Innovation Award, iF Industrial Design Award, and VGP Lifestyle Award. Questyle products are sold in the USA, Japan, Germany, the UK, and many other countries. Questyle Audio, a National High-Tech Enterprise, is honored as one of the top 50 competitive enterprises in Shenzhen by Hurun Research Institute in 2017.