CYRUS ANNIVERSARY SERIES SYSTEM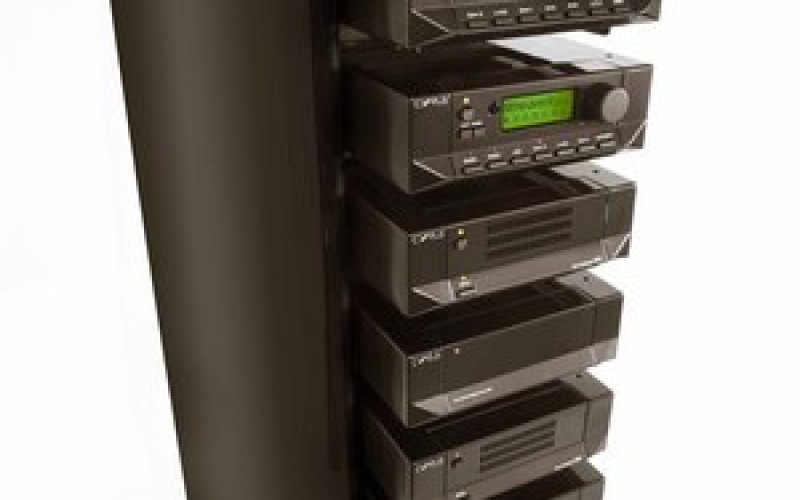 Zestaw z okazji 30-lecia brytyjskiej frmy. Dostępny jako komplet w cenie 17 tys. funtów. Szczegóły - poniżej
The Anniversary System comprises carefully upgraded versions of the following range-­‐topping X Series components: the CD XT SE2 CD transport; Stream X2 network music player; DAC XP+ (DAC with preamp); 2 x Mono X 300 power amps and 2 x PSX-­‐ R power supplies. Sold as a complete package, the Anniversary System comes bundled with interconnect cabling, a Hark II equipment support, n-­‐remote system remote control and Cyrus Cadence iPad app.
Developed in a purpose-­‐built sound studio, the Anniversary System has been slowly and incrementally developed over the past year. Evolved from the X Series, by implementing performance-­‐enhancing changes based on 30 years of audio engineering knowledge, a second improvement phase involved replacing key components in each product with the very latest-­‐generation items, gaining improvements in detail and resolution. The entire system then underwent a painstaking retuning to ensure that each component functioned holistically with its stablemates.
The result is a unique collection of components benefiting from 30 years of design and engineering experience. The extraordinary upgrade and refinement programme has finessed each product into its best possible configuration. Commenting on the project, Technical Director Peter Bartlett said: "We took enormous pleasure in this special commemorative project, taking a number of extraordinary steps to produce a system truly worthy of our 30 years in audio."
The Anniversary System has been designed to celebrate Cyrus's 30-­‐year history and deliver the best-­‐ever Cyrus sound quality. The electronics, including the Hark II equipment support, are finished in a unique and very special high-­‐quality colour scheme: high-­‐gloss bronze-­‐black, with graphics and lettering in a luxurious, contrasting pearl.
The Anniversary Series in detail CD XT SE2 Designed to extract the very best performance from CD data, the CD XT SE2 transport is one part of Cyrus's flagship disc-­‐replay system. By splitting the two fundamental parts of a CD player in half (the mechanics from the D/A conversion section), gains can be achieved through increased resolution, quieter background noise and better imaging. For the Anniversary Series, Cyrus has made a number of improvements including the addition of new AC and DC power filtering, plus additional motor control stage filtering elements.
Stream X2 Cyrus has more than a decade of experience in networked audio and its streaming platforms are among the best in the world. The Stream X2 represents the top model in the range and is a pure music streamer and internet radio source. To improve performance, Cyrus has added new power supply power filtering and made improvements to the chassis to minimise resonance and the unwanted effects of microphony.
DAC XP+ The DAC XP+ with its built-­‐in preamp has seen an extensive improvement programme in the Anniversary Series. Its DAC chips have been upgraded to 32-­‐bit resolution running in fully balanced operation and there have been numerous enhancements to the power supply including: upgraded power transformers; extensive new power filtering and improved smoothing on the DAC supply; new 'short path' analogue input switching stages plus an updated XLR output design, providing a purer balanced output circuit.
Mono X 300 Massively powerful, the Mono X 300 fits enormous reserves into its compact die-­‐cast aluminium chassis. It's Cyrus's most powerful amplifier to date and with its zero-­‐ feedback design it gives 300 watts of open imaging with inky-­‐black backgrounds. The Anniversary Series updates include a replacement input buffer op-­‐amp with a higher slew rate and higher gain bandwidth, for a smoother high-­‐frequency response plus additional power filtering to reduce electromagnetic interference across all supply voltages.
PSX­‐R The benefits of adding Cyrus's famous external power supply have been well documented over the years and just like Cyrus's regular ranges, the Anniversary Series can benefit from the addition of a dedicated supply.
CD XT SE2 transport new AC and DC Providing an extremely smooth and stable DC feed, the PSX-­‐R enables the DAC XP+ and to reach their full potential and in this Anniversary guise, includes power filtering which reduces noise across output supply voltages.
Hark II rack The Hark II rack is a stylish addition to any Cyrus system and is included within the Anniversary Series package. The contemporary vertical system rack features adjustable shelving and is purpose-­‐made for Cyrus components. The rack features a sleek aluminium extruded side blade, which cleverly hides wiring, while also providing a neat power distribution storage compartment. The slim plinth and studded feet provide a secure and stable base for your precious hi-­‐fi components. The Hark II rack is expandable, with the system capable of holding up to a total of eight units.
Price and availability The Anniversary System is available only as a complete set-­‐up and sells for £17,000 in the UK.