DURAND KAIROS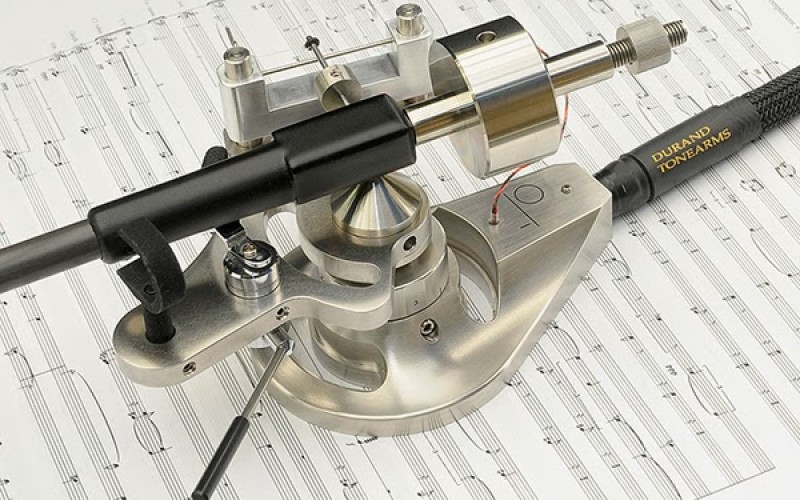 Zaawansowane ramię gramofonowe z szafirowym łożyskowaniem i wymiennymi kablami. Średnia masa pozwala na montaż większości dostępnych na rynku wkładek. Cena podstawowa - 6 450 dolarów. Premiera - na targach w HIGH END w Monachium
Specifications:
Effective length: 263 mm (10.35")
Pivot-spindle distance: 247.37 mm (Loefgren A geometry).
Overhang: 15.66 mm
Offset angle: 20.81 degrees.
Cartridge mount: 1/2"
Mounting on the plinth/armboard is done with 2 x 10-24 (or M4) screws (for metal armboards) or 4 x #8 wood screws (for wood armboards).
Weight of the whole assembly: ca. 1.1 lbs (.770 kg)
Bearing: Unipivot, Swiss-made non-corrosive, non-magnetic stainless steel pivot in a sapphire jewel. The center of mass of the tonearm is in the same plane as the bearing, thus ensuring an ideal dynamic balance, without the need for the outrigger weights commonly found on other unipivot systems
VTA: fine adjustment with a threaded collar. Maximum range: 15 mm.
Azimuth: adjustable on the fly.
Anti-skating mechanism can be disabled if desired
Counterweights: 130 g, 95 g, 60 g; with additional fine adjust weight to allow adjustment of VTF in small increments (typically +/- 0.1 g). The Kairos™ is a medium mass tonearm, and the combination of counterweights provided with it allows use of most cartridges currently available. The Kairos™ has been successfully tested with cartridges from 5 to 15 grams, with compliance from 8 to 20 µm/Mn
DIN connector inside the arm base.
Jig to set the pivot-to-spindle distance provided; no need for a ruler, the jig places the tonearm exactly in the right position
Arc protractor included
Like the Telos™ and the Talea™, the Kairos™ is a medium-mass tonearm that can be used with most modern cartridges on the market.
We offer a DIN-RCA (or DIN-XLR) phono cable, developed specifically for the Kairos™
MSRP:
Kairos: $6,450
Phono cable:
$1,850 in DIN-RCA, 4' configuration
$2,200 in DIN-RCA, 5' configuration
DIN-XLR: add $100
Więcej – tutaj