EMIHILICJA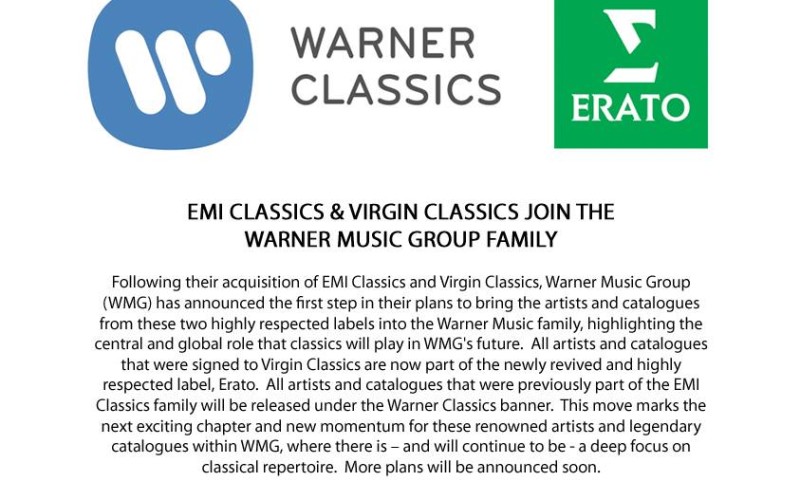 Dwie legendarne wytwórnie specjalizujące się w muzyce poważnej znikają z rynku. Zostają wchłonięte przez koncern Warnera, który ostatnimi czasy praktycznie zrezygnował z klasyki
Katalog EMI Classics będzie wydawany odtąd pod nazwą Warner Classics, zaś Virgin Classics w barwach reaktywowanej właśnie wytwórni Erato, wielce zasłużonej, ale ostatnimi czasy – jak wszystkie klasyczne biznesy Warnera – zupełnie nieaktywnej. Warner nie wykazywał żadnego zainteresowania repertuarem klasycznym w ciągu wielu poprzednich lat i ta tendencja jest najgorszym możliwym prognostykiem dla dwóch słynnych labeli zakupionych w ramach likwidacji EMI. Szczegóły – poniżej.
EMI CLASSICS & VIRGIN CLASSICS JOIN THE WARNER MUSIC GROUP FAMILY

Following their acquisition of EMI Classics and Virgin Classics, Warner Music Group (WMG) has announced the first step in their plans to bring the artists and catalogues from these two highly respected labels into the Warner Music family, highlighting the central and global role that classics will play in WMG's future. All artists and catalogues that were signed to Virgin Classics are now part of the newly revived and highly respected label, Erato. All artists and catalogues that were previously part of the EMI Classics family will be released under the Warner Classics banner. This move marks the next exciting chapter and new momentum for these renowned artists and legendary catalogues within WMG, where there is – and will continue to be – a deep focus on classical repertoire. More plans will be announced soon.