ES9018-2M SABRE32 REFERENCE STEREO DAC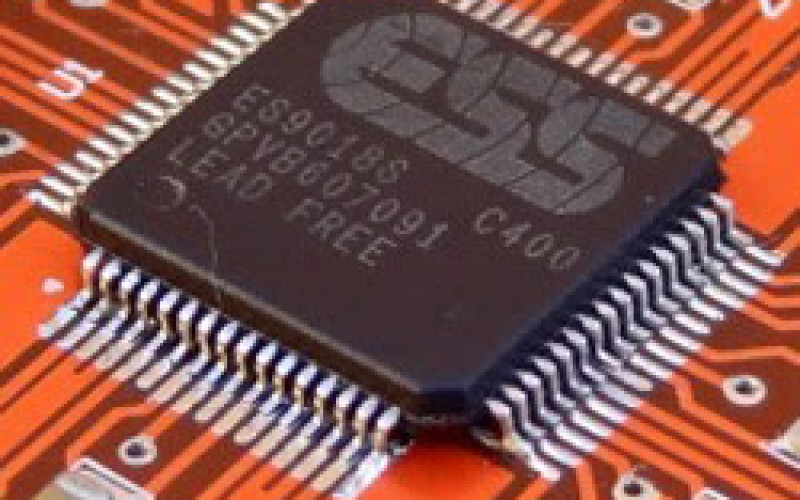 Nowy referencyjne konwerter stereo o wszechstronnym zastosowaniu. Przetwarza sygnały DSD, SPDiF i PCM do pułapu 32bit/384kHz. Nadaje się m.in. do smartfonów i tabletów, hi-endowego audio i profesjonalnych urządzeń nagraniowych. Sczegóły - poniżej
Ismosys – Latest stereo DAC targets audiophile-grade mobile, CE and professional applications
Jul 2 2013
Ismosys has announced availability of ESS Technology's latest derivative of the world's highest performance 32-bit reference stereo digital-to-analog converter (DAC). The ES9018-2M Sabre32 Reference Stereo DAC is a two-channel 32-bit device aimed at audiophile-grade mobile device applications such as smartphones, tablets and digital music players, as well as consumer devices such as Blu-ray players, audio pre-amplifiers and A/V receivers, and professional devices such as recording systems, mixer consoles and digital audio.
According to Dave Blissett, Ismosys: "The ES9018-2M SABRE32 Reference Stereo DAC opens the door for audiophiles on the move to enjoy the ultimate SABRE Sound experience. For the first time, audio enthusiasts will be able to benefit from the critically acclaimed SABRE sound stage, small footprint and low power consumption everywhere they go. In addition the ES9018-2M SABRE32 Reference Stereo DAC is the perfect solution for audio products of all form factors and categories – mobile, desktop, consumer or professional."
"Unlike conventional sigma-delta (Σ∆) DACs, the ES9018-2M Sabre32 Reference Stereo DAC incorporates patented circuits to deliver spectacular music with up to 127dB dynamic range and 0.0001% (-120dB) total harmonic distortion, free from the clock jitter that commonly plagues digital audio systems. The 32-bit HyperStream modulator is capable of 100% modulation and unconditional stability; the Revolver Dynamic Element Matching ensures performance over a wide dynamic range, while a Time Domain Jitter Eliminator removes the digital jitter that causes distortion."
The ES9018-2M Sabre32 Reference Stereo DAC supports stereo conversion from digital audio input in PCM, DSD or SPDIF formats of up to 384kHz sampling rate, in both synchronous and ASRC (asynchronous sample rate conversion) modes, featuring click-free soft mute, volume control, de-emphasis, programmable zero detect, a small 28-QFN (5mm x 5mm) package and low power consumption – less than 40mW in normal operation and 1mW in standby.