FOCAL 300 ICW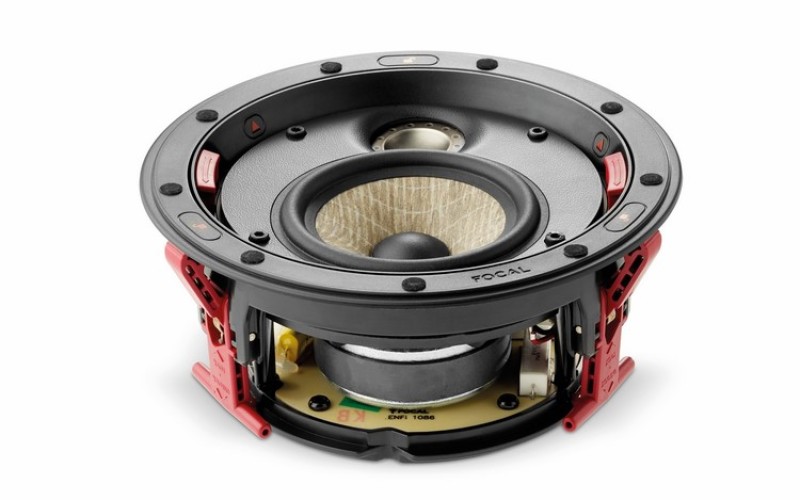 Focal, a leading French speaker manufacturer, announces the company's new 300 Series of in-wall / in-ceiling speakers (ICW).
Featuring the company's signature sound profile, the 300 Series uses a Flax sandwich cone in a two-way configuration that delivers a natural sound and incredible definition. There are three new models in the 300 Series ICW speaker lineup, an 8-inch, 6-inch model and 4-inch model; the 300ICW-8, 300ICW-6 and 300ICW-4 respectively that maintain Focal's historic acoustic signature, referred to as the "Spirit of Sound."
"From an aesthetics perspective, there is nothing quite like the experience consumers get from a great pair of in-wall or in-ceiling speakers that disappear in the space, but yet provide room-filling sound," said Ben Jensen, president of Focal North America. "However, one of the most frustrating items with this category has always been the installation. We expect that anyone that has previously installed in-wall speakers will be delighted with how easy our new installation system has become, while those that have never before done so, will not have any challenges either."
The two new models in the 300 Series were created with both music lovers and home theater lovers in mind and can be used both as a stand-alone hi-fi system with two or more speakers or in combination with already installed products as the front, rear or center channel speakers in a multi-speaker setup.
New to the 300 Series, Focal has completely redesigned the method for installation with its Easy Quick Install (EQI) system, making it incredibly easy for users to install the products without any tools required after the initial hole is cut in the wall or ceiling. Each model in the 300 Series has a mechanism, composed of two parts, a mounting frame and the loudspeaker. The mounting frame is fixed to the wall or ceiling using mounting brackets. These have a benefit of being able to manipulate them with one hand and once fixed in place, the loudspeaker can be quickly attached to the mounting frame with a quarter-turn locking mechanism.
For convenience, all three models will ship with both a square and circular magnetic grille in order to blend into any design in the home in a discrete and elegant manner. Additionally, the 300ICW-8 and 300ICW-6include a three-position corrector switch to equalize treble according to the room's acoustics (-3dB, 0dB, +3dB).
These models are ideal companions to today's leading A/V Receivers that have immersive audio codecs including Dolby Atmos®, DTS: X Surround and Auro-3-D which rely on speakers mounted higher up in the wall or ceiling.
Additionally, models in the 300 Series have an inherent advantage built-in compared to other ICW models, with the shallow installation depth required, ranging from 3.75" for the 300ICW-4 to 5.12" for the 300ICW-8.
The new 300 Series is currently available for the suggested retail price of $799.00 USD ea. (300ICW-8), $699.00 USD ea. (300ICW-6), $599.00 USD ea. (300ICW-4).
For more information, please visit, http://www.focal.com/en/358-300-series.