FOCAL CLEAR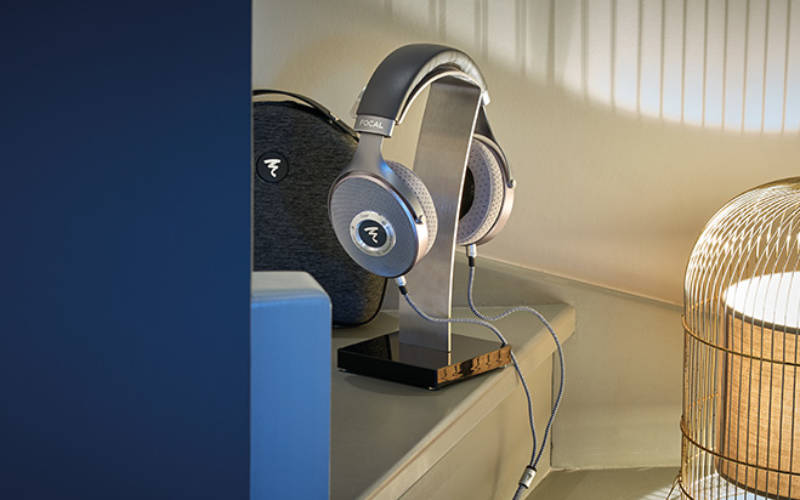 Focal®, a leading French speaker and headphone manufacturer, unveils Clear, the company's newest reference headphone. Clear is Focal's new circum-aural open-back headphone for audiophiles and represents a new evolution of Focal's now famous open-back, full-range speaker headphone family.
The 'M'–shape Aluminum/Magnesium dome is equipped with a revolutionary copper voice coil that provides remarkable dynamics across the audio spectrum, bass that is always controlled, even at high volumes, and exemplary linearity in the high-end. The new generation of perforated microfiber ear cushions add to Clear's open design, giving the headphones a weightless, almost invisible feeling.
"With Clear, we solidify Focal's position as key innovators in the manufacturing of high-end headphones," said Ben Jensen, president of Focal North America. "Building off the research used to develop high-end headphones Elear and Utopia, Clear is poised to be the reference open-back headphones under $2,000. Clear completely envelopes the user in musical purity, as one of the best headphones on the market."
FOCAL: CONSTANT INNOVATION
In 2016, Focal launched the Elear and Utopia headphones, featuring a major innovation with the full-range, completely open-backed electrodynamics transducer. This technological feat freed the headphones from any distortion generated by the ports, while ensuring the absence of any subsequent dynamic compression. One year later, Focal is revealing Clear. These circum-aural open-back headphones feature an enhanced speaker driver in addition to an upgraded open back design when compared to Elear. The feeling one gets from listening to Clear overwhelms any sense that the user is even wearing headphones in the first place. Clear is equipped with a new generation full-range speaker driver, as well as a frame less copper voice coil. The use of copper gives the voice coil an extremely strong magnetic field, resulting in sound which fully recreates the dynamics of the original recording. Clear can reveal the smallest of details in a recording, providing thanks to linear high-frequencies and the respect shown to transients. The 55 Ohms of impedance means you can use Clear with portable high-resolution audio players.
35 YEARS OF EXPERTISE IN THE SERVICE OF ABSOLUTE ACOUSTICS
Headphones generally sound different to loudspeakers due to the shape of the sound wave created by the speaker driver and the distance between the listener and the speaker. Whether it's an inverted or positive dome, a listening distance of barely an inch requires that the shape of the dome be completely redesigned to achieve a plain wave in the context of a full-sized headphone. Drawing on its 35 years of expertise, Focal has developed the "M"-shape inverted dome, originally launched on Elear and Utopia headphones. Composed of an Aluminum/Magnesium alloy, it offers an ideal combination of lightness, rigidity and dampening. These traits alongside its open-back design mean that listeners will feel like they are using the best high-fidelity loudspeakers on the market, while enjoying the mobility and comfort that a headphone offers.
CONNECT TO ALL DEVICES, EVERYWHERE
Clear also supplies a full range of connectors. Included are three types of cables to ensure that users always have the best solution. The braided cotton sleeve and 24 AWG oxygen free copper cable offer low resistance to deliver sound with utmost transparency. While the two 3.5mm mono jack sockets in the headphones themselves are lockable to secure the connection of the cables.
The 3 cable options are:
A 4ft (1.2m) cable finished with a 3.5mm stereo jack plug
A 10ft (3m) cable finished with a 6.35mm stereo jack plug
A 10ft (3m) with a 4-point XLR connector
The final accessory supplied with Clear is the rigid carrying case. A thermoformed shell is shaped like the headphones, protecting them from impacts and other travel-related hazards. With enough room to fit a 10ft (3m) cable while still being compact enough to easily be stored in a bag or backpack.

SURROUND YOURSELF IN MUSICAL EMOTION
Customized listening rooms have by far and wide been the ideal medium for listening to music. Two-channel high fidelity audio systems with optimized acoustics and impedance enhance music to its highest form. Clear has been designed to offer this experience in a high-fidelity headphone. The new microfiber ear cushions are to Clear as a listening room is to loudspeakers. The 1mm diameter micro-perforations on the outer edge of the ear cushions offer unrivaled openness, while the band and ear cup position offer the user a comfortable, almost weightless experience, regardless of head size or shape. Bringing out details unprecedented in this price range and enveloping the user in musical emotion, listeners will forget they are even wearing headphones. With a blend of grey leather on the headband and grey microfiber underneath, the design is aesthetically elegant and uniform.
COMBINING COMFORT AND HIGH-QUALITY MATERIALS
Focal developed a headband in which the bend remains constant, regardless of the size of the head. This spreads the weight of the headphones evenly over the head, to prevent pressure on the head or ears, which is often the case with other products. The solid Aluminum yoke with its asymmetrical attachment points has been designed to improve the distribution of pressure, ensuring excellent sealing and further improving comfort. This is all thanks to its lack of traditional vertical rotating mechanics, as they have been integrated into the headband.
MASTERS OF MANUFACTURING
Our commitment to innovation continues with the speaker drivers found in Clear, originally designed for Elear and Utopia. A new production line specifically for Clear in Saint-Etienne (France) develops the light-weight components that live inside Clear. Each pair of headphones features an identical frequency response curve of +/-0.5dB.
This consistency is due to our sophisticated five step driver manufacturing process, after which the transducers are all tested and measured before being paired. We are dedicated to manufacturing only the highest quality products, and this dedication has culminated in Clear.
Clear Availability & Pricing
Clear will be available October 6, 2017 for $1,499 USD / $1,899 CAD.