FOCAL KANTA 1, 3 & CENTER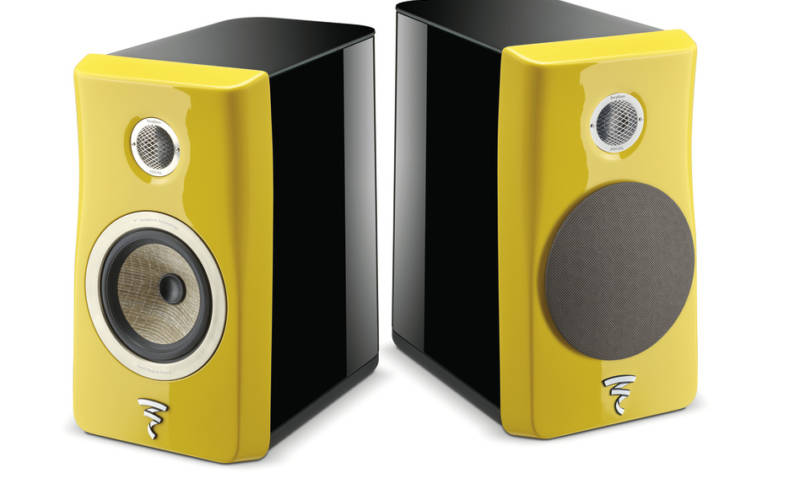 With the arrival of 3 products, Focal's high-fidelity Kanta loudspeakers range is complete!
The Kanta family has expanded: Focal is delighted to unveil its entire range of high-fidelity loudspeakers. After the resounding success of Kanta N°2 in October 2017, the French acoustics brand has launched three new Premium Hi-Fi loudspeakers: Kanta N°1, Kanta N°3 and Kanta Center. Once again, their DNA is marked by the impressive performance achieved by exclusive Focal technology.
Since the launch, Kanta N°2 has been widely acclaimed by the press and won numerous awards. This Premium loudspeaker has become a market leader thanks to technologies forged by Focal Research: a Flax cone combined with a Beryllium inverted dome tweeter provides exceptionally clear and precise sound rendering. Its bold design has also seduced music lovers, proving yet again that, at Focal, design is a close ally of acoustic performance.
A STRUCTURED OFFER
With the launch of Sopra four years ago, Focal provided an all- round solution and extremely coherent sound architecture; today it goes one step further with Kanta. This range of loudspeakers is now made up of four models and is designed for music lovers who love listening to their sound systems, as well as for film fans searching for a Home Cinema set-up with a striking design. They contain the same technologies as Kanta N°2: a speaker driver with flax cone, an IAL 3 Beryllium tweeter that combines the IAL (Infinite Acoustic Loading) and IHL (Infinite Horn Loading) tweeters, features, a TMD (Tuned Mass Damper) suspension and an NIC (Neutral Inductance Circuit) motor.
Kanta N°1 is the Premium solution for rooms under 269 square ft2 (25m2). This discreet loudspeaker is parti- cularly suited to a bookcase setting. When positioned in an enclosed space such as this, or near to a wall, a piece of foam can be slid into the port, which will have the effect of optimising the bass. It can also be installed on a stand.
Kanta N°3 is the gold standard of this line. Generating power and bass that are structured and generous, this will be the perfect choice for larger rooms of up to 861 square ft2 (80m2). The technological innovations in these speaker drivers make it possible to recreate neutrality in the midrange Kanta N°2, launched in October 2017, with higher definition. The latest generation IAL tweeter reproduces the tiniest details with clinical precision.
Finally, Kanta Center is the ideal complement to a traditional system, regardless of the configuration considered for the front and rear loudspeakers within the Kanta range. Indeed, its ability to reproduce the vocal range with extreme neutrality, at both low and very high volumes, makes it a formidable weapon in any premium Home Cinema set-up. Whatever the film's background noise, film fans will be surprised by the sound clarity and speech intelligibility, both of which are far superior to the norm.
For a top of the range Home Cinema configuration, the Sub 1000 F subwoofer, also featuring a flax cone, is the ideal addition. Its extended infrasound frequency response, its high SPL capacity and its stable tonal balance, even at very high volume, will immerse you deep into the heart of the action.
When combined with a set of classic loudspeakers, Kanta Center and the Sub 1000 F form an extremely structured system, which will provide cinema lovers with a fully immersive experience. The sound finesse, treble precision and bass generation will certainly set tongues wagging. And in a system linked up with the 300ICW4 in-ceiling loudspeakers, the most exacting film fans will enjoy an incredible 3D audio experience in Dolby Atmos, DTS X or Auro-3D. Guaranteed to blow you away…
TUNED MASS DAMPER
The solutions already known for increasing the damping properties of the suspension all result in an increase of the mass which consequently alters definition. The answer came from a technology used in earthquake-resistant skyscrapers and which is also used for the suspension on racing cars! This technology is called a "Tuned Mass Damper": an additional mass oscillate in opposition to the resonance frequency to control it.
NEUTRAL INDUCTANCE CIRCUIT TECHNOLOGY
After three years of research and the development of simulation software which makes it possible to visualise these complex interactions, Focal engineers created an incredibly stable magnetic circuit for the Kanta line.
The solution, NIC technology, lies in a Faraday ring whose dimensions, materials and positioning were optimised to make the magnetic field no longer affected by the position of the voice coil, by the amperage or the frequency of the current passing through it. This is a sign of very high definition.
GETTING THE MOST OUT OF THE BERYLLIUM TWEETER
Our Beryllium tweeter features an incredibly light and extremely rigid dome. Its main limitation comes from the compression of air in the cavity behind it. To overcome this, the ideal would be to have a nearly infinite volume.
THE UNIQUE QUALITIES OF FLAX SANDWICH CONE
Flax cones are made of high-quality flax fibers core enclosed by two thin layers of glass fiber. They satisfy the key criteria of a high performance diaphragm: high internal damping, high velocity of sound and high flexural rigidity.
Rigidity: all these criteria cannot be met by a mono-material cone. Sandwich technology greatly influences the neu- trality of the sound produced by the cone, something, which has always been Focal's hallmark. The expertise gained from the sandwich technology of the Utopia and K2 Power ranges enabled Focal to develop a revolutionary flax-fiber cone conciliating the 3 criteria.
Lightness: Flax is twice as light as fiberglass, because the fiber is hollow. It also has very low elasticity which makes it ideal to increase the flexural rigidity of a sandwich structure. Moreover, it can be obtained in non-woven bundles of considerable diameter and it can therefore produce the thickness required for a sandwich.
Internal damping: Composite materials have properties suitable for applications where both rigidity and low mass are required. However, their disadvantage is that they lack damping, which leads to very poor control of vibrations. Recent developments in this field combining composites and natural fibers have brought unexpected opportunities. Flax fiber has an excellent internal damping of the same order of magnitude as the glass or Kevlar® fibers or aluminum.