GENELEC 1236 SAM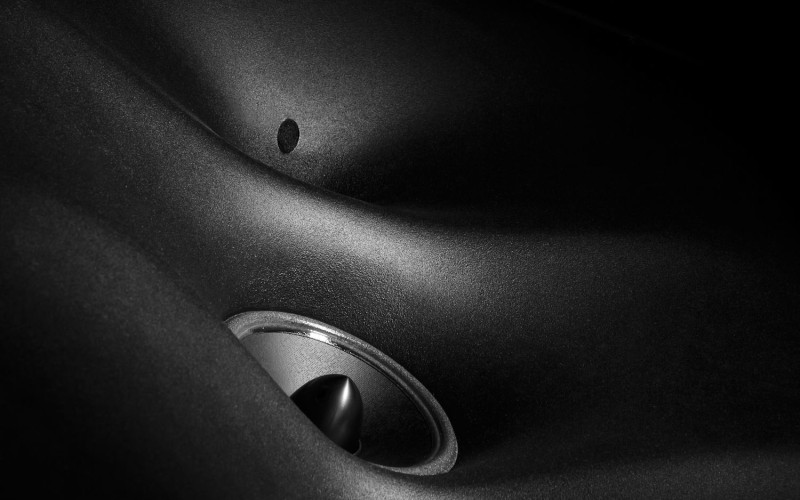 Genelec unveil Flagship 1236 SAM™ Main Studio Monitor System
The 139th AES Convention will see Genelec, the pioneer in active monitoring systems, unveil the new flagship 1236 Smart Active Monitoring (SAM™) Main Monitor System. The 1236 and its individually calibrated 3U-high Remote Amplifier Module RAM-XL provide the highest performance possible in a large format, flush-mounted main monitoring systems. The new design is based on the high-efficiency proprietary double-18-inch bass driver design of Genelec's 1036.
The 1236's frequency response extends from 17 Hz to 26 kHz and it is capable of delivering 130 dB SPL referred to 1 metre through a combination of modern digital signal processing and efficient Class D amplifiers, providing 2 x 1000 W, 800 W, and 400 W of short-term power into woofer, midrange and tweeter channels, respectively. The H 960 x W 1180 x D 650 mm (37 ¾ x 46 ½ x 25 5/8 in) enclosure features two 18-inch high-linearity woofers, two Genelec proprietary high-efficiency five-inch midrange drivers, as well as a two-inch high compression tweeter, mounted in a very large Directivity Control Waveguide (DCW™) enclosure.
"It's exciting to be adding the new 1236 to Genelec's extensive Smart Active Monitoring (SAM) product range," Lars-Olof Janflod, Marketing and PR Director at Genelec. "It is designed to achieve outstanding performance in the most challenging of recording and mixing environments, offering faithful reproduction with its cutting edge design. It is perfect for a wide range of production environments and applications, and highlights Genelec's continued commitment to lead the way with innovative high performance monitoring systems"
SAM technology is a vital part of the RAM-XL design. All crossovers, protection circuitry, and driver calibrations are implemented in the digital domain with the highest precision. In addition, the latest version (GLM 2.0) of Genelec Loudspeaker Manager (GLM™) and AutoCal™ couples with the 1236 to ensure that the speaker-to-room interface remains as near to perfect as possible from the moment the sound leaves the cabinet until it reaches the user's ears.
The new 1236 SAM system packs the most modern and intelligent Genelec technology into a powerful, high-performance main monitoring solution. All electronics, amplifier circuitry, drivers and enclosure have been designed, assembled, tested and individually calibrated in the Genelec factory in Iisalmi, Finland.
Features and benefits:
System Performance
Complete solution-oriented Smart Active Monitoring systems eliminate guesswork in system configuration and acoustic performance
Genelec advanced Directivity Control Waveguide (DCW™) provides a wide controlled listening area, minimizing early reflections for very accurate sound reproduction on-axis and off-axis
Dual woofer design extends directivity control to low midrange frequencies.
The RAM-XL features high efficiency Class D amplifiers providing high sound pressure level, high dynamic range, low distortion, and high reliability.
Quality electronic design and precision DSP algorithms ensure high dynamic range and extremely low self-generated noise.
Thoughtful thermal design makes RAM-XL extremely silent in order to be installed in the listening space
Genelec Intelligent Signal Sensing (ISS™) switches the system to standby when no audio input is detected, providing significant power consumption savings
Genelec quality and reliability ensure long-term security of investment, low energy consumption, and outstanding audio quality.
SAM Technology
Genelec AutoCal™ measures the response in the listening area and applies relevant compensation in the low and low-mid frequencies to minimise detrimental room acoustic anomalies as well as differences between various listening positions.
Excellent in-room calibration results with state-of-the-art AutoCal™ providing neutral sound reproduction via balanced system frequency response
Ability to store calibration settings for different listening positions to be recalled instantly during the production stage
SinglePoint™ and MultiPoint™ microphone positions provide measurements for one, two or three person mixing environments, optimizing the listening conditions over an area.
Symmetrical or individualized stereo pair equalization compensation to be used depending on the acoustic environment.
Each monitor Group has its own AutoCal calibration file, allowing to use different Groups for various customized response curves
Volume control functions via GLM software master fader or via external wired or wireless volume controllers covering all possible applications.
On-screen, real-time SPL reading of the active monitor Group allows accurate monitoring of the production SPL.
Brief technical specifiations:
Sound pressure level: 130 dB
Free field system frequency response: 17 Hz – 26 kHz (-6 dB)
Accuracy of frequency response: +/- 2 dB (21 Hz – 20 kHz)
Crossovers: 400 Hz and 3.2 kHz
Drivers: 2x woofers 18 in (458 mm), 2x midrange 5 in (125 mm), tweeter 2 in (50 mm) compression driver + DCW
Amplifier power: Woofers 2x 1000 W, midrange 800 W, tweeter 400 W (all Class D)
Dimensions: H 960 x W 1180 x D 650 mm (37 ¾ x 46 ½ x 25 5/8 in);
RAM-XL: standard height 3U / 19 in rack
Weight: 401 lb. (182 kg); 25 lb. (11.2 kg)
Connections: 1x XLR analogue input; 2x XLR AES/EBU input / output; 2x RJ45 control network