GOLD NOTE DS-10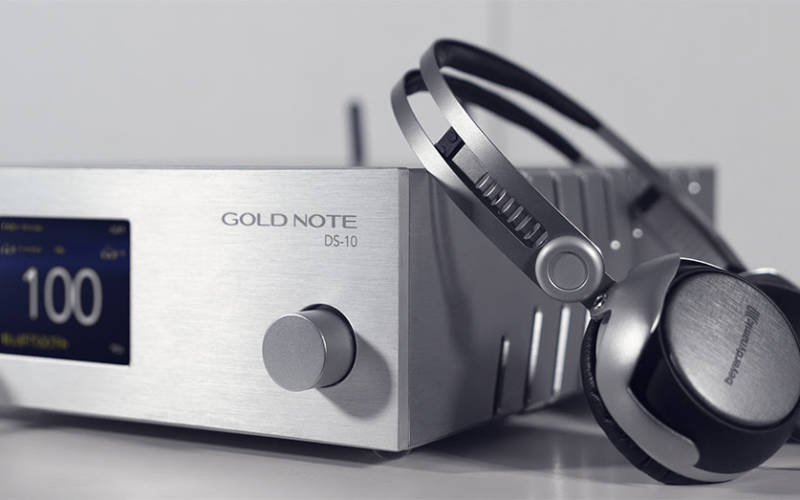 DS-10 is an innovative D/A Converter inspired by the acclaimed top model DS-1000 merging the extended features of IS-1000 all-in-one unit adding even something more: To make the DS-10 even more interesting Gold Note introduced a high-end headphone amplifier and Bluetooth 5.0 for the first time ever. 
DS-10 is a new generation D/A Converter & UPnP, DLNA Streamer created to revolution any audio system being able to browse web streaming players and digital sources. DS-10 can be matched with traditional CD players, TV or media servers as well as it is compatible with almost all Internet services including Roon, Tidal, Qobuz, Airplay, Spotify, Deezer, V-Tuner, from which it can play DSD, PCM & MQA formats all to enjoy real "High-End Audio" as a new refreshing experience, hassle and cable free.
DS-10 also features a professional 6.3mm headphone output with a proprietary design which allows selecting the sensitivity to drive almost any kind of headphone on the market. Moreover, DS-10 has an On/Off switchable high-end audio analogue preamp stage. All the different remote controls including a computer app make it easy to control DS-10 synchronizing the unit to all functions and letting even the web players play analogue volume when the preamp stage is activated, guaranteeing the best performance ever.
User-friendliness is further guaranteed by proprietary technology Single Knob Control which together with the TFT display allows easy access of all functions directly from the front panel. Alternatively, DS-10 can be fully controlled via remote control or the Gold Note App for smartphones and tablets.

From August 2019, DS-10 will be available worldwide through Gold Note dealers at an launching price of 2.490€. 

Find GN distributors: http://www.goldnote.it/distribution
Find out more about DS-10: www.goldnote.it/ds-10