GOLD NOTE IS-1000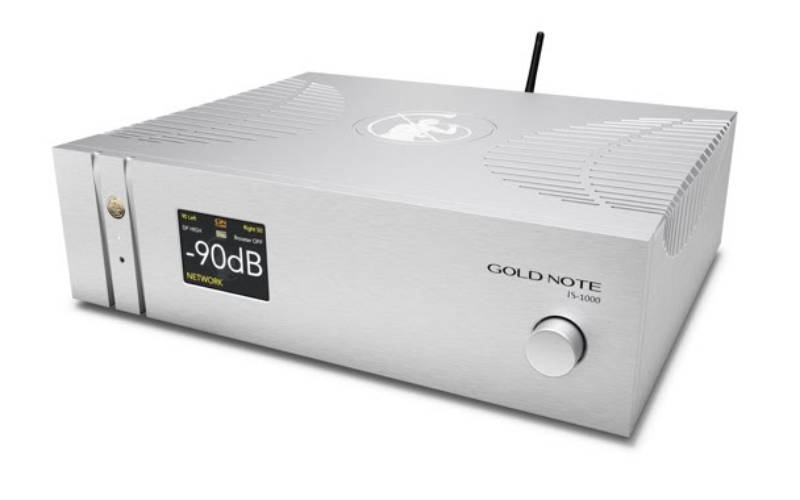 IS-1000 is an advanced fully integrated amplifier that redefines the way music playback is experienced, seamlessly merging a Preamplifier, a Power Amplifier, a Phono Stage, a DAC and a Streamer in a unique and complete source.
Gold Note IS-1000 is a Roon Ready device, fully compatible with multi-room systems and with a quick plug & play installation: simply plug IS-1000 to the main A/C, connect it to the network (Wi-Fi or Ethernet) and to the speakers, then explore the endless possibilities of music, streaming from Tidal & MQA via Tidal, Qobuz Spotify & Spotify Connect and Deezer with Roon or the Gold Note dedicated App [available for iOS and Android] or browsing your collection of digital music stored on NAS, HDD and USB sticks – including DSD 64.
The new Class A/B amplifier with 120W per channel developed exclusively for IS-1000 guarantees vivid dynamics, the pure sound and finest detail while also offering a wide range of digital and analogue inputs (including A/V and Phono MM/MC) to assure total control and the freedom to upgrade, expand or connect more devices to the IS-1000.
The refined technical innovations of IS-1000 come directly from our flagship models, like the preamplifier P-1000 and the power amplifier PA-1175, which inspired us to create a new source that would integrate the analogue components of a high quality amplifier with the digital technologies of a Streamer and a DAC to deliver outstanding performances.
Analogue Audio Inputs
– 1 XLR balanced
– 2 RCA (Line or A/V processor or Phono MM/MC)
Digital Audio Inputs
(PCM up to 24/192)
– 3 optical (TOS)
– 1 Coaxial (COAX)
– 1 USB type A (DSD 64 native and via DoP)
– 1 LAN & Wi-Fi (DSD 64 native and via DoP)