GOLD NOTE P-1000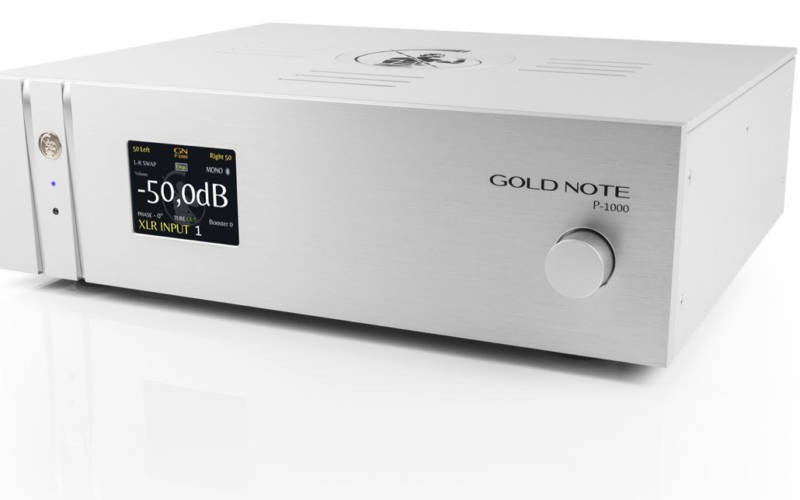 Introducing P-1000 the new GN preamp
Designed for high demanding audio systems, P-1000 is the new complete High-End preamplifier for real music lovers, an innovative Class-A preamplifier born with a completely new proprietary Six Gain Stage design and Relays & Optical Encoder volume control.
P-1000 is powered by a Triple Linear Transformer power supply and features 10 independent analogue stereo inputs: 5 balanced XLR + 5 RCA.*
The P-1000 belongs to the new era of Gold Note electronics, combining performance and technology to offer the best musical experience and ease of use. The new design allows to quickly select every function, like:
Mono/Stereo
Left/Right channel swap
Absolute phase Swap
Over-boost
Fine Balance tuning
With its large colour display showing every information, P-1000 becomes the ideal control point of your stereo system, improving even further the audio quality for true listening pleasure.
Audio input
Analogue: 5 stereo XLR balanced & 5 Stereo RCA unbalanced
Digital (optional): TOS or Coax or USB DSD and PCM 352.8Khz
Input Level: 10Vrms on RCA
Input Impedance: 100Ω
Audio output
XLR balanced
RCA unbalanced
Output Level: 16Vrms on XLR & 8Vrms on RCA max
Output Impedance: <10Ω
* digital input available on demand