GOLDMUND LOGOS ANATTA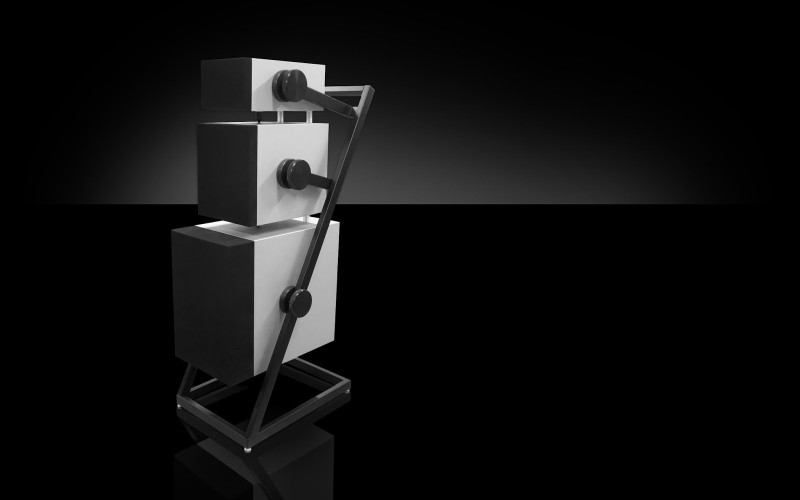 Potężne kolumny, którymi można wybijać tunele pod Alpami. I wygodne, bo bezprzewodowe
The Logos Anatta High-End Wireless Speaker System
Excellence is a lifestyle, an art de vivre, consciously chosen by those who cannot settle for less than the best; those who have the knowledge to determine in all domains of life what is better intrinsically, but above all, what is better for them. It is with these customers in mind that the Logos Anatta was created.
As an audio manufacturer, the quality of the sound produced by the Anatta was of course a main focus. But sound perfection is only one aspect of the experience we wish to bring to Goldmund customers. Design, craftsmanship, convenience, and service are also crucial elements of our work to satisfy our clientele in addition to an unequalled level of technology.
It is under this light that we would like to present the new Logos Anatta.
A Sculptural Design
The new Logos Anatta cannot hide it is parent to the Apologue Anniversary Limited Edition designed twenty five years ago by the contemporary Italian artist Claudio Rotta Loria. Modern and cubic, we wanted the Anatta to stand out as being different, special, yet timeless. Its design is adapted to contemporary styles but also creates an interesting contrast in classical decors. Its traditional Goldmund aluminum finish and black frames make it easy to use in interiors of any color. The Logos Anatta is quite a sophisticated construction and seeing pictures of it might not help realizing that its 1.6 meters (5'6") height makes it quite impressive and majestic.
Swiss Craftsmanship
We insist on the absolute purity of the materials we use. The best quality steel, ultra-rigid brass, aluminum, rhodium, and gold are used in our products. The Anatta is made out of aluminum (a specific alloy that we have used for more than 35 years) that is treated to create the traditional Goldmund satin finish.
All Logos Anatta speakers are assembled by hand. This precision work is performed at the Goldmund factory, following the manufacturing processes used by famous Swiss watchmakers. It consists in sourcing each element of the speaker from the most expert Swiss companies. Some of them are small enterprises that work with only a few selected customers such as Rolex, Patek Philippe and Goldmund. Each of them being highly specialized in one domain only (mechanics, treatment, electronics etc.), it insures our products always propose the highest level of quality and the latest technological developments.
Technological Expertise
May be more so than any other Goldmund speaker, the Logos Anatta has been designed to provide a sound that is the closest to reality. This is why it was called Anatta, which in Buddhism means "absence of self".
No coloration, no noise, no distortion, the Logos Anatta reproduces entirely and exactly what has been recorded. And if we are absolutely obsessed by sound quality, stubborn about providing our customers with the best existing reproduction, this is simply because only the highest level of realism can bring the highest level of pleasure and emotion.
This result is achieved thanks to "Proteus", the Speaker Modeling technology that allows the engineers of the Goldmund Acoustic Laboratory to create speakers of any shape while maintaining the Goldmund extreme standards of sound quality. The Anatta is also strong of the latest development of Leonardo (version 2) that confers it the ability to be played to its maximum performance without any distortion.
In addition, the Logos Anatta is built with the Mechanical Grounding technology developed by Goldmund to evacuate spurious vibrations that affect the sound quality.
The Convenience of a Wireless System
The Logos Anatta is a "wireless capable" speaker. It adapts to your needs in terms of system options.
If you wish for extreme simplicity, you can use the Anatta with the USB computer dongle that is provided with it. Plugged in your computer, it will wirelessly transfer the signal to your speakers without any need for additional equipment to listen to your favorite tracks.
If you have several sources and want to connect your television, your computer and your disc player, a wireless hub like the Mimesis 11 or the Talisman (this one with the size and shape of a jewelry box) will be enough to transmit from all of them.
If you wish to use the Anatta as front speakers in a home cinema, you may also choose an acoustic processor and a wireless transmitter.
The speaker can be seamlessly integrated into its environment since the power cord, the only really necessary cable, is completely hidden within the frame and connects at the rear bottom part of it. Amplifiers and filters are integrated within the speakers, leaving way to Zen and uncluttered environment.
The Anatta can also be used wired by a coaxial link. The digital link RCA plug is located right next to the AC connector.
Custom Services
The Logos Anatta is exclusively sold by Goldmund representatives worldwide. Trained to install and service our products, their recommendations are important so our customers do not buy any system but the system that is adapted to their needs and home environment.
Goldmund services are also closely linked to technology. When the Logos Anatta operates as front speakers in a multichannel system, it is delivered with a customized configuration created from the mathematical model of the room in which it is installed and taking into account the rest of the equipment used in the system. Configurations are calculated by an engineer of the Goldmund Geneva Acoustic Laboratory.
Each room has different effects on sound, so custom technical solutions are the only guarantee to always reach excellence in sound quality.
About Goldmund
Founded in 1978, Goldmund has through the years set the standard for ultra-luxury audio products worldwide by allying the most advanced technologies to the utmost quality of materials and customized services.
Thanks to its commitment to fundamental research and massive investments in the technological development of extreme audio equipment, Goldmund has created mythical products such as the Reference II turntable, the world's most expensive turntable, the Telos 5000 limited series 5000 watts amplifier, the Eidos Reference Blue, the most luxurious universal player, and the Goldmund Media Room, a revolutionary customized home-cinema solution.
Today, Goldmund continues to offer ultimate audiophile products and has also developed luxury lifestyle lines that integrate the technologies used in its most prestigious models. These lines provide a unique sound quality while simplifying customers' lives with wireless features, seamless integration in home automation systems, easy installation, customized software configuration adapted to the clients' rooms, and a choice of colors to match their interior design.