GOLDMUND PRANA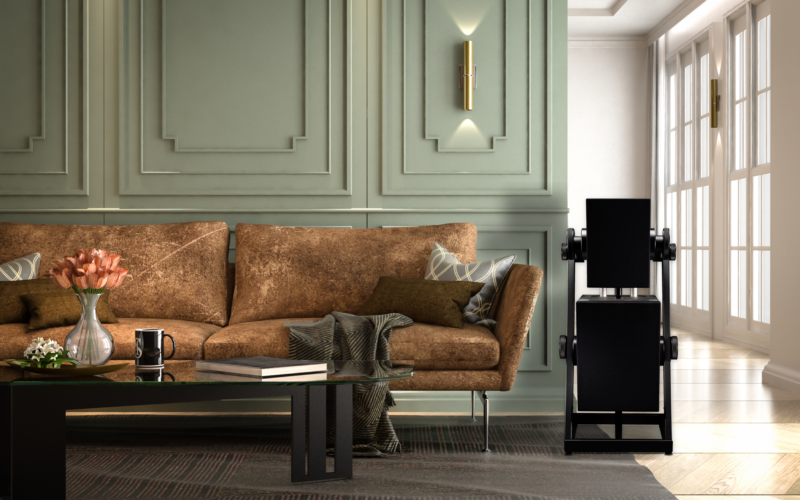 GOLDMUND PRESENTS THE NEW PRANA ACTIVE SPEAKER (£67,500)
In Hindu philosophy, the Sanskrit word for « life force » – Prana – is the universal sea of energy that infuses and vitalizes all matter. Prana is the breath. Without it the body can't live. Prana – the name of the freshly launched flagship wireless loudspeaker – pays tribute  to our engineers who worked hard to design this exceptional piece and bring to life the musical message with a level of definition and neutrality never found before in a speaker system.
Prana speakers are fully constructed in the highest quality aluminium. Their sleek and contemporary look match with any colour. The smallest of its family in the sequence of Satya and Samadhi, Prana is suitable for any kind of decor and interior.
Amplifiers and filters are integrated within the speaker. It uses a combination of multiple drivers, each catering to a different frequency band. Prana drivers satisfy the customer's high fidelity expectations in the reproduction of the musical message. They cover with utter precision the entire audio spectrum of musical instruments as well as voices, from the most elevated soprano to the gravest bass.
A product of the Goldmund Proteus Mathematical model, the Prana is a smart active speaker whose DSP's include the Leonardo 2 technology (the latest version of our time alignment correction algorithm), digital crossovers, gains, and delays.
For perfect convenience, the Prana can be used wired or completely wireless aside the power supply. The speakers are a full system by themselves and, should one choose so, one could use them alone with a computer music library as a wireless source. For more ambitious systems with multiple sound sources such as your TV and disc player, the Prana can be coupled with the Goldmund Talisman Wireless hub or with any of Goldmund processors.
Prana has been designed to provide a sound that is the closest to reality. No colouration, no noise, no distortion, the Prana reproduces entirely and exactly what has been recorded. It comes with the implementation of the Goldmund mechanical grounding technology that evacuates spurious vibrations that affect the signal quality. And if Goldmund is absolutely obsessed by sound quality, stubborn about providing its customers with the best existing reproduction, this is simply because only the highest level of realism can bring the highest level of pleasure and emotion.
Prana specifications and schematic
FREQUENCY RESPONSE
AMPLIFIER
Built-in 600 W Telos amplifier per side.
2 x 175 W Telos amplifier for tweeter, medium.
1 x 250 W Telos amplifier for woofer.
DRIVER 
1 x soft dome tweeter, 1 x 7" medium and 1 x 9" woofer, selected for their high linearity and dynamics.
BASS LOAD 
INPUTS
1 x digital S/PDIF input.
1 x wireless audio input.
VOLTAGE 
Nominal range : 115 V or 230 V (+/- 15%)
RATED POWER CONSUMPTION 
SIZE & WEIGHT
48 W x 99 H x 47.6 D (cm) – 18.9 W x 39 H x 18.5 D (inch).
80 kg per side with frame.
WARRANTY