GRUENSCH GRAND REFERENCE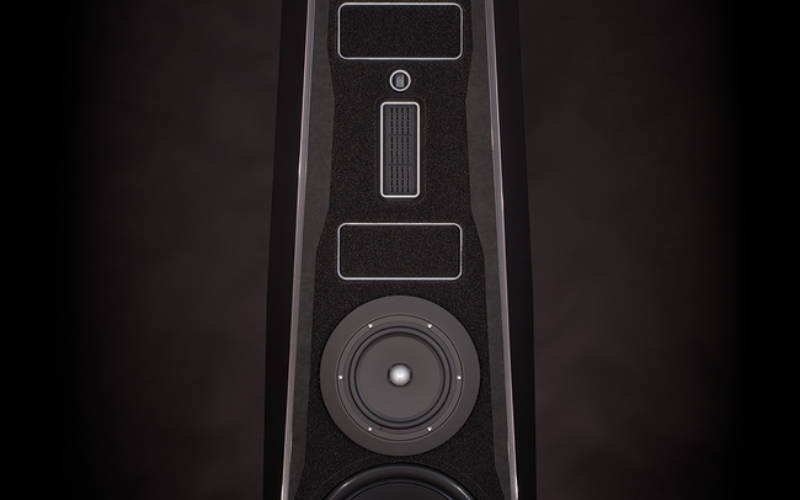 THE UNIQUE, HOLISTIC SPEAKER CONCEPT.
·         GRUENSCH TCPS PLANAR UNIT

– Central planar unit as a virtually zero mass Time-Coincident Point Source with dipole technology from the medium low mid-tone range onwards – consisting of two mid-tone planar magnetic transducers, one mid-high planar magnetic transducer and one ribbon super-tweeter – in a special open baffle setting

·         GRUENSCH OPEN BAFFLE – Sophisticated open baffle with special rear sound guidance elements facing outwards for optimised, natural, diffuse sound field

·         GRUENSCH SINGLE DRIVER WIDE RANGE CONCEPT- Broadband concept – The most important frequency ranges from the medium midrange to 15 kHz (more than four octaves) is reproduced absolutely seamlessly by a single broadband planar magnetic transducer.

·         TIME COINCIDENT SPEAKER CONCEPT – Time accurate impulse and music reproduction

·         TIME COHERENT CROSSOVER – Time and phase coherent first-order (6dB/octave) acoustic attenuation slopes

·         TIME-ALIGNED IN PHASE DRIVER CONFIGURATION – Time-aligned, time coherent driver configuration – The aligned drivers are all connected in positive phase so that they push and pull in unison

·         SYMMETRICAL VERTICAL DRIVER ARRAY / POINT SOURCE FOCUS – Mirror-symmetrical vertical drive unit array as quasi-point source

·         Driver Complement: 1x Ribbon-Supertweeter, 1x broadband 20cm (8") Planar Magnetic Transducer (midrange/treble), 2x 25cm (10") Planar Magnetic Transducer (midrange), 2x 22cm (8.5") Bass, 1x 38cm (15") Sub-bass, selected in pairs

·         GRUENSCH ULTRA LOW LOSS CONCEPT

1) Speaker drivers with minimum mechanical losses 2) Ideal, direct operation of the mid-high planar magnetic transducer without series resistor 3) Crossover topology with minimum time delay (no time smear) and use of particularly low-loss components

·         GRUENSCH SEALED ENCLOSURE – Sealed enclosure in bass and sub bass range for best impulse reproduction with optimized pressure conditions and prevention of backwave colorations

·         Active 15" Sub-bass – Active 38 cm (15") sub-bass in the frequency range from 15Hz to 50Hz with separate electronic crossover and external power amplifier.
(Required separate external poweramplifier not included in the scope of delivery)

·         Ultra Solid and Inert Cabinet – Exceptionally solid, multilayer, pressure- and resonance-optimized cabinet with extensive internal bracing

·         GRUENSCH PURE SOUND WAVE – Self-reflection-free sound radiation thanks to special design of cabinet and speaker driver environment.

·         LINEAR OCTAVE-TO-OCTAVE RADIATION – Evenly and proportionately increasing membrane surface area to low frequencies

·         Large Membrane Surface Area – Very large total speaker membrane surface area, especially in the mid and high frequency range

·         GRUENSCH STEALTH CABINET – Acoustically "invisible" cabinet with minimal acoustic signature

·         Extremely Tight Tolerances and Highest Precision – Strict pair selection of loudspeaker drivers and very accurate matching of left and right speakers.
DESIGN AND MANUFACTURE.
Only the best and finest materials are used for GRAND REFERENCE.
The luxurious overall composition of high-gloss lacquered and hand-polished loudspeaker cabinet, velvety matt Nextel-coated elements, Alcantara inlays as well as silver anodised and polished aluminium elements captivate through visual tension, sensuality and timeless beauty.
Each pair of GRAND REFERENCE loudspeakers are manufactured in Germany with the greatest care and appreciation for the product. In countless working hours, exclusive and ground-breaking masterpieces of loudspeaker construction are created with the finest craftsmanship.
GRUENSCH GRAND REFERENCE
THE NEW BENCHMARK IN ULTRA HIGH END SPEAKERS.
ENGINEERED AND HANDCRAFTED IN GERMANY.
TECHNICAL SPECIFICATIONS.
Typical Values
Frequency Range: 15 Hz – 100.000 Hz (-3dB)
Sensitivity: 91 dB (2,83V/1m)
Nominal Impedance: 7,1 ohms – Minimum 3,0 ohms / 2500 Hz, Subbass 4,0 ohms
Time Domain Accuracy / Impulse Response
Time Coincident / Correct Impulse Response
Preserving the timing relationships between ranges of frequencies (Time Accuracy)
Preserving the integrity of the recorded musical waveform (Waveform Integrity)
Ideal Step Response
Perfect Square Wave Response
MADE IN GERMANY.
Weight
Unpackaged per channel: approx. 200 kg (441 lbs)
Shipping weight per channel: approx. 316 kg (697 lbs)
Overall Dimensions
Height: 155,5 cm (61,2")
Width: 34,7 cm (13,7") at the top, 50,1 cm (19,7") at the bottom
Depth: 65,0 cm (25,6")