HANS ZIMMER WANTS YOU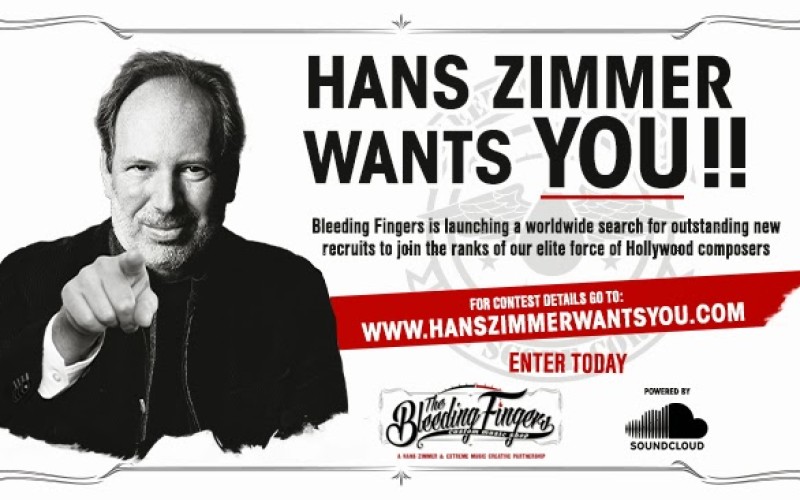 Jest dobrze płatna praca w Hollywood! U Hansa Zimmera
Warunek jest tylko jeden – trzeba wygrać konkurs na najlepszy remiks tematu napisanego specjalnie na tę okazję przez najsławniejszego obecnie hollywoodzkiego kompozytora muzyki filmowej. Potem na zwycięzcę czeka ciepła posadka w kalifornijskiej wytwórni Bleeding Fingers, założonej niedawno przez Zimmera oraz Sony/ATV Music Publishing. To kartel skupiający najbardziej utalentowanych muzyków zaangażowanych w produkcje na potrzeby filmu oraz telewizji. Miejscem pracy będą studia mieszczące się na terenie Santa Monica, w kampusie Hans Zimmer World. Finałowa trójka zostanie przedstawiona 20 marca. Szczegóły konkursu oraz materiał do pobrania i zmiksowania – w informacji poniżej.
Academy Award® Winning Composer Hans Zimmer Provides Music For Competition: Hans Zimmer Wants You!!
LOS ANGELES, Jan. 23, 2014 /PRNewswire/ — The Bleeding Fingers Custom Music Shop — a joint venture between Extreme Music, the production music arm of Sony/ATV Music Publishing, and Academy Award® winner Hans Zimmer's company Remote Control Productions — has launched the Hans Zimmer Wants You!! contest powered by SoundCloud: a talent quest designed to uncover the next Bleeding Fingers composer offering the SoundCloud community the opportunity of a lifetime.
The winning composer(s) will have the chance to work side-by-side with an extraordinary stable of top Hollywood talent and to make their mark doing what they love at the highest level possible. The winner will receive the opportunity for full-time employment, including a full benefits package, plus they will be provided with their own fully equipped studio in Bleeding Fingers brand new state of the art facility which they can use for the duration of their employment. The contest begins January 22nd and ends February 19th. The lucky finalists will be announced on or before March 20th.
Oscar-winning composer Hans Zimmer has created an original piece exclusively for this contest that participants will use as a leaping off point to create their own compositions based on or inspired by the same melody. Submission length is 90-120 seconds. Full submission details can be found at www.hanszimmerwantsyou.com.
"This competition promises to be an exciting journey. There is a universe of outstanding talent out there and I am looking forward to hearing what the exciting SoundCloud community comes up with. To all who enter, remember there are no boundaries. Be bold! Be brave!," said Hans Zimmer.
Zimmer's reputation for discovering and nurturing new talent has earned his Santa Monica campus the reputation of being the "Stanford of Score." Renowned as a hothouse for the musically gifted, its alumni boast a torrent of success stories including Lorne Balfe, James S. Levine, Harry Gregson-Williams, John Powell, Steve Jablonsky, Ramin Djawadi, Henry Jackman, Junkie XL, Geoff Zannelli, plus countless others.
The panel of judges for the Hans Zimmer Wants You!! contest are listed below; Zimmer will be the final judge:
Hans Zimmer, Academy Award winning composer – 12 Years a Slave, Man of Steel, The Dark Knight Rises Lorne Balfe, Composer – Inception, Iron Man, Sherlock Holmes, The Dark Knight Junkie XL, Composer – Man of Steel, The Dark Knight Rises, 300: Rise of an Empire Jacob Shea, Sr Composer, Bleeding Fingers – Gears of War, Transformers 3, Through The Wormhole, Survivor Russell Emanuel, CEO, Bleeding Fingers/Extreme Music Steve Kofsky, Chairman, Bleeding Fingers
For more information on Hans Zimmer Wants You!! go to: www.hanszimmerwantsyou.comhttp://hanszimmerwantsyou.com/
For more information on Bleeding Fingers, go to www.bleedingfingersmusic.comhttp://www.bleedingfingersmusic.com/
For more information on SoundCloud, go to www.soundcloud.com
ABOUT THE BLEEDING FINGERS CUSTOM MUSIC SHOP
The Bleeding Fingers Custom Music Shop is a joint venture between Extreme Music, the production music arm of Sony/ATV Music Publishing, and Academy Award® winner Hans Zimmer's Remote Control Productions.
Housed in a brand new, state-of-the-art facility in Santa Monica, The Bleeding Fingers Custom Music Shop will focus on creating bespoke show-specific libraries and score for unscripted, reality, documentary and light drama television productions. Bleeding Fingers' goal is to harness its parent companies' unique skill sets, reputations for excellence and industry renowned production values. Bleeding Fingers is the result of a growing demand from broadcasters and program makers for a power player to enter this space.
In its proof of concept period alone Bleeding Fingers has already successfully scored over 30 shows including Survivor XVIII, Boston's Finest, Duck Dynasty, Mountain Men, Hatfield's & McCoys: White Lightening, Catfish, True Life, The Men Who Built America, and has earned both ASCAP and BMI Awards for the History Channel's Mountain Men.
ABOUT HANS ZIMMER
Hans Zimmer has scored more than 100 films, which have, combined, grossed over 22 billion dollars at the worldwide box office. He has been honored with an Academy Award®, two Golden Globes®, three Grammys®, an American Music Award, and a Tony® Award. In 2003, ASCAP presented him with the prestigious Henry Mancini award for Lifetime Achievement for his impressive and influential body of work. He also received his Star on the Hollywood Walk of Fame in December 2010. Some of his most recent works include Zack Snyder's Man of Steel, The Lone Ranger, History Channel's miniseries The Bible; the Christopher Nolan-directed films Inception, The Dark Knight and The Dark Knight Rises; and Guy Ritchie's Sherlock Holmes: A Game of Shadows. Upcoming titles include Ron Howard's Rush and Steve McQueen's Twelve Years a Slave.