IFPI DIGITAL MUSIC REPORT 2013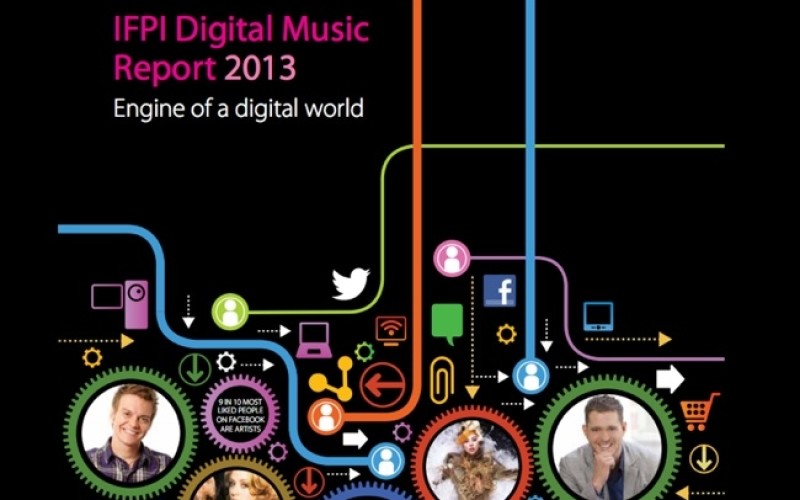 Przemysł fonograficzny miał w 2012 roku przychody na poziomie 16,5 mld dolarów Po raz pierwszy od 1999 roku branża zanotowała wzrost wynoszący 0,3 procenta - podaje najnowszy raport IFPI o światowym rynku muzycznym. Sprzedaż muzyki w formie cyfrowych plików warta była w ub.r. 5,6 mld dolarów i stanowi już ponad 30 procent obrotów. Pełny raport tutaj. Najważniejsze ustalenia - poniżej
Global recorded music industry revenues increased by an estimated 0.3 per cent in 2012, the first year of industry growth since 1999, to US$16.5 billion.
Digital revenues increased by an estimated 9 per cent to US$5.6 billion in 2012, now accounting for around 34 per cent of global industry revenues.
Download sales increased in volume by 12 per cent globally in 2012 and represent around 70 per cent of overall digital music revenues
The number of people paying to use subscription services leapt 44 per cent in 2012 to 20 million. Subscription revenues are expected to account for more than 10 per cent of digital revenues for the first time in 2012.
Digital channels account for the majority of record companies' income in an increasing number of markets including India, Norway, Sweden and the US
Digital retailers' rapid global expansion is opening up the potential for markets such as Brazil and India, to become major sources of future industry growth. At the start of 2011, the major international services were present in 23 countries. Two years later, they are in more than 100 countries.
Digital music consumption has become mainstream, as shown by consumer research by Ipsos MediaCT across nine markets in four continents. Two-thirds of internet users (62%) have used a licensed digital music service in the past six months. Among younger consumers (aged 16-24) this figure jumps to 81 per cent.
Consumer satisfaction with licensed music services is demonstrably high. 77 per cent of users of licensed services rate them as excellent, very good or fairly good. Even 57 per cent of those who use unlicensed services believe "there are good services available for legally accessing digital music."
Many non-digital revenue channels are also increasing. Performance rights income increased in value by an estimated 9.2 per cent in 2012 and now accounts for around 6 per cent of overall industry revenues, up from 3 per cent in 2007.
Album charts in most markets show that investment in local repertoire is alive and well. In many countries, local repertoire accounts for the vast majority of the top selling albums of the year. Five major non-English language markets illustrate this. In Italy, Spain and Sweden, eight in 10 of the top selling albums of 2012 were by local artists; in Germany, seven in 10, and in France six in 10.