JBL SYNTHESIS S4700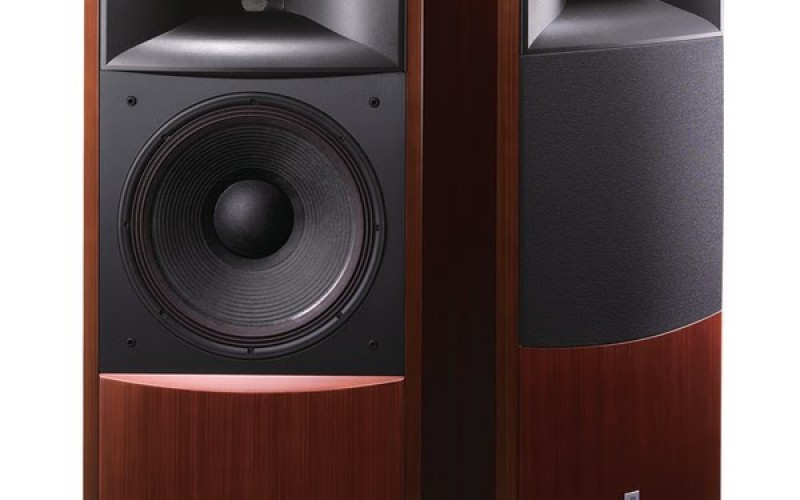 Wysyp nowości Harmana na rozpoczynających się 10 stycznia w Las Vegas targach International CES Kosztujące 20 tys. dolarów (para) kolumny z 15-calowym wooferem z papierową membraną i bi-radialną tubą to jedna z wielu nowości, które koncern Harman zaprezentuje podczas rozpoczynających się jutro w Las Vegas targach International CES. Audiofile z niecierpliwością czekają m.in. na premierę nowej kolekcji spod znaku Mark Levinson, która jest jednym z elementów obchodów 40-lecia tej marki. Amerykanie zapowiadają m.in. 52 Reference Dual-Monaural Preamplifier, 585 Integrated Amplifier, 519 SACD Disc Player oraz 560 Digital Audio Processor. Pojawi się także nowa linia kolumn Revel Performa 3. Więcej - poniżej. Mark Levinson No. 52 - 25 tys. $ Mark Levinson No.585 - 10 tys. $ Mark Levinson No.519 - 8 tys. $ Mark Levinson No.560 - 6 tys. $ Revel P3
LAS VEGAS, Nevada — At CES 2012, HARMAN's JBL Synthesis announced the introduction of its S4700 loudspeaker, a three-way floorstanding model that combines a host of newly developed, professional-grade driver technologies with an elegant appearance that combines classic JBL design elements with distinctive contemporary styling.
The S4700 incorporates technologies directly derived from the world-renowned Project Everest DD66000 and Project K2 S9900 loudspeakers to deliver extraordinary fidelity and musical realism. It is ideal for use as the foundation of an ultimate-performance stereo music system or as an L,C,R loudspeaker in a JBL Synthesis® multichannel home theater installation.
"Our new S4700 continues the JBL heritage of delivering the essence of the musical performance with exceptional dynamic authority, along with a natural tonal balance and clarity and spatial definition that conveys every sonic nuance of the original recording," said Jim Garrett, Senior Manager, Marketing HARMAN Luxury Audio Group. "We designed the JBL S4700 to satisfy the most passionate audiophiles, music lovers and home cinema enthusiasts."
Measuring 42.1″ high by 19.9″ wide by 14.6″ deep, the JBL S4700 combines the power and impact of a 15-inch woofer with the wide dynamic range and effortless presence of its midrange/high-frequency and ultrahigh-frequency compression drivers to deliver extraordinary performance in every sonic respect. At the foundation of the JBL S4700 is a newly designed cast-frame 15-inch pure-pulp-cone woofer that incorporates dual 3-inch voice coils and a high-power neodymium magnet motor structure for exceptional low-frequency extension and articulation.
The S4700 employs midrange/high-frequency and ultra-high-frequency compression drivers that are housed in a single-piece dual horn assembly made of JBL's exclusive SonoGlass®, a dense, acoustically inert resin material. The 175Nd-3 midrange/high-frequency compression driver features a 2-inch AquaPlas™-coated titanium diaphragm that combines the added rigidity and sonic neutrality of the AquaPlas treatment with the fast transient response and high resolution of titanium. This driver is mated to a 90 by 60 degree BiRadial® horn, a hallmark JBL transducer design element. JBL BiRadial horns are precisely molded in frequency-optimized designs that deliver accurate midrange and airy, extended treble across a wide listening area.
The 138Nd 0.75-inch pure-titanium high-frequency compression driver operates into a 60 by 30 degree BiRadial horn. The driver's response extends to beyond 40kHz, providing open and detailed high and ultrahigh frequencies with wide dispersion. All three of the S4700's drivers are precisely matched to deliver a smooth tonal balance across the entire frequency spectrum, with natural vocal and instrumental reproduction.
The JBL S4700 features a bass reflex enclosure with a rear-firing tuned port; the enclosure is computer-designed for maximum efficiency, low-frequency performance and dynamic impact. The S4700 is built using the highest-grade materials and parts. It utilizes premium-quality crossover components and internal wiring to ensure sonic purity, and provides dual binding post speaker cable connectors to allow bi-wiring or bi-amping if desired. The solidly built enclosure is damped and internally braced at critical points to attenuate unwanted internal resonances.
The S4700 is luxurious in appearance, with a furniture grade cherry wood finish accented by the graceful curves of the horn drivers and enclosure and its understated black grille cloth. The JBL S4700 will complement the most luxurious living environments and the finest music and home theater systems.
The JBL S4700 loudspeaker will be available in January 2012 at a suggested retail price of $20,000 per pair.