JOB PRE2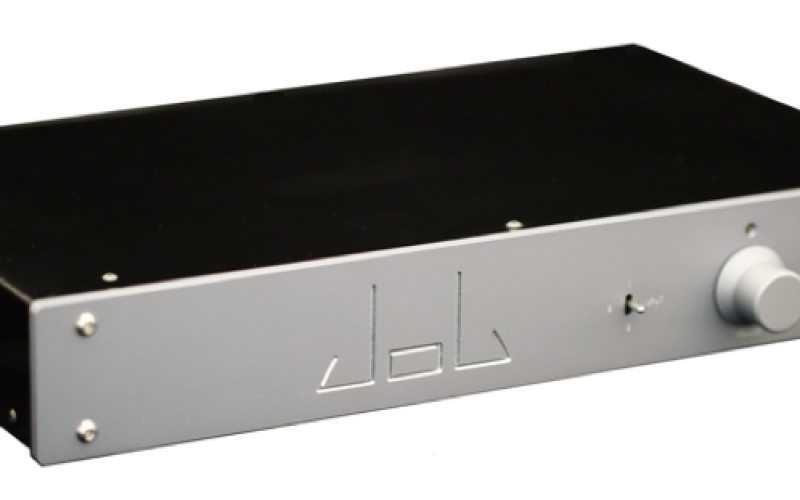 Szwajcarska robota, najlepsze komponenty, zero amatorszczyzny
After the new JOB 225 launched in January 2013 and a new dual voltage version launched in September 2013, Job comes back to the market with the latest addition to the JOB family: the new Job The new JOB PRE2
The new JOB Pre2 is a minimalist preamplifier fully designed as a complement of the JOB amplifier for those who use only analog sources.
In order to maintain both an extreme musical transparency and a reasonable price, the JOB Pre2 has been created with no gimmick, no unnecessary feature but the most advanced analogue line stage we can design. With only 3 line inputs, a digitally controlled analog volume, an ultra-simple remote and an elegant look, its finish matches the JOB 225 power amplifier. The JOB Pre2 allows maintaining the phenomenal sound quality of its sibling amplifier without any alteration in your system.
To achieve exceptional sound quality, we needed exceptional construction quality. We picked the best components on earth, and have them assembled by Swiss companies who can guarantee the most accurate work on our products. No amateurism accepted. And to be sure of what we deliver, we test the finished product by running it for a week. The result is an exceptional reliability with the lowest failure rate we could even have dreamed of.
Customers' comments
A few Job Pre2 have already been delivered and users' comments are as follows:
– There is no question that the Job Pre2 wins in the area of presence and transparency. The human voice is superbly reproduced with every tiny nuance communicated. All those minute audible cues that really good recordings contain are crisply and cleanly audible. The clarity is superb and addictive.
– Here's what I can say for sure the Job Pre2 is a superb first class solid state preamp. It provides jaw- dropping transparency if the rest of your gear is up to it without hardness to the sound. It's very very good. For the asking price it's ridiculously good.
– This is a world-class preamp for a budget price. A minimalist design that leaves the signal as pristine as possible. This small preamp has a very high quality build that can be seen and felt. And how does it sound? Glorious. Simply beautiful clean detailed sound without a hint of stridency.
• Nominal line voltage: 117 V
• Input voltage range: +/- 10 %
• Separated ground and earth signal
• Connection between earth and ground to cancel all ground loops
Rated Power Consumption
Max Power Consumption
• Voltage Selector 110/220 V
• 3 pairs of RCA inputs (right and left)
• 1 pair of RCA output (right and left)
• Nominal input level: 2.25 V RMS
• Maximum input level: 3.6 V RMS
• Maximum output level: 3.6 V RMS
• Output impedance: 75 Ohms
These values for any level to maximum output level:
+/- 0.1 dB, 10 – 20 kHz
+/- 3 dB, 10 – 200 kHz ü
Propagation delay < 1 ms stable with frequency from DC to 100 kHz.
With 1 V RMS output level, 80 KHz measurement bandwidth, 600 Ohms termination
THD unbalanced in to unbalanced out < 0.005% (-90 dB) flat with frequency
IMD unbalanced in to unbalanced out < 0.002% (-80 dB)
Slew rate of the amplification stages: > 20 V/us
Rise time: < 700 ns
Separation: > 80 dB between channels. (20 Hz – 20 kHz)
Signal-to noise ratio on line input: > 80 dB (0.01 Hz – 10 Mhz)
Weighted ASA A: > 100 dB
• Automatic switching to MUTING if the AC line drops or is interrupted
360mm (14,2″) W x 245 mm (9,7″) D x 64 mm (2.5″) H
Total Weight: 4 Kg (8.8 lb)
FINISH
• Corsican black micro-beaded blasted aluminum
Price and Availability
• Only $1,699 – Available now.