KLIPSCH STADIUM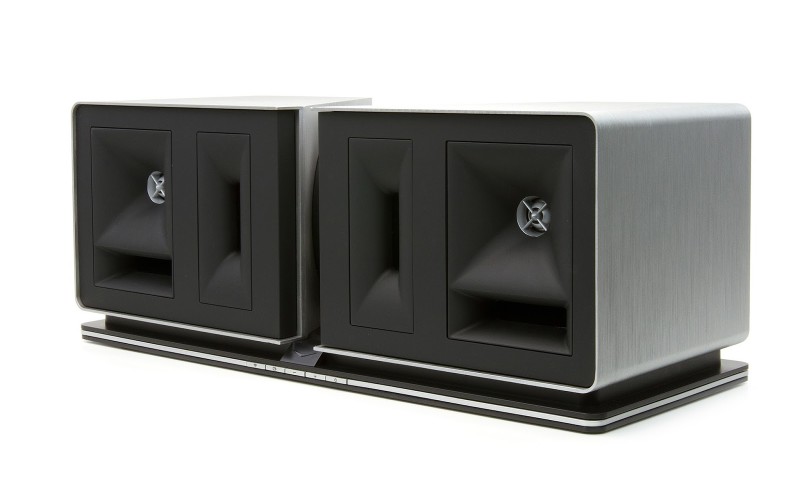 Aktywny 400-watowy system 2.1 za 1999 dolarów. AirPlay, DLNA, Bluetooth, zasilanie sieciowe i bateryjne. W sprzedaży od października
Klipsch, a leading global speaker and headphone manufacturer, announces today the launch of Klipsch Stadium™, the brand's audiophile-grade wireless music system. The product joins the Klipsch Music Center Series' KMC 3 as well as the soon-to-launch KMC 1, all of which commemorate the brand's partnership with Live Nation Entertainment and its sponsorship of the Klipsch Music Center amphitheater in its global headquarter city of Indianapolis.
Designed to match both the elegance and acoustic signature of a high-end component audio system, Klipsch Stadium™ is extremely solid and visually dominant yet in a compact size suited for many different home environments. Showcasing brushed aluminum cabinetry with soft-touch accents, the wireless music system harmonizes with any size and style living arrangement. Equipped with AirPlay® and apt-X® Bluetooth, Klipsch Stadium was created to grant audiophiles the convenience of portable music storage in smart devices, while also ensuring it's accompanied by high-performance audio.
Tractrix® Horn technology used in the Klipsch Stadium speaker assures more sound being reproduced from every watt of power with much less distortion than any other driver design. Its Linear Travel Suspension (LTS) tweeters, derived from Klipsch's esoteric Palladium speaker line, further minimize distortion with a true, piston-like driver excursion. Additionally, Palladium-inspired midrange drivers utilize Faraday Rings to reduce voice coil inductance modulation and minimize distortion while Tractrix port technology provides enables the most musical bass.
"Not only did we want to diversify our offering in the wireless audio category, but it was extremely important to introduce an impactful product that properly conveys our decades of legendary audio performance," said Paul Jacobs, CEO of Klipsch. "With Klipsch Stadium, we're fusing the traditional HiFi experience with today's latest technology to completely alter the listening experience."
Klipsch Stadium will be available in limited quantities in October 2013 and retail for $1,999.99 (U.S. MSRP). For more information on the Klipsch brand and its product offering, please visit http://www.klipsch.com.