KLIPSCHORN & HERESY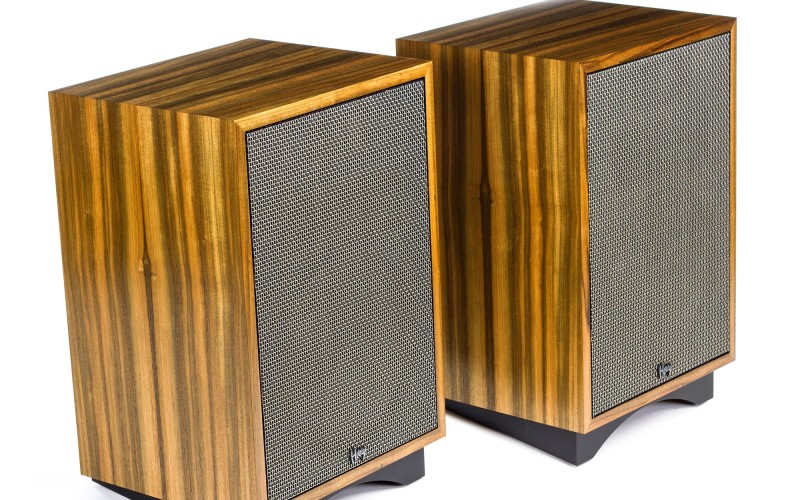 KLIPSCH OFFERS LIMITED EDITION 70TH ANNIVERSARY HERITAGE SPEAKERS
Klipsch® Audio, a tech driven audio company, is commemorating its 70th anniversary by issuing limited runs of its Klipschorn® and Heresy® Heritage series speakers. Special attention has been paid to the details of each new speaker, as they features design enhancements, exotic wood veneer finishes, special edition logos and unique grille cloths.
Audio pioneer and company founder Paul W. Klipsch launched the Klipschorn loudspeaker in 1946 to enable people, for the first time ever, to experience the power, detail and emotion of a live performance at home. It is the only speaker in the world to be in continuous production for over 70 years and has remained relatively unchanged since its inception, as its folded low frequency enclosure offers the most efficient use of space possible.
Klipsch is meticulously handcrafting 70 pairs of the 70th Anniversary edition Klipschorns in its manufacturing facility in Hope, AR. The newly enhanced rear low-frequency horn is now fully enclosed, offering more placement versatility in the listening room as the enclosure functions as a corner, delivering powerful bass performance.
Each pair of Klipschorns features a new nameplate celebrating its legendary history and a small plaque identifying its numbered sequence in the series. The craftsman has signed each speaker. A retro-style silver luster grille cloth complements the exotic Australian Walnut wood veneer. The Klipschorn loudspeakers are grain-matched using wood veneer panels from the same timber, resulting in a speaker pair that is indistinguishable from the other. The 70th Anniversary Klipschorn (MSRP $16,000 per pair) will be available at authorized retailers and at Klipsch.com in May 2016.
Paul Klipsch introduced the original Heresy speaker in 1957 as a compact center channel speaker to accompany the Klipschorn® in three-speaker stereo arrays. Because of its relatively compact size, the Heresy offers the greatest degree of placement flexibility in the Heritage series. In its third iteration, the Heresy III was upgraded with a more powerful woofer, bi-wire network, as well as midrange and tweeter compression drivers, featuring a titanium diaphragm for smooth and accurate definition.
In celebration of its 70th Anniversary, Klipsch has handcrafted 70 pairs of this limited edition Heresy speaker in Hope, AR. Like the Klipschorn, the Heresy features a new nameplate honoring its history, a small plaque listing its sequence number, the craftsman's signature and a retro-style silver luster grille cloth. Its new, matte-black slant riser base complements the Heresy's exotic Australian Walnut wood veneer enclosure. Each pair of Heresy speakers is grain-matched using wood veneer panels from the same timber, so that a speaker pair is identical. The 70th Anniversary Heresy (MSRP $3,200 per pair) is available now at authorized retailers and at Klipsch.com.