KRELL THEATER 7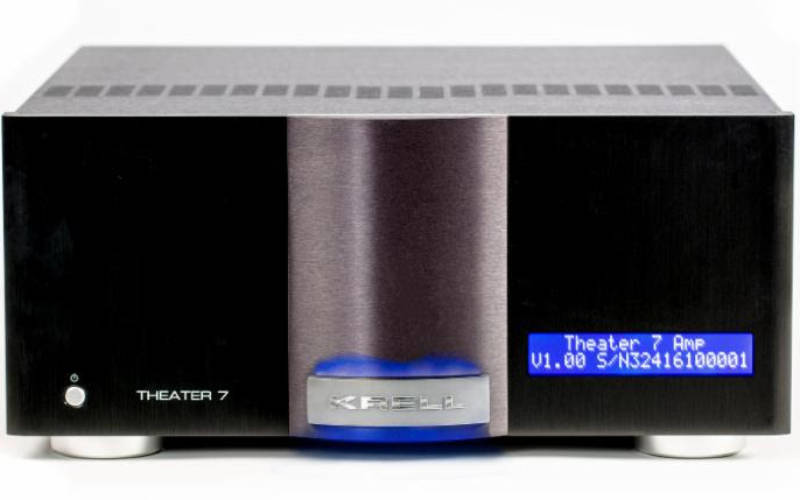 Krell Industries is pleased to announce the release of their latest product, the Theater 7 amplifier. With a retail price of $7500 and Krell iBias technology, the Theater 7 brings true high-end performance to an affordable home theater system.
Krell iBias Class A amplifiers are the first to deliver the rich musicality of Class A amplifiers and the uncompromised dynamics of classic Krell amplifiers with greater efficiency and low power consumption than conventional Class A amplifiers.
DESIGN
Circuitry Highlights
Krell iBias Class A technology allows our latest amplifiers to run in full Class A mode to full power while minimizing heat generation.
The Theater 7 Amp uses iBias technology to maintain Class A operation up to 100 watts into 8 ohms for the left, right, and center channels and up to 50 watts for the four surround channels. This provides the critical front channels with high bias current to produce that lush, open Class A sound while also minimizing the heat output and power consumption of the whole amplifier.
The amplifier design uses Krell Current Mode technology that is fully differential and discrete in the critical gain stages. This results in a highly linear and extended frequency response, well beyond the range of hearing, for smooth effortless highs and tight high impact bass.
Power Supply Highlights
The power supply consists of two 700VA toroidal transformers and 160,000uF of capacitance. This is shared among all the channels so all of that power is available to the channels with the most demand.
In real world conditions the left, right, and center channels require the lion's share of the power so this gives the Theater 7 a more effective power supply than other amplifiers that have smaller dedicated power supplies for each channel.
Feature Highlights
Network connectivity brings convenience, monitoring, and reporting to end users from any smartphone, tablet, or laptop.
Amplifier configuration options include display brightness timeout and inactivity timeout. The inactivity timeout conserves energy by placing the amplifier in stand-by when there is no signal for longer than the selected time period. Firmware updates can also be initiated directly from the web server.
Output current, fan status, and operating temperature are monitored in real time for conformance with preset limits. Any faults are reported on the front panel and also on the web server interface. Additionally, the amplifier will send notification of any operational anomalies to the e-mail addresses entered on the web server interface.
SPECIFICATIONS
100 Watts into 8 Ohms
7 ea – Single-ended RCA and Balanced XLR Inputs
1 RJ45 Ethernet Port
1 12V Trigger Input
Optional Rack Mount Kit
17.1in W x 7.65in H x 21.10in D, 43.4cm W x 19.4cm H x 53.6cm D
Weight: 70lbs, 31.8kg
7 pr 5-way binding posts
Anticipated release is early 2017.