KUDOS TITAN 505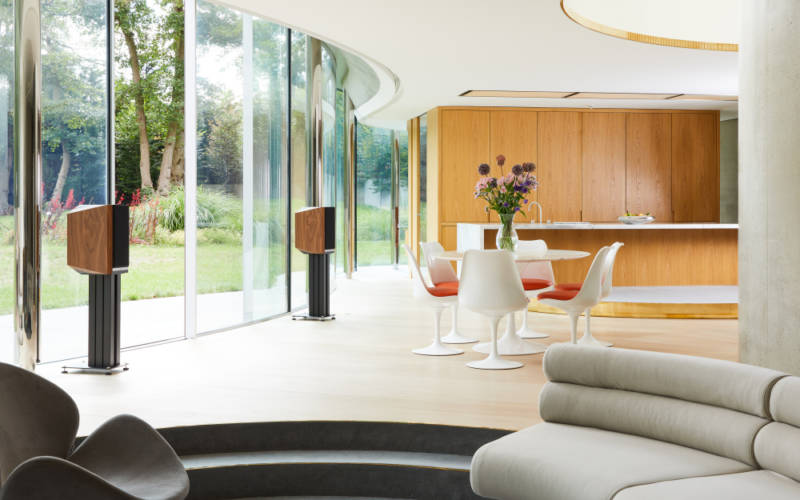 NEW 505 STANDMOUNT LOUDSPEAKER COMPLETES KUDOS AUDIO'S FLAGSHIP TITAN SERIES.
Kudos Audio is delighted to unveil a brand new member of its flagship Titan series of loudspeakers. Previewed at the 2018 Bristol Sound & Vision Show, the Titan 505 is a standmount model designed to deliver stunning, top-of-range performance to a wider reach of spaces and budgets.
At the top end of the Titan series is the mighty 808. Launched in 2015, it is the undisputed king of the Kudos range and the result of significant investments in research, design and engineering. Designer Derek Gilligan, having crafted his magnum opus, was then keen to extend its benefits to a broader specturm of music lovers. Two further floorstanding Titans therefore followed in 2017: the 707 and 606, both featuring trickle-down technology from the 808, adapted for these smaller and more affordable editions. Now the new Titan 505 standmount model takes that philosophy even further.
It's something that Gilligan has been passionate about since his earlier career as a live sound engineer. "You have to know how to make the whole crowd go wild," he says, "not just the guy in the front row." Now, he translates that maxim into bringing the 'go wild' feeling to a wider range of music lovers at home, "because having a smaller space and/or budget shouldn't mean you have to compromise on the sheer joy of your music."
All four members of the Titan family feature world-class drive units crafted exclusively for Kudos by renowned Norwegian specialists SEAS. In fact, all four share the same superb quality K3 tweeter – a unique SEAS-Kudos design. Based on SEAS' legendary 29mm Crescendo K2 fabric dome tweeter, the K3 has undergone significant further development to precisely tailor its capabilities for the Kudos Titans. Enhanced features include an improved magnet system with copper shorting rings, a completely new resonance chamber and a new face-plate profile, all engineered to deliver an even sharper, more dynamic and musically detailed performance.
Like the 707 and 606 floorstanders, the 505 is a two-way design. Its twin mid-bass drivers are brand new and totally unique, featuring high quality double-coated hard paper cones to ensure superior stiffness while at the same time preserving the natural damping properties of paper. And, in common with the three Titan floorstanders, the 505 sports an isobaric arrangement in which the second mid-bass driver is carefully positioned internally back-to-back with the first. The result is significantly improved midrange clarity and bass response, as well as a reduction of bass distortion.
Kudos' trademark minimalist, low order crossover is of course a key feature, made possible by impeccable matching of all drive units.
While the Titan 505's cabinet is obviously more compact than that of the floorstanding Titans, its bodywork remains impressively involved, featuring complex constrained layer damping in the side panels, cleverly designed to allow a stunningly convincing, true-to-life sound. The cabinet also incorporates the reflex port into the base panel in an adaptation of the Kudos fixed boundary design.
All four models in the Kudos' Titan series can be run either passively or actively. The crossovers are engineered such that they can be by-passed in order to enable active operation with selected systems including Linn Exakt and Devialet Expert, turning the loudspeaker into an intelligent, connected component and enabling a range of performance-enhancing and personalisation capabilities.
An optional, dedicated, seven pillar stand has been specially designed for use with the Titan 505. This high performance stand allows six of the seven pillars to be filled with the listener's choice of material to dampen resonance and tune the speaker's performance to their individual taste and situation. The top plate of the stand incorporates constrained layer damping to reduce resonance and the stand is bolted directly to the base of the Titan 505 for optimum results.
Pricing and availability
The Titan 505 standmount loudspeaker is available from Kudos specialist retailers from 17th September 2018, priced as follows (inc. VAT):
with Tineo / Red Tineo / Walnut / Satin White / Black Oak finish – £7,000
– including dedicated stand – £7,750
Special order edition in White or Black Gloss Lacquer finish – £7,700
– including dedicated stand – £8,450
Kudos Titan 505 technical specifications
Type 2-way, isobaric bass reflex, standmount
Recommended amplifier power 25W – 250W
Sensitivity 87 dB / @ 1 W / 1 m
Nominal impedance 6 ohms
Frequency range 40Hz – 30kHz AIRR (average in-room response)
Tweeter SEAS-Kudos K3 29mm fabric dome
Mid/bass driver 2 x SEAS-Kudos 180mm double-coated paper cone, 39mm voice coil with copper shorting rings and aluminium phase plug
Dimensions 450mm (h) x 256mm (w) x 320mm (d)
Weight (per speaker) 18 kg