LAMPIZATOR DSD DAC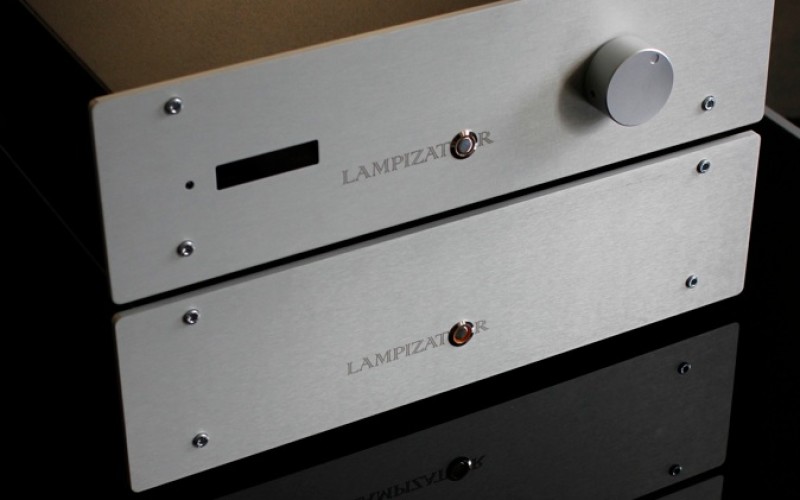 Konwerter w obudowie DAC Level 5 Polska w audiofilskiej awangardzie! Łukasz Fikus, legendarny polski konstruktor sprzętu audio klasy hi-end, przedstawia konwerter DSD, którego cena wynosi 3000 euro. Szczegóły poniżej i tutaj
Announcing: DSD DAC for sale Warsaw, June 8th 2013 We announce that DSD DAC is ready for sale.
Due to huge difference between PCM and DSD process we feel it is too big of a compromise to put both systems in one box. The power supply requirements, computer connectivity, tube arrangements – are all different. Plus the DSD dac tends to pollute the surrounding environment of the box far too much for the good old PCM to tolerate.
The LampizatOr DSD DAC will therefore be DSD-ONLY and it will not play anything else. No S/PDIF no AES/EBU, no TOSLINK, no USB/PCM either.
IMPORTANT NOTE: THE COMMERCIAL DSD DAC IS NOT THE RADIO TECHNOLOGY ONE DESCRIBED ABOVE. THAT ONE WAS A PROTOTYPE, AN EXERCISE IN ELECTRONICS. THE REASON IT COULD NOT BE SOLD WAS THAT IT HAD TOO MANY FILTRATION ARTIFACTS AUDIBLE BETWEEN SONGS. ON SILENT MOMENTS IT HAD SOME POPS, CLICKS AND BUZZ. SO WE HAD TO DESIGN SOMETHING MORE SELLABLE.
THE LAMPIZATOR DSD DAC HAS USB PORT BUILT IN, SOLID STATE DIGITAL FILTER, PASSIVE DISCRETE ANALOG FILTER AND ACTIVE DISCRETE TUBE FILTER. IT DOES NOT MANIPULATE THE DATA IN ANY SHAPE OR FORM, IT DOES NOT CONVERT IT, UPSAMPLE, RECLOCK OR DOWNSAMPLE. IT DOES NOT GO THROUGH PCM PROCESS EITHER. IT IS PUREST NATIVE DSD WE KNOW OF. WE PRACXTICALLY ONL;Y GENTLY REMOVE THE CARRIER FREQUENCY FROM THE RAW DATA AS IT COMES FROM HARD DRIVE. NOTHIMG MORE NOTHING LESS.
The DSD DAC is fully optimized for one thing and one thing only – to play the DSD music in its full beauty.
We figured that many audiophiles already have a PCM DAC and some of them very good, so the DSD is an addition, expansion of their system.
We are used to the fact that a DAC is a separate entity from a tuner, reel-to reel player, turntable with phono-stage or home theatre. So why treat DSD differently if it has nothing in common with the old type PCM DAC except the word DAC and the fact that both types of file can be stored on a hard drive ?
DSD DAC will not be available as a retrofit addition to Lampizator DAC except the Level 5. It is possible to install DSD DAC in Level 5 machine
So here it is.
DSD DAC Specification and pricing:
DSD DAC capable of playing iso files through USB port, with speed 64 and 128.
All technicalities similar to LampizatOr DAC as we know it.
We created a special level to satisfy all even most demanding audiophiles: LEVEL 3.5 which has all the guts of Level 4 except the INOX sub-chassis.
One USB input (works with MAC OS without any drivers and requires a driver for all Windows types. (Ask about LINUX compatibility)
One pair RCA stereo SE outputs
110-115-220-230-240 V AC variants
One tube for PSU rectification (6X5)
One dual triode tube for DSD active filtering process (6111 or 6021 or 6N16P)
A pair of dual triodes for analog LampizatOr output stage (Ecc40 or 6SN7GT or E182CC or 6N6P or E88CC)
Three transformers with total of 200 VA
Jensen Output capacitors – copper in oil or tin in oil
5 years warranty (fully transferrable)
Black or silver front face
PRICE 3000 Euro (plus VAT in EU countries)
Retrofit in old Level 5 DAC : 700 Euro plus VAT
Installation in new production Level 5 DACS: 500 Euro
OPTIONS
Duelund capacitors Copper Cast PIO (add 200 Eu for a pair)
Volume control with 64 steps and remote control (add 400 Euro)
Biamping output add 100 Euro
Balanced fully differential outputs: add 400 Euro
(two more Duelunds for ballanced cost 200 euro extra)