LEEMA ACOUSTICS ELEMENTS STREAMER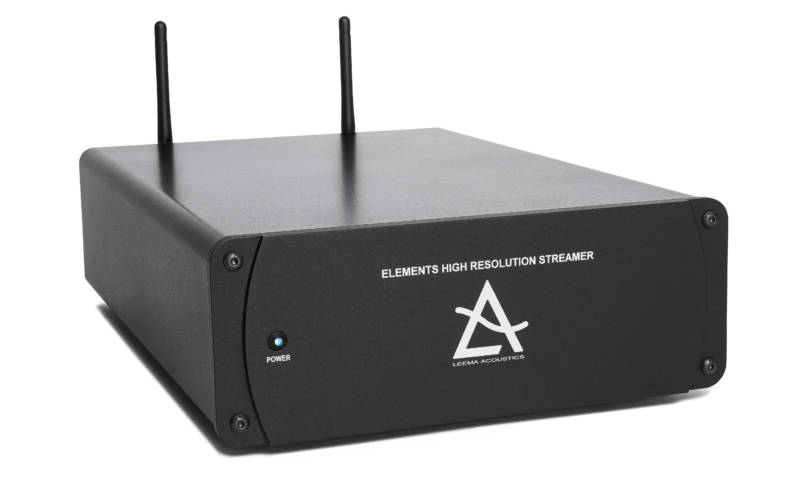 New British-made Elements Streamer offers a huge feature count from its space-saving chassis Leema Acoustics' highly anticipated network music player is now available, with Tidal integration, a high-quality ESS Sabre DAC and support for USB drive playback, just in time for the holidays £1,295
Leema Acoustics has launched the Elements Streamer, a high-quality space-saving network music player with a high-performance DAC, Spotify Connect and Tidal integration, plus USB drive playback. Hand-made in the Welshpool factory in Powys, the highly anticipated compact music streamer, (which was first unveiled in prototype form at Sound and Vision in February), is now available worldwide, following an extensive development and testing programme throughout 2018.
The new Elements Streamer has been conceived by Leema co-founder Lee Taylor, who has overseen the project from initiation to final assembly. Despite a price of just £1,295, the player is based on the same high-performance streaming module in Leema's Quasar amplifier (£2,995). The addition of a (very) high-performance 24/192 ESS 9018 Sabre DAC, with patented 32-bit Hyperstreamä DAC architecture and proprietary Time Domain Jitter Eliminator technology, eliminates input-clock jitter for unmatched clarity when streaming.
Highly flexible, the Elements Streamer can both 'push' and 'pull' music to and from suitable DLNA/UPnP devices on the same network, enabling effortless, unlimited music streaming across a wide range of networked devices around the home, including smartphones and smart devices, tablets, laptops, computers, NAS drives and streaming music servers, such as Leema Acoustics' recently launched Sirius (£3,995). Control is via the free mconnect Player UPnP/DLNA App by ConversDigital, available for Android and iOS. The Elements Streamer has built-in support for a number of music streaming services including Tidal, Deezer, Qobuz and vTuner radio; Spotify connect is also supported, along with file playback from Dropbox and Microsoft OneDrive, plus local playback from USB drives, enabling entire legacy music collections to be accessed and enjoyed with Leema Acoustics' famous 'analogue from digital' sound quality.
The device's wide-ranging connectivity suite includes both balanced and unbalanced outputs, optical and coaxial digital outputs, as well as a USB input and Ethernet port. Twin Wi-Fi antennas provide increased signal stability and an IEC inlet socket enables the use of high-performance power cables. In a further nod towards its audiophile credentials, the Elements Streamer benefits from a high-quality, low-noise analogue power supply.
Pricing and availability
The Elements Streamer is available now. Price: £1,295
About Leema Acoustics
Leema Acoustics is an internationally respected manufacturer of high-performance audio products founded by two ex-BBC sound engineers, both of whom have a long history in pro and domestic audio. Founder Lee Taylor (the 'Lee' in Leema) leads all of the company's design work, with everything proudly hand-made in Wales using UK- and European-sourced components.
Founded in 1998, Leema Acoustics' unique design processes, fanatical attention to detail and pursuit of accurate sound reproduction have seen the company win numerous press accolades in recent times. Today's Leema Acoustics incorporates the latest technology into a product range that covers electronics, loudspeakers and cables, delivering complete high-performance audio solutions to consumers, with the benefits of expert design, UK hand-assembly and local component sourcing.
The BAFTA and Palme d'Or award-winning Lee Taylor has countless years' experience in recording and mixing for the film, television and music industries and continues to innovate in audio using his unrivalled experience to produce some of the world's finest hi-fi equipment.
YouTube biography: http://youtu.be/3lGrQZnr1E4