LINDY USB DAC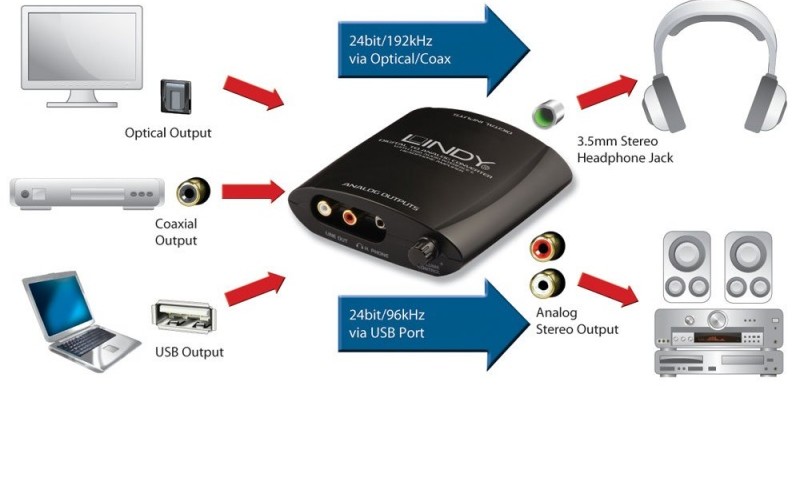 LINDY Electronics, one of Europe's leading producers of computer and audio-visual products, has released their USB DAC, the perfect accessory to enhance any digital music collection. For less than £50, upgrade the sound quality from PC, HDTV, CD/DVD player or other audio device
Priced at just £49.98, the USB DAC fits discreetly alongside the selected audio player, and outputs to headphones, amplifiers or powered speakers via a 3.5mm stereo headphone jack or analog phono stereo output. Optical, Coaxial and USB inputs allow for a variety of music sources, with the USB 2.0 input compatible with Windows XP onwards, Linux and Mac OS X with no special drivers required. The LINDY USB DAC also supports hi-resolution music up to 24-bit/192kHz.
The budget audiophile
Want to appreciate high-resolution audio but don't want to break the bank? The USB DAC works seamlessly with an existing setup, with a coaxial input to receive audio from a CD player or similar. This allows audio up to 24-bit/192kHz to be reproduced in great quality through headphones or powered speakers, ensuring that back-catalogue of classic CDs or LPs get played in the quality they deserve, for less than £50.
The film buff
It's no secret that modern TVs have outstanding displays, yet their sound quality doesn't always match up. Using the optical input on the USB DAC, movie nights will finally have the sound to recreate the cinematic experience, with the analog stereo output sending the audio signal to powered speakers.
First steps into high-resolution audio
High-resolution audio is a hot topic in the music industry. For those who have just invested in a pair of expensive headphones, or signed up to a high-res streaming service, the LINDY USB DAC is the missing piece of the puzzle. The USB DAC ensures the high-res music is reproduced in the quality it deserves up to 24-bit/192kHz.